Sin
The contemporary Christian world has almost lost its conscience and feeling of sin. Few people in our days judge their personal behavior, actions, and intentions from the perspective of righteousness or sinfulness. All of us have somehow become used to regarding ourselves as "sinners" not in terms of a humble realization of our unworthiness before God, but in terms of our not being "saints" and, consequently, neither being able to, nor obliged to be righteous. The horror of sin is rarely exposed in all its vile hideousness before our spiritual sight. Our sight is too clouded, too "entranced" by life's temptations, too used to wandering among vanity.
At the same time, the enlightened Christian consciousness finds horrifying and vile those of our "petty" (as we often call them) sins that have become the constant companions of our daily life. Those insignificant, in our opinion, transgressions of the Gospel commandments, which actually make us feel that even Gospel law itself is not mandatory for us.
Yet our Christian morality is revealed to us in love.
God is Love… The one who stays with God for the sake of love must bear the yoke of moral law, the law which is born of love, lives by love, and leads into the kingdom of love. For this reason a sin against the Christian moral law is not simply a formal violation of higher authority, but is a sin against love. Therefore, in the words of one of the prayers before communion, to sin means to "sadden" the Holy Spirit.
A loving son who has not fulfilled his father's commandment does not so much fear the non-fulfillment itself, as the fact that he has sinned against the union of love, that he has introduced insincerity and deceit into this union, that he has defiled a pure and sincere relationship.
When Adam sinned, he first of all hid from God's sight, for he had defiled the bonds of love and was ashamed to present himself before the eyes of Divine Truth.
This is also the source of the blind naivete of modern Christians, who wish to unite service to God with accommodation of their own whims: "The Lord is kind… He will forgive all… He will cover all… I have not killed, neither have I robbed, and the rest are trite sins."
Remember, O Christian… The Lord is a fiery God… He will often crush you, throw you between hammer and anvil, in order to test the strength of your love. But He will never reveal Himself to you, if you proceed to serve Him with complete indifference, with a cold heart and a cold soul; if you proceed to look for a way of serving Him that will be more comfortable and advantageous for you.
Guard yourself against sin… Know that sin is, first of all, a defilement of sacredness, an expulsion of God from the human soul, and the sorrow of "saddening" the Holy Spirit.
The Cross
The Lord's Cross brings human conscience to judgment.
It gathers around itself pure hearts who are searching for God, in order to tell them of the mystery of Divine Love, but it also rises to condemn those who are unable and do not wish to open up their hearts to this mystery. The Cross is truly "set up for the fall and the rising again of many in Israel, and as a subject of controversy."
To understand the Cross means to feel and realize God's love. To accept it means to aspire towards this love by means of "active elevation," by means of lifelong spiritual labor. Anyone who has truly experienced in his heart the tragedy of Golgotha cannot remain indifferent. He must either love the One who loves and sacrifice himself to the One who has become a sacrifice, or take truth in abhorrence and depart from it forever.
This reaction to the Cross is revealed to us in the image of the two thieves. One of them understood and felt the mystery of Love, rejected sin, and came to full repentance. The other did not understand and did not feel, and thus died with the burden of blasphemy upon him.
The Lord's Cross will judge the world. According to the Evangelist's testimony, before the Second Coming there will appear in the heavens "the sign of the Son of Man."
And now, in the middle of the Great Lent, the holy Church brings out this sign of the Son of Man.
The Great Lent is a time of repentance. And repentance is primarily a striving towards God's Truth and God's Love. A striving towards the foot of the Golgotha.
Here everything appears to be revealed to the faithful and loving heart. Here is the Lamb of God, Who takes upon Himself the sins of mankind. Here is the force of self-sacrificing Love and the enormousness of Divine forgiveness. Here is deliverance from sin and the source of new and grace-filled life. And all of it is here between the two thieves, all of it is in the hands of the One who was crucified and killed on the Cross.
"Today the Master of the creation and the Lord of Glory," sings the Church, "is nailed to the Cross and His side is pierced; and He who is the sweetness of the Church tastes gall and vinegar. A crown of thorns is put upon Him who covers the heaven with clouds. He is clothed in a cloak of mockery, and He who formed man with His hands is struck by a hand of clay. He who wraps the heaven in clouds is smitten upon His back. He accepts spitting and scourging, reproach and buffeting; and all these things my Deliverer and God endures for me that am condemned, that in his compassion He may save the world from error."
In this hymn the Church paints for us a very moving and vivid picture of the Saviour's labor on the Cross. The Lord accepted suffering and death, "that He may save the world from error," from the demonic enticement that had subjugated it.
This enticement lies in the substitution of deceit for truth, evil for good, ugliness and vileness for beauty. This is the temptation of sin. And the strength of the Cross is that it saves from temptation those who offer their open hearts to its sacred and divinely-crimsoned foundation.
The Lord's Supper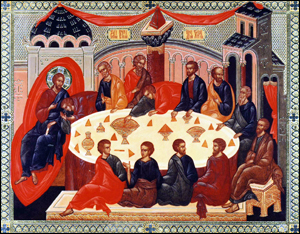 Thus, by the grace of God, brethren, we have arrived at the moments of remembrance of Christ's salvific passion. "With desire I have desired to eat this Passover with you before I suffer," the Lord says to His disciples at the Mystic Supper.
The end of the earthly endeavor of the Son of man is approaching, and this Supper will remain for all ages in Christ's Church in remembrance of Him. The world offers many repasts, but only one repast gives us true food and true nourishment – and that is the Lord's Supper. Under the guise of bread and wine the Saviour Himself mysteriously and indescribably unites with His faithful followers in the sacrament of Communion. And this grace-filled source is open to all. With fear of God and with faith draw nigh… Receive ye the Body of Christ; taste ye of the fountain of immortality.
Yet one must remember that every person who approaches the Lord's Chalice takes a great responsibility upon himself. "For he that eateth and drinketh unworthily, eateth and drinketh damnation to himself." But what self-worth can any man offer before God? Only profound humility can endow us with the daring to come up to the great sacrament of Christ's Body and Blood.
Humble thyself, O human soul, and recognize the fact that there is no greater happiness for thee than to be a guest at the Divine Supper of thy Lord and Saviour.
Repent, open up thy depths to God, Who knows all thy deeds, and may thy penitence be wholehearted… And only then approach the sacrament with hope in God's mercy.
"Of Thy Mystical Supper, O Son of God, receive me today as a communicant; for I will not speak of the Mystery to Thine enemies, nor will I give Thee a kiss as did Judas, but like the thief do I confess Thee: remember me, O Lord, in Thy kingdom."
The Lord's Passion
The twelve Gospel readings tell us of the Saviour's suffering. And each time we hear these readings, they are ever new and vibrant in their divine simplicity. How great and wonderful seems to us the act of an individual who sacrifices himself for others…
Here we see revealed a love that does not seek its own glory, as the Apostle says. What can we say of the deed of the Son of God, Who voluntarily gave Himself up for the life and salvation of the world. It may be said that it is easier to suffer voluntarily. But is that so, brethren? When circumstances place a man in a situation wherein he must sacrifice himself, he does it for the sake of moral duty, which forces him to such self-sacrifice.
But when a man is faced with complete freedom of choice – to suffer or not to suffer, – is it not the greatest deed to choose voluntary suffering? Moreover, when we suffer, our suffering always has a redemptive value. This suffering cleanses us of our sins. But Christ was without sin. He took upon Himself the burden of all our sins, being like unto us in all but sin.
In this sacrifice of Divine love took place the mystery of salvation. The Lord saved the world by means of His suffering. And in the holy days of remembrance of His Passion, He summons us to participate in the deed of salvation, to love Him, to aspire toward Him with all our heart. The wise thief repented and received absolution. O, if only we too, brethren, knew how to repent and be spiritually renewed! Then the Lord's Passion would truly sanctify us, would open the gates of paradise for us while here on earth, would give our lives the genuine joy of being the sons of God.
We venerate Thy Passion, O Christ, show us also Thy glorious resurrection!
At the Tomb of the Son of God and the Son of Man
Probably many of you, brethren, had to stand at the casket of a beloved relative or dear person. What does one feel in such a case? First of all, one feels exactly what the dear departed one meant to him. And as one realizes this "what," the heaviness of the loss is revealed to him.
Now we stand before the tomb of Christ. Fellow-Christian, think on it – what does the Lord mean to you in your life? What does your conscience now tell you as you stand at this tomb?
In order to endow you with genuine and absolute happiness, your Saviour came down to earth mysteriously and indescribably. He taught, suffered, and died for you. He left you His Gospel. His commandments "are not burdensome." Within them is revealed true life. One does not have to be wise or learned in order to understand the Gospel. One must simply have a pure heart, a heart turned towards God and keeping its hope for salvation placed in Him.
And what about us? Have we ever thought of establishing the Gospel as the cornerstone of our lives, our conduct, our relationships? Always and in everything we keep to our own, human considerations. The Lord is distanced from us, because we ourselves are keeping far away from Him and often do not even wish to approach Him.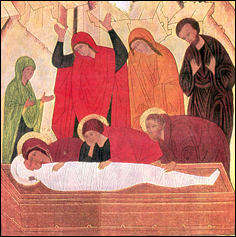 But even in such circumstances of spiritual frigidity, how terrible and nightmarish it is to think of life without God, a life deprived of His truth, His holiness, His perfection…
This is what we must feel as we stand at the Life-giving Tomb… And no matter to what extent our ways deviate from God's ways – we always have the possibility of returning to the Father, if the image of God lives within us and has not disappeared completely from our hearts.
Come up to this Tomb, then, with all that you have in your heart. Pour out your prayer before God, tell Him your sorrows, and – above all – try to be conscious of what exactly the Lord means to you in your life. If He lives in your heart, you will love Him even more, and you will give Him your heart even more. If you are filled with despondency and spiritual frigidity, perhaps your standing at the Lord's Tomb will revive you.
But, in any case, remember one thing: God's love shines for you from the Divine Tomb, and it is your free choice whether to accept it or reject it.
Homily for the sunday of the paralytic
I have no man…
This Sunday's commemoration is dedicated to the paralytic in the Gospel, who was healed of his long-term illness by the Saviour at the pool of Bethesda.
For thirty-eight years this unfortunate man lay near the healing waters of the miraculous pool and sharply felt his bitter loneliness, since he had no man who could immerse him in the pool in the rare moments of the miraculous troubling of the water.
And now the Saviour of the world, Who had come to illuminate the world with the rays of truth and love, personally stretched out His mighty hand to the exhausted paralytic, healed him of his burdensome illness, and proved to be for him that "man" whom the latter could not find for such a long time.
The Gospel is the book of life that reflects our life on its holy pages. In this lies its power, its viability, its eternal and living instructiveness. Everything that is written in the Gospel has been taken from life. And especially significant in this sense is the story of the presently-commemorated paralytic at Bethesda. "I have no man…" How often, and particularly in the current conditions of our spiritually and materially exacerbated life, do we hear this complaint, this cry.
Man remains alone… Life has gone ahead in some other direction. Scientific progress and its practical application in life have not brought happiness to mankind. Naturally we see both children and stepchildren in life, – and there are more of the latter of course. At a time when serums and inoculations that are able to save mankind from physical ills and maladies are being created in the world's laboratories, millions of people perish both morally and physically, abandoned by all, rejected by all, finding themselves outside the boundary of scientific benefits. Moreover, man's creative genius has lost the comprehension of true good, and the hour is approaching when all human achievements will be used to wreak horror and destruction. (This was prophetically spoken on the eve of World War II.) Such is the world that has been left "without a man."
And in these days, when the shepherds are being smitten and the sheep are being scattered, the holy Church firmly offers for our edification the image of the paralytic, who lived in bitter solitude for thirty-eight years and who finally found a "man" in the person of the Saviour of the world – the Lord Jesus Christ.
Christ's flock is not large or numerous, but it has remained faithful to the Heavenly Bridegroom and serves Him in spirit and truth. And it is these loyal sheep of Christ who today should remember the words of the Divine Lamb: "Fear not, little flock! For it is your Father's good pleasure to give you the kingdom. Sell what ye have, and give alms. Provide yourselves a treasure in the heavens that faileth not, where no thief approacheth, neither moth corrupteth. For where your treasure is, there will your heart be also" (Luke 12:32-34).
Thus, O Christian, always try to be a man for other men and then, being loyal in small things, you shall be placed over many, and even here in life will enter into the joy of your Lord.
Blessed Dormition
In celebrating the blessed Dormition of the Most-holy and Most-blessed Virgin Mary, our mind, brethren, turns to the awesome and inexplicable sacrament of death.
Death is a door before whose mystery we all stand in bewilderment, but which sooner or later will open for each one of us.
Fearful is the moment of human death. Fearful not only because it is often accompanied by physical suffering. There is something more in it. There is the mystery of man's departure from this life into some kind of other life.
To explain death in terms of a simple cessation of physiological processes is too biased and simplistic. It is not only these processes which cease. Man does not only cease to walk, eat, control his bodily members. In death man leaves this plane of existence, leaves with his entire individual, different from others, inner world.
"In the world everything begins, but nothing ends," – Dostoyevsky once said. And we especially feel this when we stand beside a body whose soul has just left.
How much remains unfinished here, remains incomplete. And now it will never be completed on earth. Life has ended. Another existence has begun. "Blessed art Thou, O Lord, teach me Thy statutes," – sings the church over the newly-deceased one. At the bier and in the bier is the end of human justice; here God's justice and God's ways take over.
In death the heavenly and the earthly are intertwined into a wondrous pattern. The lifeless body is surrounded by the "honor of celestial rank." The symbol of a heavenly crown is placed on the cold forehead. The last kiss is given to "darkened beauty, hideous, inglorious, formless." And all of this is not only a form, a blind and insensible rite, but the fulfillment of the apostle's words: "For this corrupt body shall be vested in incorruptibility, and this mortal being shall be vested in immortality."
Such is Christian death. And the purest example of this death, of this blessed Christian dormition is revealed to us in the Dormition of the Theotokos. The Lord Himself takes up Her soul, "purer than the shining sun," and carries Her into the eternal palaces of His Kingdom. And these are not only words, but the blessed, real, actual life of Christ's Kingdom.
The time will come when we, too, will come to a realization of our death.
In what way? Let us remember the sacred words of the Gospel: Be ye like unto those who are awaiting the return of their master from the wedding, so that when he comes and knocks, you will open the door to him right away; and let us always be ready, "for ye know neither the day, nor the hour in which the Son of man shall come."
Hieromonk Methody, "Before the eyes of God's truth")
(Reprinted from "Orthodox Russia, No. 1, 2007)