HOMILY FOR THE ECCLESIASTICAL NEW YEAR
(September 14th, new style)
Today, dear brethren, we celebrate the ecclesiastical New Year. This holiday is totally different from its civil counterpart. In celebrating the civil New Year, we mark the passage of a certain period of time. There, new year after new year carries us inexorably forward, as though along a horizontal line.
Along this line, life changes constantly, people are born, grow old and die; the same happens with entire nations and even civilizations. Everything moves forward – both time and life on earth; everything proceeds towards its end – the life of each individual and the existence of humanity in general. In accordance with one of the basic principles of nature, life on earth consists of a constant and inexorable decay of everything and everybody, until the time when, according to God's prophecy, "the earth and all the deeds thereon shall be burned…. and there shall be a new heaven and a new earth."
The ecclesiastical New Year is quite different. There we see not a horizontal line, but a circle. This circle is continuously renewed and never changes, and with its constancy and immutability it gives us – in our earthly life, which is so strictly bound up with time, with the movement of time, – this circle gives us stability, gives us a taste of eternity, where everything is constant and immutable.
Let us look at the essence of this circle, and why the Church commemorates its constant renewal. The celebration of the ecclesiastical New Year was established by the Holy Fathers at the first ecumenical council in 325 A.D. At that time, under the rule of Emperor Constantine the Great, Christianity became the dominant religion in the Roman Empire. Thus, in celebrating its New Year, the Church commemorated the beginning of freedom for Christianity, and also the advent of a new period of grace and of the "favorable year of the Lord."
The words – "favorable year of the Lord" – are taken from the following event, described by Saint Luke the Evangelist: during His life on earth, the Lord Jesus Christ once entered a synagogue and stood among the teachers. It was customary among Jews to have one of the teachers read a certain passage from the Old Testament books and then to explain that which had been read.
On that day Christ was given the book of the prophet Isaiah, and opening the book, He found and read the following passage: "The Spirit of the Lord is upon Me, because He has anointed Me to preach the gospel to the poor, He has sent me to heal the broken-hearted, to preach deliverance to the captives and recovery of sight to the blind, to give joy to the sorrowful and to preach the favorable year of the Lord." Closing the book and giving it back to the servant, Jesus then began to say to them, that the prophecy which He had read has been fulfilled in Him, that He is the true Messiah, Who has been sent by God the Father for the salvation of man and the renewal of life on earth.
Today, as every year, dear brethren, that is what we celebrate: the advent of the favorable year of the Lord, i.e. a period of time, a year, during which we commemorate all the events of Christ's life on earth and the establishment of the Church, beginning in chronological order with the Nativity of the Holy Theotokos and ending with Her Dormition, which have the purpose – as Christ Himself said – of saving mankind and renewing life on earth.
The new ecclesiastical year begins anew that constant and immutable circle, in which we spiritually live and find salvation. This circle comprises God's entire plan of creation, i.e. the blueprint of how the Lord God has achieved the salvation of man after his fall, and not only reinstated man's former dignity, but more than that – through His Son's incarnation as man, God has made man part of Himself.
Beginning the new ecclesiastical year, the new circle of salvation, let us look, dear brethren, at the earthly life around us. We have mentioned many times already that the forces of evil are attempting to destroy our planet and all of humanity. Even here we see evidence of their efforts. What is our life today? It is a whirlpool in which we twist and turn in a constant rush, under constant pressure, and we hurry and hurry…. where? Towards eternal life? Not at all! We never even think about eternal life. No, we are whirling and turning and hurrying…. nowhere. We are locked into a vicious circle of a constant and completely fruitless rush. Satan is robbing us of time and locking us into this futile circle, so that we would have no time to stop and think: to think about God, about eternal life, about the salvation of our souls.
As we begin the new ecclesiastical year, let us renew ourselves, dear brethren; let us try to reject Satan's wiles and to leave the vicious circle of busyness; let us try to enter the quiet, dependable and joyous circle of church life, which will lead us to eternal life. Amen.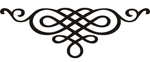 THE LORD'S CROSS IN THE LIFE OF SAINTS AND SINNERS
(Homily for the Afterfeast of the Exaltation of the Cross)
"O Cross – guardian of the universe; O Cross – adornment of the Church; O Cross – support of the faithful; O Cross – the glory of angels and the defeat of demons." With these and similar words the Church glorifies in its hymns the venerable and life-giving Cross of Christ, which lies before us, and the feast of whose exaltation we are now celebrating. However, these words of the Church hymns not only represent spiritual poetry, but have actual meaning.
Let us ponder, dear brethren, why the Cross is called the glory of angels and the defeat of demons. Mankind was created in order to fill in the gap in that circle of higher beings, which was disrupted by the fallen angels who had followed Satan. The bright angels, who remained with their Creator, are our elder brothers and infinitely love us as possible participants in the Heavenly Kingdom. The demons passionately hate us for that very same reason, and envy our chance to experience the eternal bliss of which they have been deprived forever. The angels and the demons battle constantly for our souls, and on this field of battle the major weapon is the Cross, which brings a glorious victory to the angels and a bitter defeat to the demons.
The Cross symbolizes the sacrifice that our Lord Jesus Christ made for the salvation of mankind and for its deliverance from the torment of the devil. Gazing upon the Cross, the faithful can become confirmed in their faith and fortified in their battle with the demons, as they struggle to attain salvation. The angels rejoice in seeing the strength which the Cross confers upon the faithful, while the demons bitterly weep as they lose their prey, due to the aid given to the faithful by the Cross.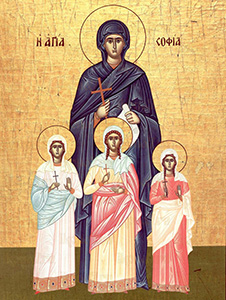 The most wondrous example of how the angels glory in the Cross, while the demons are vanquished by it, are the holy martyrs. These noble warriors of Christ, following the example of their Lord Jesus Christ, and fortified by the power of the Cross, fearlessly suffered torture and attained crowns in the Heavenly Kingdom. The salvation of such a multitude of souls, particularly the great hosts of New Martyrs, brought a resounding defeat to the demons in their attempt to destroy mankind.
And today we see before us an extraordinary example of the victory of the Cross over the demons. Today we commemorate the wondrous saints, the three young martyrs Faith, Hope and Charity, and their mother Sophia, – who deeply wounded the demons. These holy martyrs are truly amazing: three young girls (the oldest – Faith – was 14, while the youngest – Charity – was only 9 year old), and yet these delicate and fragile maidens courageously endure the cruelest torture for the sake of Christ and put to shame the Roman Emperor himself; while their mother, suffering cruel inner torment and anguish, against her own maternal nature encourages and inspires her beloved daughters to endure martyrdom.
These holy martyrs, however, not only represent a wondrous example of drawing strength from the Cross, but also have a deep symbolic meaning in the Christian Church. The maidens bear the names of the three greatest Christian virtues – faith, hope, and charity – and are born of their mother Sophia, whose name means "wisdom." Therein lies the depth of meaning: it is precisely spiritual wisdom which gives birth to these virtues in us, nurtures them in us and helps us bear spiritual fruit from them. And the way all of this actually takes place in life can be seen in today's Gospel reading.
Today we see before us the woman of Canaan, who seeks help for her tormented daughter. The woman of Canaan turns out to be wise enough to understand that help can be received only through special, even supernatural, means. And in trying to obtain this help, this simple woman exhibits the three virtues of faith, hope, and love. She has faith in that the Lord can help her with a single word; she has absolute hope that He will take pity on her, even despite His seeming indifference to her plight; and she has such great love for her daughter, that she is ready to humble herself, to endure all possible humiliation, all possible insult, in order to get her wish. And we see the fruit of her wisdom and her virtuousness: "O woman, great is thy faith: be it unto thee even as thou wishest," – says Christ the Saviour to her.
Dear brethren! Let us exhibit these three virtues – faith, hope, and love – towards God, towards our Lord Jesus Christ, and towards our neighbors; let us follow the wondrous example of the holy martyrs Faith, Hope, Charity, and Sophia, who did not hesitate to give up for God's sake all their earthly gifts – youth, health, wealth, family affection; let us appreciate with all our heart Christ's sacrifice on the Cross, which was made for our own salvation; and let us build our lives upon the Cross of Christ, so that through us, too, the angels would be glorified and the demons defeated. Amen.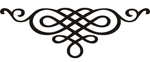 HOMILY FOR THE FEAST OF THE PROTECTIONOF
THE HOLY MOTHER OF GOD
Today, dear brethren, we celebrate the feast of the Protection of the Holy Mother of God. The beginning of this holiday goes back to A.D. 910 in the city of Constantinople, in the former Byzantine Empire, the modern-day Turkey. At that time the city was being besieged by enemies, who threatened it with complete destruction, since the siege caught the city unawares, without the necessary means of defense. It is easy to understand the panic and fear of the inhabitants; however, they did not lose their heads.
Weak in military power, but strong in their faith and hope in God, the Greeks – together with their emperor, Leo the Wise, – gathered for an all-night vigil in the famous church of Vlakherna, where the raiment of the Mother of God was kept, and here they ardently prayed to the Queen of Heaven and earth for their deliverance.
It was at this moment that appeared the wondrous vision which we celebrate today and which remains unforgettable for all times.
In the church stood the righteous fool-for-Christ Andrew, who came from Scythia (which later became Russia), together with his disciple Epiphanius, who later became the Patriarch of Constantinople. Both of them saw the Holy Theotokos pray for the people together with the entire assembly of saints who accompanied Her, and during the prayer She covered the faithful with Her veil.
Right now we are in similar circumstances: also in church, also at a service. But what would we feel, dear brethren, if the Mother of God were to appear before us together with an entire assembly of saints?! We would be thoroughly awestruck, unable to express our feeling in words. All of us would probably stand dumbfounded with holy awe, wonderment, delight…
And yet that is not so impossible, it is not only an ephemeral dream! The mysteries of the spiritual world surround us everywhere like air. We do not see them with our eyes, because our physical sight is too coarse, it is adapted only for purely physical purposes. Arm you eye with a telescope – and you will see sunspots a million miles away, you will see the famous canals on Mars, etc. Look into a microscope – and you will see teeming life in the tiniest drop of water.
To some degree this is a miracle, but at the same time it is natural; it is the physical laws that operate here. But there is another, different world, a spiritual world. No one can penetrate it only with the help of physical laws.
Everyone carries a particle of this spiritual world within himself – this is our soul.
The life of the soul within us is closely bound with the physical construction of our organism, and at the same time we feel that this is only a temporary arrangement. If we do not like it, we try not to think about it. If thoughts of spiritual life come to us, we try to chase them away from us.
But let us ponder, dear brethren: where now are the countless millions of people who, beginning with Adam, lived on the earth? Discounting their personal spiritual state, we understand that they must be located somewhere. Their bodies have long turned to dust, but where are their souls?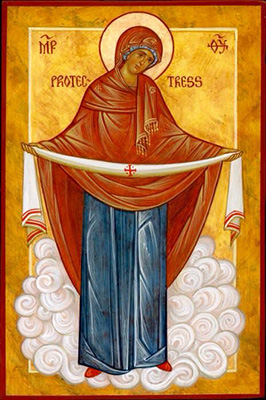 And at this point we come face to face with an idea – though vague but still definitely present – about a creative plan for the universe, which consists of two parts – spiritual and physical, and at the edge of these two worlds stands man.
The feast of the Protection of the Mother of God shows us the union of these two worlds. Actually, most miraculous here is not the vision itself, of the Mother of God and all the saints praying for the people, – this is mentioned in all the sticheras in our services that speak of the Theotokos, – but miraculous is the fact that this vision was seen by man. This is the real miracle, since it entails a retreat from customary laws of nature. The spiritual world and all its manifestations are usually invisible to the human eye.
We have become used to imagining that She, the Holy Theotokos, and all the saints, all the deceased, the entire spiritual world in general – are somewhere over there, far away in the heavens. It is unusual and even difficult for us to believe that the Mother of God and all the saints are so close to us that they can pray together with us in our churches.
The Divine liturgy, which is served by sinful people, is a mystery which, in the words of a church prayer, "even the holy angels wish to penetrate," while for Her, the Holy Mother of God, this sacrifice must be most precious of all.
Do not let go of the chance, dear brethren, to make use of the Theotokos' nearness, and to pray to Her with childish simplicity, loyalty and sincere faith, calling out to Her: "Rejoice, o our Joy, and protect us from all evil with Thy precious veil." Amen.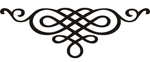 CHRISTIAN TEACHING
On the power of faith
In one of the Sunday Gospel readings we hear of how a Roman centurion asked the Lord Jesus Christ to heal his servant, i.e. his slave.
According to the mores of those times, a slave or a servant was regarded as being a notch lower than man, and if he was sick or died, there was no need even to think of him, but simply have him taken away or sold as an unneeded object. But this centurion was a God-fearing man, and although a pagan by birth, he nevertheless believed in the One God and even built a synagogue for the Jews of that city (i.e. Capernaum). He was also respected by the Jews, which was a rarity in those times.
How kind, nice, and modestly simple is this centurion in his appeal to the Lord on behalf of his sick servant. The Lord replies to his request by saying that He will come to his house personally and will heal his servant, but the centurion says to Him: "I am not worthy for Thee to come to me, but say only Thy omnipotent word, and my servant will become well. Even my own subordinates fulfill my commands, while Thou art God, Who has brought forth everything out of nothingness into existence, and with Thy command holds up and rules everything; therefore, even one majestic word from Thee suffices to restrain illness or death: just speak one word, and it will be enough."
The Lord was amazed at such a firm and active faith on the part of the centurion and said: "Verily I say unto you, I have not found so great a faith even in Israel."
The Holy Gospel mentions only two cases in which Christ expressed amazement. The first time He was amazed at the faith of the Roman centurion, while the second time He was amazed at the disbelief of the inhabitants of His native city of Nazareth. This is why the Lord grants to this centurion more that the latter had asked for: he came seeking bodily health for his servant, and went back, having received the Kingdom.
"And I say unto you, – continues the Lord, – that many shall come from the east and west, and shall sit down with Abraham, and Isaac, and Jacob, in the Kingdom of Heaven, but the children of the kingdom (i.e. those, who count themselves as such), shall be cast out into outer darkness; there shall be weeping and gnashing of teeth."
We all know how the Jews treated Christ, and how the majority of them turned from a God-bearing people into a God-opposing people. In their stead it was the pagans who were all summoned to the Christian faith, including us, and in this manner all the Christians became the new Israel.
Let us thank the Lord from the bottom of our hearts for having summoned us to His faith and for having granted us innumerable bounties together with it: how many saints from among various peoples have shone forth in faith!
Let us firmly hold on to our faith in Christ, the Son of God, and let us try to live in accordance with this faith. Otherwise we will share the fate of the Jews, and we – the new Israel, the sons of the Kingdom, – shall be cast out into outer darkness, where there shall be weeping and gnashing of teeth. "Our Orthodox faith will not save us, – says St. John of Kronstadt, – if we have little faith or lack faith, if we are proud and cruel, gluttonous, unclean, blasphemous, quarrelsome, disobedient, perfidious, lying, disrespectful, lazy, if we do not bear the burdens of each other and help each other in earthly needs." "Faith without deeds is dead," – says the holy Apostle James, – and will not save us. Even the demons believe in the Lord and tremble before Him, and yet remain the same as ever, and so are condemned to eternal fire.
Let us test ourselves and see what kind of faith we have – whether it is like the faith of the Roman centurion. For it is such a faith that the Lord Jesus Christ seeks to find among us. There is no rank, high position, or noble lineage that can save anyone of its own accord, but we are saved by heartfelt faith, humility, and deeds of charity and mercy…
A certain man once came to an elder and said: "What should I do to step upon the path of salvation and to rid myself of the sinful thoughts that overcome me?" The elder replied: "Go to the cemetery, where you will see the graves of those who have long ago departed. Begin to praise them, and listen to what they will say to you. If they do not respond in any way, begin to scold and slander them, and listen to what they will say, and afterwards come back to me." The man went and did as the elder had told him. "Well, and what did they say to you when you praised them?" – asked the elder. "Nothing at all," replied the man. "And when you scolded them?" "Also nothing." Then the elder said to him: "So should you be silent: whether you are praised, or judged, or scolded, just keep silent, and thus you will vanquish your pride, and will rid yourself of evil and condemnation." This is because pride interferes with true faith. A proud man cannot be a believer. The example of the Roman centurion teaches us this lesson.
Let us always pray to God for ourselves and for others to grant us our wishes – in simplicity and mildness of heart, with firm faith and hope, with heartfelt repentance, with humility and love, – and our faith shall never be shamed.
Let us offer our heartfelt gratitude to Him for granting our requests, entreating His grace not to abandon us henceforth in all the needs for which we will entreat Him.
Thus, let us believe simply, firmly, never doubting that there is anything that is impossible for God and that everything obeys His word. Whether the sun has to be stopped, or the stars extinguished, or mountains moved from place to place, or fire turned to water and vice versa, or water turned to wine, or wine into blood, or stones into people, or a sick man made well, or a dead man resurrected, or a penitent sinner reprieved, or an ignoble and poor man made rich and noble, or a rich man made poor, – everything will take place, did take place, and does take place by His word. So let us believe when we pray to God, and we will receive all necessary things according to our faith, and to us, just as to the centurion of the Gospel, the Lord will say: "Go thy way, and as thou hast believed, so be it done unto thee."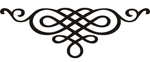 THE ORTHODOX TEACHING ON THE MOTHER OF GOD
(Conclusion)
When the Lord was accomplishing the redemption of mankind and, hanging on the cross, was preparing to seal this redemption by His voluntary death: then alongside the Lord and His cross stood the Mother of God, together with the Lord's beloved disciple John. The Lord had already accomplished the redemption of mankind; through His mortal suffering He was already giving birth to a new life for mankind; He was already prepared to accomplish this birth through His death. Having thus become the Progenitor of a renewed mankind, having replaced by His own Self the forefather Adam, who was unable, because of the fall, to bear children unto salvation, but who bore them solely unto perdition, the Lord suddenly turns to His Mother, a participant in His redemptory suffering for mankind, and confers upon Her Her rights regarding mankind, the rights She has earned through Her entire relationship with the Son of God. He declares Her to be the Mother of His beloved disciple, and through him – the Mother of all mankind. Just as the Lord Himself replaced Adam, so did the Mother of God replace Eve. Eve, having been born a virgin, transgressed God's commandment and could not retain within herself the holy feeling of chastity; submission to her husband was announced to her as one of her punishments. The Mother of God, having been conceived and born in the sin of the forefathers, by means of a chaste and pious life made Herself a vessel of God. Constant communion with God, Who was at the same time the Ever-virgin's Son, constantly filled Her with heavenly, spiritual and holy thoughts and feelings. The Mother of God was a Virgin before giving birth to the Son of God, was preserved a Virgin during the birth itself, and remained a Virgin after giving birth. She did not experience any attraction to man, because She was entirely and fully attracted to God, joined to God.
After the Lord's ascension, the Mother of God, as we can see from the book of the Acts of the Apostles, lived together with the apostles in the same house, continuously engaged in prayer. In the midst of such a way of life, on the day of the Pentecost, upon the Lord's disciples descended the Holy Spirit, Who always demands from any disciple of Christ a preparation by means of meticulous and continuous prayer, in order to descend upon him and fill him with grace. At this time the Mother of God was the recipient of the most abundant grace of the Holy Spirit, Who enlightened not only Her soul, but also Her body. Her soul and body themselves became a source of light.
For those who wish to hear a historic witness to this, we offer the testimony of one of the Theotokos' contemporaries in earthly life – St. Dionysius the Areopagite, a famous and learned Athenian, who had been converted to Christianity by the holy Apostle Paul. Three years after the Areopagite embraced the faith, he visited the Theotokos, Who, after the Lord's ascension, resided permanently in Jerusalem, in the home of the Evangelist John. Here is an excerpt from St. Dionysius' epistle to Apostle Paul: "It seemed incredible to me, o our wonderful leader, that somebody besides the supreme God Himself could be so filled with divine power and wondrous grace; no one among men can fathom that which I saw and understood not only with my spiritual, but also physical eyes. With my own eyes I saw the divine and holier than all the heavenly spirits Mother of Jesus Christ, our Lord, Whom I was allowed to see by the grace of God and by the ineffable charity and mercy of the kind Virgin Herself. I confess again and again that when I was led in to see the Most-Holy Virgin, I became suffused with such a great and immeasurable divine light, which illuminated me not only externally, but even more so internally, and I was filled with such wondrous and varied fragrance, that my heart grew faint within me, my soul grew faint from Her divine glory and grace. May God be my witness that had I not remembered your divine teaching, I would have accepted the Virgin as God, I would have honored Her with the worship due to God alone: because the mind cannot imagine greater honor and glory for man than the bliss which I, unworthy man, experienced at that moment."
The grace-filled gifts of the Holy Spirit, which the apostles possessed abundantly, were possessed in even greater abundance by the Mother of God. She had the gift of prophecy, and the gift of clairvoyance, and the gift of miracle-working, and countless other gifts. Touching Her brought healing from incurable illnesses. Her virginal body, sanctified by God, became a source of miracles. Just as the shadow of Apostle Peter wrought miracles, so do the icons of the Mother of God work miracles all over the earth, bearing witness to the truth of Christ's teaching.
On the third day after Her dormition, the Mother of God was resurrected and now lives in heaven with Her soul and body. She not only lives in heaven – She reigns in heaven. As the Mother of the Heavenly King, She is the heavenly Queen, the Queen of both holy angels and holy men. She has been granted the special power of entreating God on behalf of mankind. The holy Church, in appealing to all the greatest of God's saints, to all the angels and archangels, says to them: pray to God for us; only to the Mother of God does the Church use the words: save us. The Mother of God is the greatest intercessor and helper of all who work to please God, of all who have dedicated their earthly life to serving God. When She appeared to St. Seraphim of Sarov, She healed him from a severe illness and identified him as belonging to Her kind. She is the quick comfort of all who sorrow and weep. She is the intercessor for penitents. She is the safe haven of sinners who wish to turn to God. She is the warmest intercessor for them before God. Standing before the Mother of God with deep piety before Her majesty, in the ecstasy of faith and love, the faithful of the Orthodox Church glorify the Ever-Virgin most joyously: Rejoice, Thou dwelling of God the Word! Rejoice, Thou holy of holies! Rejoice, Thou throne of the Almighty! Rejoice, Thou vessel of the boundless God! Rejoice, Thou chariot of the One Who sits upon the cherubim! Rejoice, Thou temple of the One Who is worshipped by the seraphim! Rejoice, Thou height unassailable by the thoughts of men! Rejoice, Thou depth unreachable by the minds of angels! O, Most-holy Theotokos, glory to Thee! O, Most-holy Theotokos, save us! Amen.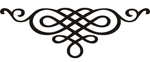 LIVES OF THE SAINTS
On October 23rd (the 10th by the old calendar) the Church commemorates the assembly of the holy Optina Elders, and among them the holy elder Ambrose, who died on precisely that day in 1891.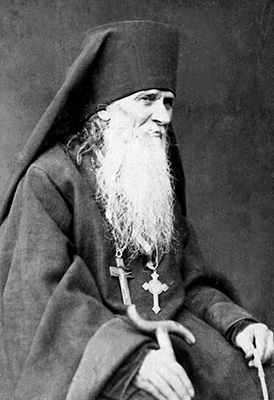 The venerable Ambrose of Optina was born Alexander Grenkov in 1812, in the family of church sacristan Mikhail Grenkov. In his youth, while studying at the Tambov Theological Seminary, Alexander became terribly ill and gave a vow, if he regained his health, to enter a monastery. But becoming well, the lively and sociable youth did not hurry to fulfill his vow. However, new health problems reminded him of his promise, and in 1839 he entered the Optina Hermitage in the Kaluga province, becoming a disciple of the famous elder Leo. From him the young novice gained the experience of the great saints of antiquity in acquiring grace. In 1845 he fell prey to a new and severe illness, which because monk Ambrose's cross to the end of his life. Soon he began to help the elder Macarius as a confessor, began to see people, to participate in the hermitage's publishing efforts. After the repose of the elder, hieroschemamonk Macarius, in 1860, St. Ambrose became the brothers' spiritual advisor.
Thousands of believers from all corners of Russia came to the clairvoyant elder for advice. He was visited and engaged in spiritual discussions by the writers Dostoyevsky, Solovyev, Leontyev, Aleksey Tolstoy, Leo Tolstoy… The venerable elder never allowed himself to say a vain or wrathful word, but spoke only for the purpose of correction or spiritual guidance. From the Lord he received the gifts of healing and clairvoyance. Never refusing to help those in need, the holy elder could appear to people who entreated him at a distance, in dreams and face-to-face. He became a great intercessor for the Russian people, having transformed thousands of human destinies by the grace of the Holy Spirit.
Saint Ambrose reposed on October 10, 1891 in the Shamordino convent which he had founded. His relics remain at the Optina Hermitage.
The elders of the Optina Hermitage gave grace-filled advice to people of all stations in life, including great Russian writers and statesmen. In the 19th – early 20th century the monastery renewed the ancient ladder of eldership, which allowed entire generations of people to ascend into the Heavenly Kingdom. The Optina elders were healers, clairvoyants, comforters, accusers.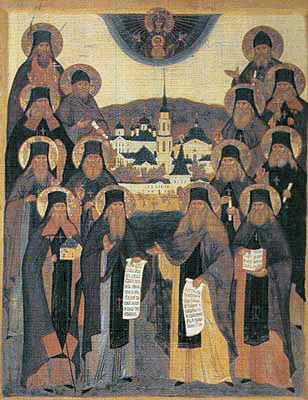 "The widespread stabs of the young generation at great activity for the benefit of mankind are similar to a person's not graduating from high school and yet dreaming of becoming a professor in a university… One must first avoid evil himself, and only then concern himself with the benefit of others," – wrote elder Ambrose at the end of the 19th century. There words, as well as everything that has been said and written by him and other Optina elders, sound extraordinarily applicable to our own times.
The elders taught people to live not according to their passions, but according to the commandments. "The zeal which wishes to destroy great evil without appropriate preparation is a great evil in itself," – said the elder Joseph, a disciple of Saint Ambrose.
The Optina elders were the defenders and invariable champions of the Orthodox faith. "Apostle Paul writes: 'I have stayed the course and kept the faith.' This means that it is a very difficult task… Children, guard the holy faith, which is a priceless treasure, for with it you will enter the Kingdom," – instructed the elder Barsonuphius.
From Optina proud mankind was called to embrace humility. "People are truly losing their minds if they rely on their minds and expect everything from them. Our teacher is humility. God opposes the proud and gives grace to the humble," – declared the elder Anatoly on the eve of the revolution.
The rules of life that were offered to people could be followed in any rank or profession on earth. "Holiness is simplicity, presented to people in a reasonable manner. Good sense is higher than all virtues," – such was the spiritual testament left us by the last elder, Saint Nectarius, on the eve of his repose in 1928.

Excerpts from the instructions of Saint Ambrose
The counsels and instructions with which the elder Ambrose healed all those who came to him with faith, were offered by him either in private conversations, or in general to all those who surrounded him, in the most simple, terse and often joking manner. It should be noted that a joking tone in the elder's instructional speech was his trademark.
"How should we live?" – the elder was bombarded from all sides with this universal and highly important question. As was his wont, he responded jokingly: "To live means to grieve not, judge not, offend not, and show respect to all." Such a tone often caused frivolous listeners to smile. But if one ponders this instruction more deeply, one can find in it a profound meaning. "Not to grieve," i.e. for our hearts not to be burdened with the sorrows and misfortunes that are man's inevitable lot on earth, but to direct our hearts to the sole source of eternal sweetness – to God; in this manner, even when faced with innumerable and varied misfortunes, man can comfort himself by humbling himself and finding inner peace. "Not to judge," "not to offend," – there is nothing more common among men than being judgmental and offensive – those twin offspring of destructive pride. Of themselves they are sufficient to push a man's soul down to the depths of hell; but, by the way, they are often not even considered to be sins. "Show respect to all" – echoes the apostle's commandment: to honor each other with dignity and respect (Romans 12:10). Gathering all these ideas into one, we see that in the abovementioned saying the elder primarily preached humility – the basis of spiritual life, the source of all virtues, without which, according to St. John Chrysostome, it is impossible to be saved.
When asked the general question: "How should we live?" – the elder sometimes answered in a slightly different way: "We should live without hypocrisy, conduct ourselves in an exemplary manner, and thus we will be on the right track, otherwise we will lose the game."
"We must, — the elder also said, — live on this earth like a spinning wheel: it slightly touches the earth at only one point, while all the rest tends to go upward; whereas we lie down on the ground and are unable to get up." And these instructions, too, urged people to strive to attain humility.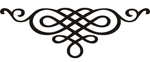 UNBELIEVABLE FOR MANY, BUT ACTUALLY A TRUE OCCURRENCE
(Continuation)
XII.
The meaning of the word "agony" which I had heard, was entirely understood by me, but now everything in me somehow turned away from my relationships and feelings, and extended solely to my conceptions.
Without doubt, if I had heard this word even at the time when the three doctors were examining me, I would have been frightened to an alarming degree. Likewise, if such a strange turn had not taken place in my illness, if I had remained in the ordinary state of a sick man, even at the present moment, knowing that death is approaching, I would have understood and explained all that had taken place in me differently; but in my present state the words of the doctor only surprised me, without arousing that feeling of fear which is characteristic of people who are thinking of death, and I gave an entirely unexpected – in comparison with my previous conceptions – interpretation to the state which I was experiencing.
"Well now, so that's what it is! It is the earth that is drawing me so" – it suddenly dawned on me. "That is to say, not me but that which belongs to it, that which it let me have for a period of time. And is the earth drawing it, or is matter itself trying to return to the earth?"
And that which previously had seemed so natural and true, namely, that after death I should turn completely to dust, now appeared unnatural and impossible.
"No, I as a whole shall not disappear, I cannot," – I almost screamed out loud and made an attempt to free myself, to tear myself away from that force which was attracting me, and suddenly I felt a calm within myself.
I opened my eyes, and everything that I saw during that minute, down to the slightest details, registered in my memory with complete clarity.
I saw that I was standing alone within a room; to the right of me, standing around something in a semi-circle, the whole medical staff was crowded together: having put his hands behind his back and gazing intently at something which I was unable to see from behind their figures, stood the head physician; behind him, slightly bent forward – the younger physician; the old assistant doctor, holding a bag of oxygen in his hands, shifted in indecision from one leg to the other, evidently not knowing what to do with his apparatus – either to bear it away, or keep it there, since it could still be of use; and the young doctor, having bent down, was supporting something, but because of his shoulder I could only see the pillows.
This group struck me with surprise: in the place where they were standing there was a bed. What was it that drew the attention of these people, what were they looking at, when I was already not there, when I was standing in the middle of the room?
I moved forward and looked where they were all looking:
There on the bed it was I who was lying.
XIII.
I do not have any recollection of experiencing anything like fear upon seeing my double; I was only perplexed: how can this be? I feel myself here, and at the same time I am also over there.
I looked at myself standing in the middle of the room. Why, this was me without any doubt, exactly the same as I always knew myself to be.
I wanted to touch myself, to take the left hand by the right: my hand went right through; I tried to grasp myself at the waist – again my hand went through my body as through empty space.
Struck by such a strange phenomenon, I wished that someone nearby would help me understand what was happening and, taking several steps forward, I extended my hand, wishing to touch the shoulder of the doctor, but I felt that I was walking strangely, not feeling any contact with the floor, and my hand, no matter how hard I tried, could not reach the figure of the doctor; perhaps only a few inches of space remained, but I was unable to touch him.
I made an effort to stand firmly on the floor, but although my body obeyed my attempts and lowered itself, yet it could not reach the floor just as the figure of the doctor could not be reached before. Here also an insignificant amount of space remained, but there was no way I could overcome it.
And I vividly remembered how several days ago the nurse of our ward, wishing to keep my medicine from becoming spoiled, lowered a vial containing it into a pitcher of cold water; however, there was a lot of water in the jug, and immediately the light vial was buoyed up, but the old nurse, not understanding what had taken place, persistently tried one, two, and three times to lower it down to the bottom of the pitcher, and even held it down with her finger in the hope that it would eventually remain there, but hardly would she remove her finger than it would again be carried upwards to the surface.
In a similar manner, evidently, the surrounding air must have become too dense for me, for the present me.
XIV.
What had happened to me?
I called the doctor, but the surrounding atmosphere turned out to be entirely unfit for me; it did not receive and transmit the sounds of my voice, and I understood myself to be in a state of utter disassociation from all that was around me, I understood my strange state of solitude, and a feeling of panic came over me. There was really something inexpressibly horrible in this extraordinary solitude. If a person becomes lost in a forest, is drowning in the depths of the sea, caught in a fire, sitting in solitary confinement – he never loses hope that he will be heard; he knows that he will be understood if his call for help reaches somebody's hearing; he understands that another living being sees him, that the guard will walk into his cell, and he will be able to start speaking with him, express what he desires, and the other one will understand him.
But to see people around oneself, to hear and understand their conversation, and at the same time know that no matter what happens to you, you have no opportunity whatsoever of informing them of your presence and of expecting help if need be – from such a state of solitude my hair stood on end and my mind became torpid. It was worse than being on an uninhabited island, because there at least nature would have manifested positive signs of receptivity of one's individuality; but here, in this complete deprivation of the ability to associate with the surrounding world, which was an unnatural experience for a human being, there was so much deathly fear, such a horrible acknowledgment of helplessness, that one is neither able to experience it in any other situation, nor convey it in words.
I, of course, did not give up at once; I attempted in all possible ways and tried to make my presence known, but these attempts only brought me complete despair. Is it really possible that they do not see me? – I thought with despair and repeatedly approached the group of people standing over my bed, but none of them turned around or paid any attention to me, and now I looked at myself with perplexity, not understanding – how was it possible for them not to see me, when I was the same as I had always been. I made another attempt to touch myself, and again my hand passed only through air.
"But I am not a ghost, I feel and am conscious of myself, and my body is a real body, and not some kind of elusive phantom," – I thought, and again I looked at myself intently and became convinced that my body really was a body, because I could observe it and see its minutest details, even a spot, with complete clarity. Its external appearance remained the same as it had been previously, but evidently its qualities had changed; it had become inaccessible to touch, and the surrounding air had become too dense for it, so that complete contact with objects was not possible.
"An astral body. It seems that is what it is called?" – the thought flashed through my mind. "But why, what has happened to me?" – I asked myself, trying to remember if I had ever heard descriptions of such states, of such strange transformations in illness.
XV.
- No, you cannot do anything here! Everything is finished, – the young doctor said, waving his hand in a hopeless manner, and went away from the bed on which was lying the other me.
I felt inexpressibly vexed that they continued to discuss and fuss over that me which I did not feel at all, which did not exist for me, and were leaving without attention the other real me, which was conscious of everything and, being tormented by the fear of obscurity, sought and demanded their help.
"Is it possible that they will not find out, is it possible that they do not understand that I am not there," – I thought disappointedly and, walking up to the bed, I looked at that me, which at the expense of the real me, attracted the attention of the people in the ward.
I glanced at the bed and only here, for the first time, I was struck with the following thought: is it possible that that which has happened to me, in our language, in the language of living people, is defined by the word "death"?
This thought occurred to me because the body lying on the bed had all the appearance of a corpse: without any movement, not breathing, the face covered with a kind of pallor, with firmly compressed, slightly bluish lips, it vividly reminded me of all the deceased whom I had ever seen. It may seem strange at first that only upon seeing my lifeless body did I comprehend what really happened to me, but if one carefully considers all that which I felt and experienced, such a seemingly strange perplexity on my part becomes understandable. Since our understanding of the word "death" is inextricably bound up with the idea of some kind of destruction, of a cessation of life, – how could I think that I had died, when I did not lose self-consciousness for a single moment, when I felt myself just as alive, hearing all, seeing all, conscious of all, capable of movement, thought, speech? Of what deterioration could there be any question here, when I saw myself perfectly, and at the same time even acknowledged the strangeness of my state? Even the words of the doctor that "all is over" did not draw my attention and did not elicit a guess concerning that which had taken place – to such a great extent did that which had taken place with me differ from our conception of death!
The disassociation from everything around me, the split in my personality more than anything else could have made me understand what had taken place, were I religious or had I believed in the existence of a soul; but this was not the case, and I was guided solely by what I felt, and the sensation of life was so clear, that I was only bewildered by the strange phenomenon, being completely unable to link my feelings with the traditional conception of death, i.e. while sensing and being conscious of myself, to think that I did not exist.
Later I often had the opportunity of hearing from religious people, i.e. those who did not negate the existence of the soul and the afterlife, the following opinion or supposition: that as soon as a person's soul shuffles off its corruptible flesh, it immediately becomes a kind of an all-knowing essence, that nothing remains unknown to it, and that it is astonishing how in the new realm of reality, in the new form of existence it not only immediately enters into the field of new laws which are revealed to it by the new world and its own changed state of being, but that all this is so akin to it, that this transition is like a return to one's homeland, a return to its natural state. Such a supposition is founded mainly on the idea that the soul is a spirit, and those limitations do not present themselves for the spirit that exist for the physical part of man.
XVI.
Such a hypothesis is, of course, entirely untrue.
From what has been described above, the reader sees that I arrived in this new world essentially the same as I had left the earth, i.e. with practically the very same capacities, conceptions, and knowledge that I had while living on earth.
For example, when I wanted somehow to make my presence known, I had recourse to those means which are commonly used in such cases by living people; i.e. I called, came near, tried to touch or push someone; having noticed a new quality to my body, I felt it to be strange: consequently, my previous conceptions remained in it, – and desiring to become convinced of the existence of my body, I again had recourse to the usual method that I had been accustomed to as an earthly human.
Even after having understood that I had died, I did not grasp by means of some kind of new understanding the change that had taken place in me and, in my bewilderment, I either thought of my body as "astral," or I was struck with the following idea: was not the first-created man given just such a body, and later, after the fall, when he was given the leather vestments mentioned in the Bible, was that not the corruptible body that is now lying in bed and would in a short while turn to dust? In short, wishing to understand what had happened to me, I proposed such explanations as were known and accessible to me according to my mundane earthly conceptions.
And this was to be expected. The soul, of course, is a spirit, but a spirit created for life together with the body; therefore, in what way can the body be anything like a prison for it, or some kind of bonds which chain it to some supposedly unrelated form of existence?
No, the body is a lawful dwelling place that has been, as it were, placed at the disposal of the spirit, and therefore it will appear in the other world at that level of its development and perfection, which it had attained during its joint existence with the body, and the lawfully established form of its existence. Of course, if during his life a person was spiritually developed, spiritually disposed, then his soul will feel itself in more familiar surroundings, and things will appear more comprehensible in this new world than to the soul of a person who has lived without any thought for the other world; and while the former will be in a position to orient itself, so to speak, even though not rapidly and not without mistakes, the latter, as in my case, has to begin from the very rudiments, and needs time to understand both the fact of which it has never thought before, and that actual realm in which it now finds itself and into which it had never mentally drifted during its earthly existence.
Afterwards, in recalling and thinking over my state of being at the time, I noticed that my mental capacities functioned with such striking energy and swiftness, that it seemed not to take any time at all between my thoughts and the exertions I made to comprehend, compare or remember something; hardly would something appear in my mind, than my memory, immediately penetrating into the past, would dig up all the slightest bits of knowledge concerning the given subject that were carelessly lying about and forgotten, and all that which at another time would undoubtedly have aroused in me a feeling of bewilderment, now appeared as quite obvious and apparent. At times, by virtue of some infusion of new power into me, I even guessed beforehand that which was unknown to me, before it actually appeared before my eyes. And it was only this latter characteristic that turned out to be the outstanding quality of my capacities, aside from the other changes that had resulted from my altered state of being.
XVII.
I am now proceeding with my narration of the circumstances which followed in my unbelievable occurrence.
Unbelievable! But if up until now it has seemed unbelievable, then these further circumstances will appear as such "naïve" tales in the eyes of my learned readers, that it is not even worth relating them; but perhaps for those who would want to view my narration differently, the naivete itself and the scantiness of the material presented will serve as proof of its veracity, because if I were making up this narration, imagining it, then such a wide field would open up for one's fantasy here, that of course I could have thought up something more subtle and effective.
Now then, what happened to me further? The doctors walked out of the ward, both assistant doctors stood about and tried to explain the stages of my illness and death, while the old nurse turned to the icon, crossed herself and audibly pronounced the accepted wish in such cases:
- May he inherit the kingdom of Heaven! Eternal peace to him!
And hardly had she uttered these words, than two Angels appeared at my side. For some reason in one of them I recognized my Guardian Angel, but the other was unknown to me.
(Note: Such he remains for me to this day, although later I asked many religious people about it, whether in the teachings of our Church or in the works of the Holy Fathers there were any indications of his appearance at the death side of a human being. But up to now I have heard very little; only one simple wanderer told me that one should pray to the "greeting angel," and to my question: " What is a 'greeting angel'?" – he only briefly replied: " Why, he is the one who meets your soul there," – and I did not learn anything more about this.)
Having taken me by the arms, the Angels carried me right through the wall of the ward into the street.
(To be continued)
(Reprinted from"Orthodox Russia," Nо.4, 1976)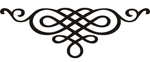 SPIRITUAL POETRY
THE TEMPTATION OF CHRIST
When the Divine One fled from human talk

And all its idle vanity and pride,

Forgetting hunger and the thirst of many days,

And harking to the desert's solitary voice,

Then to the crest of graying cliffs

The world's arrogant Prince raised Him aloft.

"Here, at Thy feet, are all the realms, – he said, –

With all their charm and all their glory.

Only confess the obvious, fall at my feet,

Restrain the spiritual upsurge of Thy heart –

I'll give Thee all this beauty, all this power,

And will submit in our unequal struggle."

But He replied: "Heed thou the Scriptures:

To God alone must thou bend down thy knees!"

And Satan vanished – and the angels came

To wait upon His wishes in the desert.

— A. Fet

— Translated by Natalia Sheniloff