On April 7th (March 25th, old style), on the day of the feast of the Annunciation, the Church also commemorates Saint Tikhon the Confessor, Patriarch of Moscow.

The holy Patriarch Tikhon was born in 1865 in the Pskov province, in the family of a priest. While studying first in the Pskov Seminary, and later in the St. Petersburg Spiritual Academy, the saint became the object of universal love for his deep religiousness, his affectionate nature and his readiness to help his friends. After becoming a monastic and gradually reaching the rank of archbishop, St. Tikhon was an industrious and beloved pastor of several archbishoprics before being elected to the Moscow cathedra. Soon all of Moscow came to know and love its affectionate and readily-accessible archbishop, which subsequently played an important role when the entire populace came out to guard him from the Communists.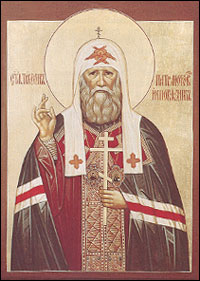 Saint Tikhon the Confessor,
Patriarch of Moscow.