Excerpts from the instructions of Saint Ambrose

The counsels and instructions with which the elder Ambrose healed all those who came to him with faith, were offered by him either in private conversations, or in general to all those who surrounded him, in the most simple, terse and often joking manner. It should be noted that a joking tone in the elder's instructional speech was his trademark.

"How should we live?" – the elder was bombarded from all sides with this universal and highly important question. As was his wont, he responded jokingly: "To live means not to grieve, not to judge anyone, not to offend anyone, and show respect to all." Such a tone often caused frivolous listeners to smile. But if one ponders this instruction more deeply, one can find in it a profound meaning. "Not to grieve," i.e. for our hearts not to be burdened with the sorrows and misfortunes that are man's inevitable lot on earth, but to direct our hearts to the sole source of eternal sweetness – to God; in this manner, even when faced with innumerable and varied misfortunes, man can comfort himself by humbling himself and finding inner peace. "Not to judge," "not to offend," – there is nothing more common among men than being judgmental and offensive – those twin offspring of destructive pride. Of themselves they are sufficient to push a man's soul down to the depths of hell; but, by the way, they are often not even considered to be sins. "Show respect to all" – echoes the apostle's commandment: to honor each other with dignity and respect (Romans 12:10). Gathering all these ideas into one, we see that in the abovementioned saying the elder primarily preached humility – the basis of spiritual life, the source of all virtues, without which, according to St. John Chrysostome, it is impossible to be saved.

When asked the general question: "How should we live?" – the elder sometimes answered in a slightly different way: "We should live without hypocrisy, conduct ourselves in an exemplary manner, and thus we will be on the right track, otherwise we will lose the game."

"We must, - the elder also said, - live on this earth like a spinning wheel: it slightly touches the earth at only one point, while all the rest tend to go upward; while we lay down on the ground and are unable to get up." And these instructions, too, urged people to strive to attain humility.

The Optina eldership
From the time of Peter the Great a process of denationalization was taking place among Russian intelligentsia: they admired all things coming from the West and disdained their own native ones; the finding of something positive in one's homeland was considered to be a divergence from the norm and was mocked. Similarly the field of religion was being infiltrated by the spirit of Western Protestantism, and genuine ancient Orthodoxy was being extinguished. National, patriotic, as well as religious feelings continued to be preserved only among the common people.
The war of 1812 somewhat revived the spirit of patriotism, but even such great writers as Pushkin, Lermontov, and others had to pay for any deep expression of patriotic feelings. It was at this point in time that the Optina Hermitage became a certain counterfoil to all that was happening around it; it became a guiding light for many writers and philosophers, not to mention common people who were seeking the meaning of life in true Orthodoxy. For them Optina represented a union of the supreme spiritual endeavor of constant prayer that was crowned by an abundance of grace coming from acquiring the gifts of the Holy Spirit, and service to the world in all its fullness, covering both its spiritual and earthly needs. Moreover, up until that time, due to the religious regulation of Peter the Great and the decrees of 1787 and 1808, the publication of books of spiritual content was left to the sole discretion of the Holy Synod, and such books could be printed only by its printing press. As a result, only one ascetic book – the Philokalia – was published in 1793, and readers were deprived of spiritual literature, while at the same time civil publications spewed out a multitude of translations of Western pseudo-mystical works, many of which, published with the permission of civil censors, were openly hostile to Orthodoxy. In these circumstances the publication of the works of the Holy Fathers was of great and historical significance. Due to the presence of highly-educated elders, the great and multi-faceted help of various writers, men of letters, and philosophers, as well as full understanding, support, and blessing on the part of Metropolitan Philaret of Moscow, the works and lives of prominent Church Fathers, both ancient and contemporaries such as Paisius Velichkovsky, were translated from Greek and Slavonic into Russian and were published. This publication began in mid-19th century, and by the end of that century the library founded by Father Moses contained 5,000 books.
The published books were sent out to academies, seminaries, libraries, ruling bishops, and inspectors, and this formerly inaccessible ascetic literature became accessible to monastics and all religiously-oriented Russian people. True Orthodoxy shone forth and became fortified against Western falsely-oriented books. Thus the appearance of these Orthodox books was an event impossible to evaluate in simple words.
Special merit in the undertaking of this great deed, on a par with elder Macarius, of whom we will speak separately, belonged to the prominent Russian philosopher Ivan Vasilyevich Kireyevsky and his wife (the first editions, besides the couple's work on them, were published at their personal expense).
Elder Leo
The first elder co-opted by Fathers Moses and Anatoly for eldership at Optina was Father Leo. He was born in 1768 in Korachevo, served in the world as a bailiff, and circulated among the merchant class. During his long journeys on business affairs he encountered members of all classes of society and became well-versed in the manners and way of life of each class. This experience stood him in good stead during the years of his eldership, when the most diverse people, both well-known and unknown, came to see him and to open their souls to him.
Father Leo began his monastic life in Optina Hermitage, but later transferred to the Beloberezhsky Hermitage, where he underwent training in monastic virtues – obedience, patience, and various external endeavors – under the tutelage of the prominent Athonite ascetic Father Vasiliy. Here Father Leo went through his spiritual labors under the name of Leonid. Later he spent some time in the Choln monastery, where he met Father Theodore, a disciple of Paisius Velichkovsky, and became his loyal follower. Elder Theodore began to train Father Leonid in the supreme monastic endeavor, that "science of sciences and art of arts," as the labor of constant prayer is called, and by means of which the heart is cleansed of all passions. Here Father Leonid also met Abbot Philaret, the future Metropolitan of Kiev. This meeting subsequently had great importance for him.
Afterwards Father Leonid was appointed abbot of the Beloberezhsky Hermitage, and Father Theodore, under whose guidance Father Leonid spent almost 20 years, moved together with him. Here they were joined by yet another prominent ascetic and disciple of St. Paisius, Father Cleopas. In 1808 Father Leonid resigned from abbotship of the monastery and went off to live in the deep forest, settling down in a communal cell with Fathers Theodore and Cleopas. Here, in ascetic solitude and silence, he became a schema-monk with the name of Leo.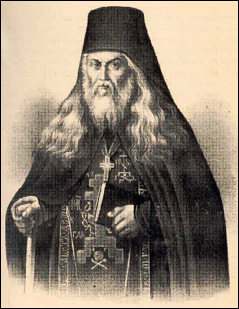 However, a while later the three monks were expelled from their dwelling by the new abbot of the monastery, because a great multitude of people flocked to see them. There followed many years of wandering from monastery to monastery, and after Father Theodore's death Father Leo spent some time in the Ploshchansk Hermitage, where he met Father Macarius – his future assistant in eldership at the Optina Hermitage and subsequent successor.
Finally, in 1829, this founder of the spiritual school from which issued the entire constellation of successive elders came to Optina Hermitage. However, Father Leo's merit does not only lie in the foundation of eldership: he was the stimulus which inspired succeeding generations of elders for an entire century until the very end of the existence and flourishing of the famous Optina Hermitage.
Father Leo arrived at Optina towards the end of his life. He was large in stature, majestic, possessing fabulous strength in his youth, and despite his corpulence retaining even in his old age a certain grace and fluidity of movement. At the same time his extraordinary intelligence, coupled with clairvoyance, allowed him to see through people. The elder's soul was filled with great love and pity for mankind. His actions, however, were sometimes severe and impulsive. Father Leo cannot be judged as an ordinary person, because he attained that spiritual height at which the ascetic acts in compliance with the voice of God. Instead of lengthy persuasions, he sometimes disconcerted people right away and allowed them to realize and feel the error of their ways, and in this manner he used his spiritual scalpel to open up the festering abscesses that had formed in people's coarsened hearts. As a result there flowed streams of penitent tears. As a spiritual psychologist the elder knew how to achieve his purpose. Here is an example: not far from Optina there lived a certain landowner, who boasted that as soon as he looked at Father Leo, he would see right through him. One time this man came to the elder when there were a lot of people present, and as soon as the man entered, Father Leo said: "What a dolt has arrived! He has come to see through the sinful Leo, while he himself, the scoundrel, has not been to confession or communion for 17 years." The landowner started shaking like a leaf and afterwards repented and cried that he was truly a sinner and had not been to confession or partaken of the Holy Mysteries for 17 years.
Then there is the case of an Athonite monk who visited Father Leo. The monk was dressed as a layman, but Father Leo recognized him as an Athonite monk. Afterwards there came three women in tears and brought with them another one who had lost her mind, and they asked the elder to pray for their sick friend. The elder put on his epitrahelion, placed the end of the epitrahelion and his hands on the sick woman's head, and after reading a prayer, thrice made the sign of the cross over her and ordered her to be taken to the pilgrims' inn. When the monk came to visit the elder on the following day, yesterday's sick woman also came there, absolutely restored to health. The monk became terrified that the elder performed such healing without any thought of possible harm to himself, but the elder replied: "I have not done this through any power of my own, but it came to pass because of their faith and by the action of the grace of the Holy Spirit that was given to me in ordination; as for myself, I am a sinful man."
Countless were the miracles performed by the elder. A crowd of destitute people thronged to him, surrounded him. A certain hieromonk describes how, when traveling from Kozelsk to the Smolensk province, in all the isolated villages along the way the villagers, learning that he was coming from Kozelsk, eagerly tried to learn something of Father Leo. In response to his question – how do you know him? – they said: "Mercy, kind sir, how can we not know Father Leo? He is like a dear father to us poor people, and without him we are veritable orphans."
Unfortunately, certain ecclesiastical officials had an entirely different attitude towards Father Leo, including the Kaluga diocesan bishop Nicholas, who created a great deal of unpleasantness for the Optina Hermitage. This bishop had the firm intent to banish Elder Leo to the Solovetsk monastery. Luckily, many hierarchs looked upon the elder differently. Both Metropolitans Philaret – of Kiev and of Moscow – forcefully interceded on his behalf, otherwise the elder would have been in a difficult situation.
Father Leo died in 1841, having been an Optina elder for 12 years, but all that time he was subjected to persecution, either due to the bishop's misunderstanding of him, or to the envy and denunciations of others; he even stood a court trial (but was cleared of all charges), was transferred from skete to monastery, and the bishop even forbad him to have visitors, but despite all these impediments, out of great charity for suffering people he never turned away those who came to him for help.
On the other hand, Abbot Moses and the abbot of the skete Father Anatoly treated him with the greatest respect and never did anything without his blessing.
In the early days of September 1841 Father Leo began to weaken. At the end of his life he prophesized that Russia would suffer great trials and tribulations. After suffering great pain he reposed in the Lord on October 11. 1841. The universal grief over his passing was indescribable, and multitudinous masses of people flocked to the bier of the great elder.

COUNSELS OF THE OPTINA ELDERS
Counsels of the venerable Elder Leo
Try to be more attentive to yourself instead of judging the actions, behavior and attitude of others towards you; if you do not see love in them, it is because you yourself have no love within you.
Wherever there is humility, there you will find simplicity, and this God-given manifestation does not test His providence.
God does not disdain prayers, but sometimes does not grant the desires expressed therein, specifically in order to have things come out better, in accordance with His Divine intent. What would happen if the All-knowing God completely fulfilled our wishes? I believe all human beings would eventually perish.
Those who live without being attentive to themselves will never be the recipients of grace.
If you do not have tranquility within yourself – know that you are lacking humility. This the Lord showed to us in the following words, which at the same time demonstrate where one should look for tranquility. He said: Learn from Me, for I am meek and humble in heart, and ye shall find rest for your souls (Matt. 11:29).
Counsels of the venerable Elder Moses
If you show mercy towards others – mercy will be shown to you.
If you co-suffer with the suffering (this does not seem to be difficult) – you will be listed among the martyrs.
If you forgive your offenders, not only will all your sins be forgiven, but you shall be the children of the Heavenly Father.
If you pray for salvation from the bottom of your heart, even a little bit, – you shall be saved.
If you berate yourself, accuse and judge yourself before God for your sins, of which you become aware through your conscience, – you shall be justified.
If you confess your sins before God, for that you shall earn forgiveness and recompense.
If you sorrow over your sins and feel remorse, or give way to tears, or even just sigh, your sighing will not be concealed from Him: "Not a single teardrop, nor any part of a teardrop," – says St. Simeon, – "is hidden from Him." And St. John Chrysostome says: "Even if you just lament over your sins, He will accept it as part of your salvation."
Examine yourself daily: what did you sow for the next life – wheat or chaff? Having tested yourself, set yourself towards improvement on the following day and spend your entire life in this manner. If the day was spent poorly, so that you did not offer even a decent prayer to God, nor felt any remorse of heart, nor humbled yourself in thought, nor showed mercy to anyone, nor gave any charity, nor forgave your offenders, nor bore any insult, but on the contrary, you did not restrain yourself from anger, did not restrain yourself in word, food, and drink, or immersed your mind in unclean thoughts, – having examined all this in good conscience, condemn yourself and prepare on the following day to be more attentive towards good and more cautious towards evil.
(To be continued)