On September 30th (the 17th by the old calendar) the Church joyously celebrates the feast of the holy martyrs Faith, Hope, Charity, and their mother Sophia.
During the reign of the Roman Emperor Hadrian, a young Christian widow by the name of Sophia lived in Rome. The name Sophia means wisdom. Sophia had three daughters, to whom she had given the names of the three greatest Christian virtues – faith, hope, and charity. She brought them up in these three virtues, and because the virtuous maidens were also very beautiful, they soon became known throughout the entire city of Rome.
Emperor Hadrian also heard about them and commanded them to be brought before him. Knowing in advance that the emperor would ask them about their religion, Sophia and her daughters earnestly prayed before going to the palace. There the haughty and cruel Hadrian was awaiting them in all his kingly splendor. Sophia and her daughters calmly came up to the throne, bowed before the emperor, and stood waiting for his questions.
As was customary, the emperor asked Sophia about her family, her name, and her faith. In response to the last question Sophia fearlessly declared herself to be a Christian and confessed the Lord Jesus Christ. Hadrian was at first amazed at Sophia's courage and wisdom, and sent her, together with her daughters, to a certain noble woman, hoping that the latter would be able to talk them into renouncing Christ. But the woman indeed turned out to be noble, and realizing the danger that was in store for this Christian family, she did not hinder Sophia from spending the last days alone with her daughters, instructing them in faith and faithfulness to Christ even unto suffering and martyric death.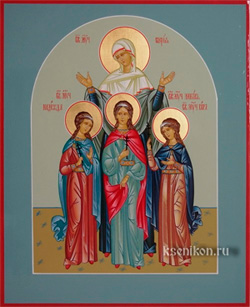 On the third day Hadrian once more called them before him, and admiring the beauty of the young maidens, he tried – first with kind words and promises to become their adoptive father, then with all manner of threats – to talk them into renouncing their faith. But the girls replied to him as one: "We have only one Father – our Lord and God – and we are His children. He takes care of us, while as for your threats – we do not fear them and are ready to suffer all kinds of tortures for Christ!" The girls spoke, interrupting one another, and their voices resounded with such noble courage that the emperor became embarrassed. He asked Sophia: "How old are your children?" Sophia replied: "The eldest, Faith, is twelve; the middle one, Hope, is ten; and the youngest, Charity, is only nine."
And the emperor was amazed at the wisdom and courage of these children. Then he attempted to cajole each one of them in turn, and each one in turn he gave over to terrible tortures. But each little martyr steadfastly suffered for the Lord Jesus Christ, joyously waiting to be united with Him in heaven, and each one received a martyr's crown through beheading.
Their noble mother, Sophia, standing there and suffering terribly at the sight of her daughters' tortures, encouraged them and spurred them on to the Heavenly Realm, then collected the three bodies and piously buried them at her estate. Afterwards she spent three days without food or sleep at her daughters' graves, entreating the Lord for a speedy reunion with her beloved daughters. And God heard her prayer: on the third day she peacefully reposed and passed into the other world, never again to be parted from her children.