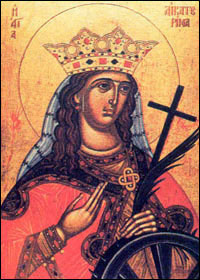 The Great-martyr Saint Catherine
On December 7th (November 24th, old style) the Church commemorates the Great-martyr Saint Catherine.
Saint Catherine was born in Alexandria in the beginning of the fourth century A.D., came from a noble family and was noted for her extraordinary wisdom and wondrous beauty. Many rich princes asked for her hand in marriage, but she refused them all, saying to her parents: "Find me a husband who would be my equal in beauty and erudition, and then I will marry."

A certain desert-dweller once said to Catherine that he knew of a wondrous Youth Who surpassed her in all her gifts, and gave her an icon of the Holy Virgin with Child. After experiencing a divine vision of the Infant Christ in her dreams, Catherine came to know the Christian faith, became baptized and forever affianced herself to Christ.
At that time the Roman emperor Maximinus came to Alexandria and summoned all the people to a pagan festival. Saint Catherine grieved over the madness of the emperor and the people, and when the day of the festivities arrived, she went into the temple and fearlessly confessed the true God. The emperor ordered her to be imprisoned, and in the meantime convened a great number of learned pagans, instructing them to try to convince Catherine that she was suffering from delusion.
However, the opposite took place: all the pagan philosophers and learned men were so completely defeated by Catherine's wise answers that they came to believe in Christ and received a martyric death at the hands of the iniquitous Maximinus. Meanwhile, seeing the grace that issued forth from Saint Catherine, the Empress Augusta, army commander Porphyrius, and 200 soldiers came to believe in Christ. The wrathful Maximinus then gave Saint Catherine and Saint Augusta over to be tortured, after which these two wondrous women, together with Porphyrius and his soldiers, were beheaded and thus received the crowns of martyrdom.