On July 13th (June 30th by the old calendar), the day following the feast of the holy and glorious apostles Peter and Paul, the Church commemorates the Synaxis of the holy Twelve Apostles.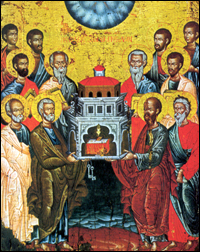 The commemoration of the twelve closest disciples of Christ was established in ancient times; already in the 4th century Emperor Constantine the Great built a church in Constantinople in honor of the holy twelve apostles. In his commentary on the Gospel according to Matthew, blessed Theophylact writes the following concerning the election of the 12 apostles: "Christ chose twelve disciples according to the number of the twelve tribes of Israel. Having given them power, He sent them forth, even though there were few of them, since in general there are few who tread the narrow path. He gave them the power to work miracles, so that they, astounding everyone with their miracles, would have attentive listeners of their discourses."
St. John Chrysostome writes the following about the apostles: "The apostles shone brighter than the stars themselves, and there would be no mistake in calling them the luminaries of the universe, – luminaries not only while they lived, but even now that they are dead. The grace of the holy men did not vanish with their death, did not weaken with their departure. The apostles were fishermen, being mortal they did die, but their nets continue working even up to this day, as is attested to by the multitude of people receiving salvation daily. They were vineyard tenders and, after their death, the vineyards continue to flourish with green leaves and an abundance of fruit. They were vineyard tenders, and fishermen, and pillars, and physicians, and warriors, and teachers. Pillars – because they supported the roof of faith; safe havens – because they calmed the waves of iniquity; helmsmen – because they steered the entire world on its path from earth to heaven; shepherds – because they chased away the wolves and saved the sheep; vineyard tenders – because they tore out the chaff and sowed the seeds of piety; physicians – because they healed our spiritual wounds."
The names of the 12 apostles are as follows: Peter and Andrew, James and John the sons of Zebedee, Philip, Bartholomew, Thomas, Matthew, James the son of Alphaeus, Jude the brother of James, Simon Zelotes, and Matthias. Matthias was chosen as the twelfth by the other apostles, to replace Judas the Iscariot.