And now abideth, – says the holy Apostle Paul, – these three: faith, hope, love; but the greatest of these is love (1 Cor. 13:13). Thus, of the three Christian virtues, love occupies first place. God Himself is love, which He manifested by giving us His only-begotten Son, in order that all who believe in Him not perish, but have eternal life.
This same love the Lord also gave as a commandment to men, both in regard to God and to their neighbors. This commandment is supreme, and it would not be erroneous to say that no one fulfilled it to such perfection as the holy Apostle John the Theologian, whom we now commemorate.
The Lord loves all men, for He does not wish anyone to perish, but His merciful eyes are turned first of all to the holy saints, and above all to His Most-holy Mother, the Ever-pure Virgin Mary. The Lord loved all His disciples, but favored three of them: Peter, James, and John, and of the three – John most of all, because he thus speaks of himself: the disciple whom Jesus loved. From early youth he was called to apostolic service, and with the full ardor of his youthful love he dedicated himself to Christ for his entire life. It was he who lay upon Christ's breast at the Mystic Supper, and when all the other disciples, abandoning Christ, fled out of fear of the Jews, – John alone courageously followed his Teacher to Golgotha, his presence sweetening the bitter cup of the Latter's suffering, while from the cross the Lord affiliated him to His Mother.
While he safeguarded the tranquility of the Most-holy Virgin Mary, John continually remained at Her side in Jerusalem to the very day of Her glorious dormition, and only afterwards went forth to preach the Gospel. The main subject of his teaching was active love. My little children, – he would say, – let us not love in word, neither in tongue, but in deed and in truth (1 John 3:18). By his own example he showed precisely how one must fulfill this supreme commandment of Christ. St. Clement of Alexandria tells us of how in one of the cities of Asia Minor John noticed a certain youth among his audience, who was distinguished by unusual talents, and entrusted him to the special care of the bishop. Afterwards this youth, escaping from his spiritual instructor's watch, got into bad company, was corrupted, and became the leader of a band of brigands. Hearing of this, the saddened St. John hurriedly went off into the mountains, where he was captured by the brigands and brought before their leader. Seeing his spiritual instructor, the latter became embarrassed and fled, pursued by his conscience. Despite his position, despite his advanced years, St. John ran after him and with moving words of love and a promise of forgiveness encouraged him, brought him back to town, shared his labors of fasting and penitence, and thus reconciled this lost child of God with the Church.
Blessed Jerome tells of how St. John, being unable to walk in his extreme old age, was carried to church by his disciples, where he limited his talks to the following words: "Little children, love each other." And when he was asked why he kept repeating the same words over and over again, he replied: "This is the most essential commandment; if you fulfill it,you will have fulfilled Christ's entire law."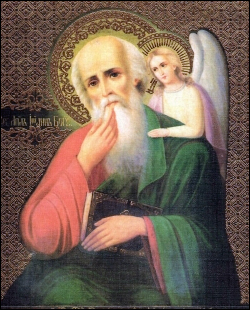 Of all Christ's disciples St. John alone ended his earthly life (at the age of 105) with a natural death, although he was often subjected to persecution and torture for Christ's sake. Sensing his approaching repose, St. John commanded his disciples to dig out a cruciform grave, into which he lay down, covered by earth, and when on the next day the disciples came to his grave, they did not find their teacher's body there. Apparently the Lord concealed him, just as He had earlier concealed the body of the Prophet Moses.
Thus, brethren, as we prayerfully commemorate the love-filled life of the Lord's beloved disciple John the Theologian, let us learn from him how to love God and our neighbors.
St. John left his father, left his mother, relatives, gave up all property, and followed Christ, uniting his life with Christ's. He looked at everything through the eyes of his Teacher, and his greatest pleasure in life was the fulfillment of the Latter's will. Thus a child becomes attached to his mother sincerely and entirely unselfishly, and her joys become his joys, while her sorrows fill his heart with sadness.
The same should be said of our love for our neighbors. They are all our brothers and sisters, and we all have one Father that art in heaven. As we can see, St. John not only never felt any enmity towards others, but on the contrary, out of love for them he was ready to give up his life for them. By this shall all men know that ye are My disciples, – said Christ, – if ye have love one to another (John 13:35), and greater love hath no man than this, that a man lay down his life for his friends (John 15:13). This is why St. John says: Let us love one another, for love is of God, and he that dwelleth in love dwelleth in God, and God in him (1 John 4:7, 16).
O holy Apostle and Evangelist John the Theologian, we pray thee, soften our cold hearts, warm them with love for God and our neighbors, so that we, too, would be beloved of our Heavenly Father, Who would have all men to be saved, and to come unto the knowledge of the truth (1 Tim. 2:4). Amen.