On November 22nd (the 9th by the old calendar) the Church commemorates Saint Nektarios, wonderworker of Aegina.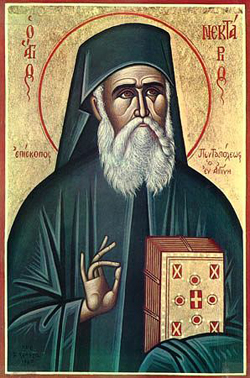 St. Nektarios was born in 1846 in a poor family living in northern Greece. From childhood he was brought up in piety and fear of God. Becoming a monastic, St. Nektarios moved to the city of Pentapolis in Egypt, which had a cathedral and a school of divinity. There the saint spent many years, and there he was later consecrated as bishop. Becoming known for his saintly and pious life, he earned universal love and respect. But there were those who envied him and who maligned St. Nektarios before the patriarch. Not wishing to bring discord into church life, the saint humbly exiled himself to the far-off island of Aegina, where he settled in the ruins of an old monastery. The saint repaired the dilapidated monastic cells, and very soon monks began to gather around him. Thus a new monastery of about 30 brothers was formed.
Even during his lifetime St. Nektarios worked many miracles and became known and venerated by the poor people. He healed the sick, expelled demons, helped the needy. In October of 1920 he became ill and was taken to a hospital for the poor, where he peacefully departed this life at the age of 74. His body exuded an extraordinary fragrance which permeated the entire hospital. Miracles began to take place immediately. There were many miraculous cures of cancer, for which the saint became especially known. Many years later the relics of St. Nektarios were found fragrant and incorruptible, and to this day the wondrous saint helps all those who appeal to him.
After the saint's repose a certain miraculous event took place, which made famous the so-called "fungus of St. Nektarios." A young widow on the island of Aegina had a small boy who became ill with cancer. In sorrow and despair the mother turned to the saint with a fervent prayer, asking him to heal her son. Saint Nektarios appeared to the widow in a dream and instructed her to go down to the sea and gather a certain fungus-like plant which grew near the shore; afterwards to make an infusion of tea from this plant and give it to the boy to drink. At the same time the saint strictly forbad the widow to ever sell this plant for money. The widow followed the saint's instructions, and to the absolute amazement of the doctors her son became completely well. From that time on, news of the healing fungus spread, and many people who pray to the saint and use this plant have been cured of cancer.