On October 9th (September 26th by the old calendar) the Church commemorates the holy hieromartyr Antipas.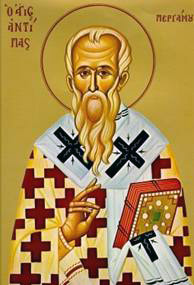 The holy hieromartyr Antipas, a disciple of the holy apostle John the Theologian, was bishop of the Church of Pergamos in the reign of Emperor Nero (A.D. 54-68), at whose command all those who did not make sacrifices to the idols were either executed or exiled. Thus it was that the holy apostle John the Theologian was banished to the isle of Patmos (in the Aegean), where the Lord revealed to him the future fate of the world and the Holy Church.
The death of St. Antipas is described thus: "And to the Angel of the Church in Pergamos write: these things saith He which hath the sharp sword with two edges: I know thy works, and where thou dwellest, even where Satan's seat is; and thou holdest fast My name, and hast not denied My faith, even those days wherein Antipas was My faithful martyr, who was slain among you, where Satan dwelleth" (Revelation 2:12-13). By his own example, by his firm faith, and his indefatigable preaching of Christ, St Antipas succeeded in encouraging the inhabitants of Pergamos to shun making sacrifices to idols. The pagan priests rebuked the bishop for luring the people away from the worship of their native gods, and demanded that he cease his preaching of Christ. St. Antipas calmly replied that he would not serve the demons, that he worshipped and would continue to worship God the Almighty, Who had created everything, and His Only-begotten and One-in-essence Son, and the Holy Spirit. The pagan priests argued that their gods had already been in existence since ancient times, while Christ had appeared only recently and was crucified under Pilate as a criminal. The holy bishop replied that the pagan gods had been made by human hands, and that all the tales of them were filled with iniquities and vices. He firmly confessed his faith in the Son of God Who had become incarnate of the Most-holy Virgin. Then the holy hieromartyr Antipas was dragged to the temple of Artemis and thrown into the glowing copper bull that served as a receptacle for sacrifices. Holy hieromartyr Antipas loudly prayed to God, asking Him to receive his soul and fortify the faith of the Christians. He then peacefully reposed in God, as though falling asleep. During the night the Christians took out the body of the holy hieromartyr, untouched by fire, and buried him with honor in Pergamos. His bier became the source of many miracles and healings from various illnesses. St. Antipas is especially prayed to in the case of severe toothaches.