On this day was established the commemoration of this miraculous icon, which, in contrast to other icons of the Theotokos, is depicted in a special manner. The Most-holy Mother of God is shown in full height with a crown on Her head and with the Pre-eternal Infant sitting on Her left arm. At the top of the icon, above the Theotokos' head, the Lord is seen giving His blessing, angels and saints are on the sides, and at the bottom we see sorrowing and suffering people, to whom the Mother of God kindly stretches out Her hand.

The Orthodox veneration of the Mother of God is a mystery within church life. Those who are outside the Church do not venerate or glorify Her most-blessed name. But within the Church all are alive, all live a common united life.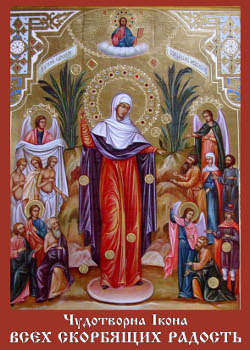 When we come to church, the faces of saints who are distanced from each other by millennia, but who are united in one common holy Synaxis of Christ's Church, gaze upon us from the walls.
And the first place among all these saints has always been occupied by the Mother of God. "The Queen stands on Thy right side" (from a psalm).
But it is not only in this solemn glorification that the Church knows the Mother of God. It also knows Her in its daily life, as a prayerful intercessor, as "a warm protector in a cold world."
And the names with which Her icons have come into Church history bear witness to the fact of how close the Mother of God always was to Her true Christian sons, who appealed to Her quick intercession in decisive and difficult moments of their life.
Which one of us has not had in his life some bright and joyous memories connected with the image of the Mother of God? Therefore now, on this feast day of Her icon "The Joy of All Who Sorrow," let us turn to Her our hearts and our prayers.
The prayer of faith always enlightens and purifies a person, snatches him out of life's busyness, opens up for him the horizons of the Kingdom of God. Prayer dares, prayer does not know the impossible. Prayer never demands, but asks; it is always humble, meek, and ready for everything.
And the best image of genuine prayer is the image of the Most-holy Virgin, Who bore in Her heart both love, and humility, and meekness, and thus attained the supreme grace of prayerful intercession before God.
Hieromonk Methody, "Before the eyes of God's truth")