From ancient times this holy icon was kept in Moscow, where it became famous in the late 17th century during the reign of the princes Ioann and Peter, sons of Tsar Aleksey, by healing the Patriarch Adrian's sister Euthemia.

The unfortunate woman suffered for many years from terrible sores on her skin. She was treated by many physicians, but they all acknowledged themselves powerless to cure her. After that, giving herself over to the will of God, the sufferer began to await healing only from the Lord. Once, after a fervent early morning prayer, she heard a voice saying to her: "Euthemia, go to the church of My Son's Transfiguration; there is an icon there, 'The Joy of All Who Sorrow.' Call a priest and have a moleben served before this icon." Euthemia did exactly as she was told, and on October 24, 1688 she was completely cured.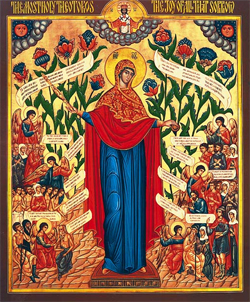 Icon of the Mother of God
"Joy of All Who Sorrow."
On this day was established the commemoration of this miraculous icon, which, in contrast to other icons of the Theotokos, is depicted in a special manner. The Most-holy Mother of God is shown in full height with a crown on Her head and with the Pre-eternal Infant sitting on Her left arm. At the top of the icon, above the Theotokos' head, the Lord is seen giving His blessing, angels and saints are on the sides, and at the bottom we see sorrowing and suffering people, to whom the Mother of God kindly stretches out Her hand.