"In Thee rejoices, o Thou Who art full of grace, all creation: the angelic assembly and the race of man." With such words we glorify the Holy Theotokos at each Sunday service during the Great Lent. In truth, all creation rejoices in the Theotokos - both angels and men, for She is like a bridge between heaven and earth, between God and man. Of all mankind She Alone was so pure and so blessed, that She was able to contain God Himself within Her and give Him a human body.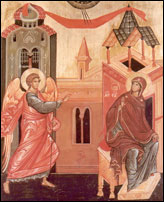 The Annunciation of
the Holy Virgin.
As we near the end of the Great Lent, its most intensive moment - the Passion of our Lord, which accomplished the salvation of mankind through Christ's glorious Resurrection, - the Church reminds us that it is most fitting at this point to glorify the Holy Virgin. This is precisely what we do in the wondrous service called the Laudation of the Holy Theotokos, which includes the singing of an akathist to Her.
The Church glorifies the Theotokos at this stage of the Great Lent because the Mother of God is simultaneously an end and a beginning for us. The end of the lent is near, there remains one last chance for repentance, in order to participate in the joy of Christ's Resurrection. And so, for those who have not yet repented, who find it difficult to repent - the Mother of God is the last citadel, the last help. We can see how great is Her power and Her aid to sinners in the names that are given to Her various icons: "The Joy of all who sorrow," "The Surety of Sinners," "The Seeker-out of the Lost," "The Unexpected Joy," "Assuage my sorrows," and many others.