Urgent Appeal
Dear brothers and sisters in Christ!
We appeal to you with a heartfelt request to help our small church in the enormous difficulties that have befallen it.
In view of emerging malfunctions and the deterioration of our more than a 100-year-old church building, we are forced to simultaneously replace both our entire antique electrical wiring system and our heating system, as well as renovate whole sections of the building. All this work will cost $30,000 — a sum that is entirely beyond the means of our modest church; however, these repairs are absolutely essential.
We will be grateful to you for any and all assistance, and may the Merciful Lord Himself grant you the ineffable joy of His forthcoming Resurrection for your care for His holy abode.
Checks may be made out and sent to the church. All contributions are tax-deductible.
Donations from outside the U.S. can be sent as follows:
Swift code: HIBKUS44
Recipient bank: Capital One N.A. 5552 Norbeck Road Rockville, Maryland 20853 USA
Recipient: Transfiguration of Our Lord Russian Orthodox Church 2201 E. Baltimore Street Baltimore, Maryland 21231 USA
Recipient's account: 2084303087
With gratitude and love in Christ,
Rector Protopriest Ion Barbus
Treasurer Matushka Natalia Sheniloff
FORGIVENESS SUNDAY

Tonight we are entering the holy and salvific Great Lent. In today's Gospel reading Christ tells us to make sure that our fast is not hypocritical, not only for show. "But thou, when thou fastest, – He says, – anoint thy head and wash thy face" (Matt. 6:17), and do not be like hypocrites with falsely sad faces.
What does it mean to anoint one's head? The head symbolizes the mind, the Holy Fathers tell us. Thus, you should make sure that your thoughts are pure; guard yourself from evil, foul, and banal thoughts. And in like manner make sure that your words are not evil, or foul, or banal. Pay special attention to spiritual nourishment: look at how you will nourish your mind, what pages you will peruse, what programs you will watch.
About our words, just as about our thoughts, we will be reminded throughout the entire lent by the prayer: "Set a watch, O Lord, before my mouth, and a door of enclosure about my lips." "For by thy words thou shalt be justified, and by thy words thou shalt be condemned" (Matt. 12:37). Not only for every foul and rotten word, but also for "every idle word that men shall speak, they shall give account thereof in the day of the judgment" (Matt. 12:36). An idle word is not primarily a meaningless or deceitful word, but also every truthful and genuine word which we make idle when we use sacred words in vain, as though they are of no consequence.
We live in a world where the major battle is against man, against the only verbal being – man. Everything is being done to make words meaningless. And not only to drown everything in a sea, in a veritable ocean of deceitful words which crash over us daily, but to mix sacred words with lying and profane words. And also to make sure that we ourselves participate in this. Woe is unto us if we give in to the enemy. It is for this reason that the fast is given to us, for us to remember what is most important, for us to anoint our heads – i.e. our minds and our words – with the oil of reason, goodness, faith, truth, and purity, so that both our words and our thoughts come vibrantly alive.
The Gospel words "anoint thy head" also apply to the inner man, to our hearts – in order that no envy, no hate, no malice, no enmity, no passion, nothing profane issue from our hearts; in order that our coarsened, petrified, deadened souls, for keeping this lent and by the grace of God, receive a fragrant, blessed anointment by the Holy Spirit when the Great Lent ends and we stand before the crucified and resurrected Christ.
And what does it mean to wash one's face? The face, say the Holy Fathers, symbolizes the external man. What do we have on our face? We have eyes, in order to heed where we look, to heed where our glance wanders among this changeable world, shimmering with all the colors of sin, lying in evil and deceit. We must also obviously exclude all television programs during the Great Lent, in order not to resemble a person who abstains from meat throughout the entire fast and at the same time with his eyes devours all manner of filth, just like the prodigal son who sat at the same table with dirty and noisily chomping pigs – to partake of the demonic feast which the mass media offer us today.
We must guard our sight, as we must guard our hearing, protecting it from all that is unwholesome, all that takes us away from truth and purity: both the radio and dangerously idle conversations should be excluded from our hearing. Depending on circumstances, we should be as the deaf and the blind, says Apostle Paul.
Similarly our nose should abstain from smelling the odors of this world which wants to tempt us, always remembering that even fragrant but sinful odors can very soon turn into stench. We must guard our entire being, our whole body from all manner of sin: our hands, that they not slap either man or animal and abstain from touching all impurity; and our feet, that they not walk among the council of the ungodly. In truth, our entire body should become a temple for our soul, should become a temple of God, and not a den of thieves. This is why the Great Lent is given to us.
Today's Gospel reading begins with the words: "If ye forgive not men their trespasses, neither will your Father forgive your trespasses" (Matt. 6:15). It is for this reason that the Lord and the Holy Church have established this day as Forgiveness Sunday. The Church warns us that when we come to ask forgiveness of the Lord, of the Mother of God, of all the saints, and of each other, we must come prepared, and we must be at peace with everyone. Just imagine that you come to confession and repent of sins for which you feel no penitence at all. It will be the same if you ask forgiveness of other people only externally, as a formality – such asking of forgiveness will only be to your judgment and condemnation. It is only by the grace of God and by our participation in this grace, which we can demonstrate by our entire 40-day labor of fasting, that we are able to acquire the gift of forgiveness.
No one can be forced to forgive, just as no one can be forced to love. And the Lord does not force us to forgive; He says – you do not have to forgive, you can do as you please, – because if He were to force us to forgive, then the forgiveness which we would grant to other people would not be our own forgiveness. It would not be ours, but God's, and would not have any connection with us whatsoever. But only that which is done freely, willingly, consciously is of genuine value, when a person fully understands that he should forgive. The Lord only warns us that if we do not forgive, neither will He forgive us. And who will then forgive our sins, if God doesn't forgive them? There is no being either in heaven or on earth who could forgive our sins. People will not forgive our sins, because we do not forgive others; God will not forgive our sins, because we do not forgive other people. So then where will we be, if we do not forgive others? The burden of our sins, both major and minor ones, which grow from day to day like mountains, will constantly increase, and when we pass into eternity they will continue to increase eternally and will eternally oppress us by their endless weight.
Such is the mystery of forgiving the sins of others. Therefore, let us learn throughout the entire fast not to respond to offense with offense, to insult with insult, to malice with malice, to sin with sin. The Holy Fathers encourage us to use our reason. If a drunkard is lolling in the dirt, they say, what will you do when you see this drunkard? Will you lie down next to him in the dirt, or will you try to pull him out of the dirt? Every sin is dirt, and every passion is like drunkenness in a man. Thus, if you see that this man's soul is lolling around in the dirt of sin, you must try to abstain from sin yourself, in order to help this person, to pull him out of the dirt and cleanse him. Then the Lord, seeing your efforts, will pull you out of the dirt of sin in which all of us are mired up to our ears, and will place your purified being among the celestial angels and among all the saints by the gift of this forgiveness.
This is the kind of Lent we are now entering. A Lent which truly brings salvation. A Lent which frees man's soul from all destructive hypocrisy. A Lent which was bequeathed to us by the Lord Himself. A Lent in which He participates Himself, and went through Himself in advance, in order to grant us the power to conquer the devil who tempts us with all kinds of passions, and grant us the victory of a new life in the Resurrection. Amen.
THE SUNDAY OF THE TRIUMPH OF ORTHODOXY
This past week, dear brethren, we have embarked upon the spiritual endeavor of the Great Lent, and now today – on the first Sunday of Lent – we celebrate a special event: the Triumph of Orthodoxy.
What does the triumph of Orthodoxy mean? On a historical plane this celebration was initiated during the reign of the Greek Empress Theodora in A.D. 842 to commemorate the overcoming of the heresy of iconoclasm and the restoration of icon worship. But even earlier there was the following historical moment: in A.D. 303 the Roman Emperor Diocletian began a most cruel and terrifying persecution of Christians. He issued an edict to destroy all the Bibles in the world and to kill all Christians. The persecution of Christians was so merciless that a year later the iniquitous persecutors decided that they had already accomplished their objective and had erased Christianity from the face of the earth. Diocletian even erected an obelisk with the following inscription: "The name of Christian has been destroyed forever!"
At that time Christians were drowning in blood, burning in bonfires, tortured, suffering, dying, – and Diocletian's boast had all the appearance of reality. But who came after Diocletian? Emperor Constantine the Great, who called himself a Christian and who established Christianity as the official state religion. He removed pagan symbols from the standards of the Roman army and the soldiers' shields, and ordered them to be replaced with the symbol of Christianity – the Lord's Cross. What a miraculous transformation took place in that year of A.D. 312 – just nine years after Diocletian erected his famous obelisk of stupidity!
But these are just historical events. And what does the triumph of Orthodoxy mean in our days, when the persecution of true Christians – true Orthodox Christians – proceeds in a manner no less cruel and merciless than in Diocletian's times, albeit not always so openly, but more often in cunning ways? We should ponder this more attentively.
First of all, when we are asked: what is our religion? – we promptly reply that we are Orthodox Christians. But what do we exactly mean by that? We must always remember that Orthodoxy is not simply a religion on paper, a box to be checked or a name to be written on a dotted line, – but it is a way of life. When we come to be baptized, we are asked very important questions: first – do we reject Satan? and second – do we unite ourselves with Christ? The answer to both these questions must be affirmative, otherwise the priest cannot continue with the sacrament of baptism. Therefore, we must always especially remember that we – Orthodox Christians – have become united with Christ. This means that we must live fully in accordance with the commandments of the Lord Jesus Christ, our Saviour.
And we must always remember that Orthodoxy differs greatly from all other religions. Lutherans, Baptists, Methodists, and others – all seem to be Christians, and yet they have fallen away from the truth of Christ's Church, while Buddhists, Moslems, Hindus, etc. do not recognize the Lord Jesus Christ, Son of God, at all. But we should not judge them, for they will be judged by Christ Himself.
In His Gospel the Lord said to His apostles: go forth and preach My Gospel to all, and baptize people in the name of the Father and the Son and the Holy Spirit; and whoever accepts My baptism shall be saved, while those who reject it shall perish.
And so all of us here have embraced the sacrament of baptism, dear brethren, and it means that we have accepted all the commandments of our Saviour: it means that we will love one another and our enemies, we will keep all the fasts, we will remain in constant prayer to the Lord, and thus we will fulfill the law of Christ. And that is what the Triumph of Orthodoxy means. For almost two thousand years Orthodoxy triumphs in that people become baptized and unite with Christ, live by Christ's commandments, instill the Orthodox faith into their lives and – most importantly – make Orthodoxy their way of life.
Let us be among such people, dear brethren! Let us live with Christ, in accordance with His commandments; let us make use of this precious time of the Great Lent to purify ourselves in order to unite with Christ, and in this way we, too, will take part in the Triumph of Orthodoxy, we, too, will add our small share to this triumph. And then not only over the Church of Christ, but even over ourselves the gates of hell will never be able to prevail. Amen.
THE LADDER OF VIRTUES
Fourth week of the Great Lent
In the preceding weeks of the Great Lent, dear brethren, the Church revealed to us the various aspects of Orthodoxy which we must incorporate into our lives, in order for the Triumph of Orthodoxy to be not only a historical fact, but a fact of our everyday life. On the second Sunday of Lent the Church instructed us in prayer, particularly inner prayer. The third Sunday of Lent was dedicated to the bearing of one's cross.
And today we are taught yet another important part of our faith, of our path to salvation – and that is the acquisition of virtues. And, as always, the Church presents to us the best teacher on the subject – St. John of the Ladder, whose writings give us an insight into this area of spiritual wisdom.
However, as we attempt to gain knowledge on the subject of virtues, we must first of all clarify two important points: first – the fact that aside from genuine virtues there are also false virtues, and secondly – the cases in which virtues do not lead us to salvation.
Saint Ignaty Bryanchaninov clearly tells us that worldly virtues do not bring salvation. But how can we determine whether a given virtue is genuine and leads to salvation? The answer is simple: in each virtue we try to attain, we must, as the Scripture tells us, crucify our old nature with its passions and lusts; i.e. we must always restrict ourselves in something, we must give up something, we must struggle against something. If we do not do so, then the virtue remains only theoretical and does not bring us any practical benefit. Let us look at a simple example: love for one's neighbor. If we love only those whom we like and who love us in return, then – as the Lord Himself said – we will receive no benefit from such a love, because pagans do likewise. But we must do more, we must do that which, from the world's point of view, is unnatural – we must love our enemies; only then will our love for our neighbors truly constitute a virtue.
The same is true of charity. There are so many people who are engaged in charitable works, who do good deeds… but how? For example, charity balls are organized to obtain funds for the needy. For those who attend these balls, who eat, drink, and make merry – where is the virtue in that? But to restrain oneself from buying something one terribly wants in order to give money to the poor or to a church, or to give up some badly-needed rest in order to visit the sick or comfort the suffering – that is genuine charity, that is genuine virtue.
In the same manner, even genuine virtues do not always lead us to salvation if, while engaging in them, we do not give up something. For example, for a vegetarian to keep the fast does not represent spiritual hardship, while an extravagant spender is not truly charitable. Virtues are genuine and lead us to salvation only when they are linked with spiritual endeavors and when they are interrelated.
At this point we approach the teaching of St. John of the Ladder. St. John presents virtues to us in the form of a ladder, by ascending which we reach the Heavenly Realm. Virtues are like steps, so that the acquisition of one virtue leads us to another and that one to yet another, etc. Thus spiritual life is constant motion, constant improvement. Having acquired, by the grace of God, a certain virtue, we cannot rest on our laurels, because that is the same as becoming stuck on one step – we will not move anywhere. Similarly, if we suddenly lose a previously acquired virtue – the entire ladder will fall down.
This is how St. John of the Ladder shows us an example of how virtues are interrelated, and how one cannot bring benefit without the other: he says – "the chief of all virtues is prayer, and their foundation is fasting. If we should sow the seeds of prayer without having attenuated our bodies through fasting, then instead of truth we will bear the fruits of sin. By the same token, if the body is attenuated through fasting, but the soul is not cultivated with prayer, spiritual reading, and humbleness, then fasting becomes the parent of a multitude of passions: pride, vanity, contempt, and others."
Even in the hustle and bustle of our modern life, dear brethren, we can step onto the ladder of virtues and ascend it. Fasting is accessible to all of us, perhaps not always in terms of food, but certainly in terms of spiritual abstinence, while in regard to prayer we have already mentioned how universally available is the Jesus prayer, even for those who are terribly busy with worldly affairs. And you can see how wonderfully everything falls into place: if we push out of our mind the usual jumble of thoughts that prevails there and replace it with the Jesus prayer, we will attain our first usage of prayer, and when the mind is filled with prayer, it will no longer have place for evil thoughts or condemnation of others, and we will thus acquire the virtue of non-judgment, and at this point the fruits of inner prayer will appear – we will begin to see our own failings, our own sins, which will help us to acquire the virtues of repentance and humility. And in this manner, very gradually, by applying effort and demonstrating earnestness on our part, and by earning in return the action of God's grace, we will go higher and higher up the wondrous ladder of virtues, straight into the Kingdom of God. Amen.
CONFESSION
The doors of repentance do Thou open to me…
Repentance is God's greatest gift to man. It is a second baptism, in which we are cleansed of the sins we have committed and clothed anew in pure white raiment, and we receive the grace that was lost by mankind after the fall. We were sinners and now we become pure. Repentance opens the heavens to us and leads us into paradise. There is no salvation without repentance.
To repent means to change one's way of life, first and foremost – to "come to one's senses," i.e. see sin within oneself, become aware of it, come to hate it, and afterwards repent before God in the presence of a priest and promise not to sin again.
A sick person cannot be cured unless he reveals his illness to a physician. In like manner we cannot obtain forgiveness from God until we become aware of our sins. "Awareness of sin is the beginning of salvation, – says Blessed Augustine. – If a man conceals – God reveals; if a man hides – God brings out into the open; if man becomes aware of sin – God forgives."
People often come to confession and do not know what to say. There is no question of their repentance! Their spiritual eyes are closed, their soul sleeps like the dead.
Why does the soul sleep? From whence arises such a terrible state in man?
The devil knows that the main ingredient of salvation is heartfelt repentance, and so he strikes at the very core: he deprives people of confession. And there is the result: a person no longer control his deeds, words, and thoughts, his reason becomes clouded, he does not see his sins and does not notice that he has transgressed the law of God. Sin becomes a habit, permeates man's nature, and lives within him. And such a man no longer fears death, or hell, or the dread Judgment itself.
Not only does sin poison our soul with evil, but it poisons everything around us. "Every sin, even the smallest one, influences the fate of the world," – says the venerable elder Siluan. And, on the contrary, our repentance acts favorably upon those around us, brings joy to them.
"Sin is the greatest evil in the world," – says St. John Chrysostome. Our unrepentant sins are like new wounds which we give to Christ the Saviour. They are like terrible sores upon our souls, and the scars from them remain for the rest of our lives. Only in the sacrament of penitence may we cleanse and heal souls. Repentance drags us out of the abyss of sin, vice, and passion, and leads us through the gates of paradise. The Lord Himself opens His arms to us and embraces us like prodigal sons. And we aspire towards God just like a child runs to his parents after being naughty: he cries, begs forgiveness, promises to be good, and his loving parents forgive him. So our Heavenly Father, when we come to Him with sincere repentance and in tears, forgives us and freely gives us His grace. It is the same as when someone offends a child, the latter runs to his parents, complaining about the offender, and the parents comfort the child, saying: "It's all right, it's all right, we will tell off that bad person, he will not bother you again…" Similarly we, too, when the devil attacks us, should straightaway run to confession, tell God everything, and He will forbid the devil to attack us. St. Theophanus the Recluse says that in confession we get rid of the devil as an enemy and a villain, who hurts us only as long as we do not see him, but as soon as we notice him – he runs away immediately.
In confession we receive grace-filled strength from God to combat sin, vice, and passion. A certain person could not rid himself of addiction to tobacco and asked advice from Optina elder St. Ambrose. The elder explained to him how smoking harms both the body and the soul, and advised him to go to a full confession, detailing his sins from the age of seven, and to partake of the Holy Mysteries. This helped. It is impossible to overcome passions without frequent and sincere confession.
When a person commits the same sin over and over again, he develops a passion for this sin, and although he himself is free, his soul remains imprisoned. Many people are free in body and do not realize that they are fettered by sin, do not think about the fact that all our deeds, words, and thoughts are monitored by both heaven and hell, by God and the devil. All our iniquities, impure thoughts, every vain and idle word are recorded by the evil spirits and will be revealed on the day of the Last Judgment. At the same time a person's good deeds precede him and will justify him at this dread Judgment.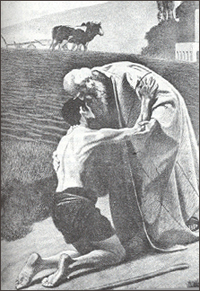 The Lord Himself described for us the model of repentance in the parable of the prodigal son. The Holy Fathers distinguish three moments of repentance in this Gospel parable. The first moment is when a person comes to his senses, i.e. looks inside his soul, becomes aware that he is terribly sinful and guilty before God, and a penitential feeling arises within him. The second moment is when a person comes to a decision: "He [the prodigal son] got up and went…," i.e. goes to church to confession. And the third moment – "He fell upon his father's bosom..," i.e. repentance itself, confession itself, when a person confesses all his sins to God in the presence of a priest and promises not to repeat them. And then the Lord, like a loving Father, forgives him and takes him, like a prodigal son, into His arms.
Repentance begins only when a person realizes that he is sinful, that his sins prevent him from living properly, that they poison his soul. If a person does not see his sins, it means he is spiritually seriously ill, and that for God his soul is dead. Such a soul is no longer tortured by sin, it has been bound hand and foot by the devil, its spiritual eyes are closed, its ears do not hear, its lips are mute. Like someone lying in the grave this soul does not see, does not hear, does not feel. When a person becomes ill, the first symptom of his malady is his rejection of nourishment. Similarly whoever is spiritually ill rejects prayer, rejects all spiritual things. Such a one does not wish to read the Holy Scriptures in which the Lord speaks to us, does not wish to go to church, and even if he forces himself to go, he comes late to the service, does not stay until the end, thinks only of when the service will be over. He does not even see his sins, and this is because he has strayed far away from God, from the Light. Until we come to God, until we begin to live according to His will, we will continue to remain in the dark and will not be able to see our sins. Our soul will continue to be black, and each new sin will be a new black spot upon it, but it is impossible to see black on black…
All great sinners always believe themselves to be good people, while all saints think of themselves as great sinners. They live in the light of Christ, and thus they see even the minutest spot on their soul and are aware of their unworthiness before God.
A disciple once came to one of the elders and said: "Abbas, I see angels with my spiritual eyes." The elder replied to him: "That is not such a great feat. But when with your spiritual eyes you will see the abyss of your sins, as countless specks of sand on a beach, – that will certainly be a great feat." The Holy Fathers say: blessed is the man who sees not angels, but his own sins.
Why do we not see our sins? Because we do not monitor ourselves, our actions, words, and thoughts, because we do not follow the law of God, because we have become so mired in sins that we have become used to them, we no longer regard sin as a sin. When we sin continually, the sin enters our heart and takes control over it.
The Holy Fathers say: the beginning of salvation is knowledge, – i.e. knowledge of one's shortcomings, vices, and sinful habits, – and self-condemnation with remorse and prayer to God for help.
We know that the Apostle Peter was faint-hearted at first and renounced Christ, but when the rooster crowed, the apostle bitterly wept, repented, and was forgiven. In the life of each one of us there is such a night, when in the midst of our iniquities "the rooster begins to crow," i.e. the voice of our conscience, accusing us who have renounced our Saviour and who are crucifying Him with our sins. Woe is unto him who closes his ears so as not to hear this voice. Joy is unto him who begins to weep bitterly over his sins and cleanses his soul through repentance.
Thus, when a person realizes that he is sinful, he must not wait, he must not delay his repentance. There are two calendars in our spiritual life: one is divine and the other is demonic. The divine calendar is called "today," "now." Turn to the Lord now, repent now, for tomorrow may be too late. And the demonic calendar is called "tomorrow," "later." "Leave everything for tomorrow, today you are still young, live for your own enjoyment and repent later, when you become old."
However, an illness cannot be disregarded, otherwise it may become fatal, and repentance cannot be delayed, otherwise sins may lead to spiritual death. "Do not postpone until tomorrow, because this 'tomorrow' has no end," – says St. John Chrysostome.
Some people think: when I retire, then I will start going to church, then I will repent. But how can you be sure that you will live until retirement? Between you and death there is but a single step, says the Lord. Go to a cemetery – there you will find not only old people, but young ones as well; perhaps the Lord will summon you tomorrow. Do not delay, do not listen to the devil who whispers in your ear: "Wait, do not hurry, there is still plenty of time…" Do not listen to the world and the devil, who hold on to you very firmly and do not wish to let you go; do not listen to your corrupt heart and darkened mind, which do not want to give up their sinful pleasures: "Not now, later, later…" No, not later, but right now, says the word of God, – repent immediately, do not wait a single day, even a single hour: sin deprives you of the grace of God and delivers you to the devil.
If dirty dishes are not washed immediately, the dirt will become crusty and very hard to wash off. The same with sins: the longer we put off repentance, the harder will it be to cleanse our soul of them. Foolish is the person who does not clean his house, who has dirt and dust everywhere, who does not bathe himself, and does not change his clothes – it is unpleasant to deal with such an individual. But our soul is far more precious than house and clothes, it should be clean, bright, and holy, and it can be purified only through the sacrament of repentance.
A sinner's repentance is joy for heaven: the angels, the whole heaven rejoice over a single repenting sinner, the entire heavenly host celebrates when penitence takes place on earth. Elder Siluan the Athonite says: "Whoever repents has the Holy Spirit within him and becomes like unto our Lord while still here on earth, while whoever does not repent is like unto the adversary."
Repentance opens the gates of paradise for us. The venerable Niphontus once saw angels carrying the soul of a sinner up to heaven, and when they carried it through the toll houses, the evil spirits shouted: "This soul is ours, give it to us! It is ours!" – "And how will you prove it?" – asked the angels. "There is not a single sin which this man did not commit; he spent his entire life amid vices and passions, obeying our will." The angels then asked the Guardian Angel, and the latter replied: "Yes, this man was a terrible sinner, but when he became ill, he repented before the Lord. Amid pain and torment he lifted up his hands to heaven, wept bitterly, and prayed fervently. And the Lord has forgiven him." The angels did not give up the soul to the demons, and the latter cried out in despair: "What shall we do? If God had mercy on such a soul, then we are laboring in vain, for He will forgive the entire world!" – "Yes, – said the angels, – if the entire world repents with humility and remorse, then God will forgive it." And the angels carried the soul of the penitent sinner through the gates of heaven.
St. John Chrysostome says that sin places a stain upon us which cannot be washed off with a thousand springs, but only with the tears of repentance. And the Lord waits for man to come to hate his sin, for his soul to feel an abhorrence of this sin, to feel penitence and sincere remorse. Tears of repentance have special standing in the eyes of the angels. It is well known that human tears cleanse the eyes, kill off germs, wash out dirt. If men did not shed tears, the world would be full of blind people. The same is true of spiritual life: without tears of repentance to cleanse the soul, the soul would become blind.
But what if tears of repentance do not come to us, if the soul remains empty and cold? In such a case fall on your knees before the Crucifix, entreat God and the Holy Theotokos to soften your heart, pray and read the Gospel. Our hearts are like stone, but the Word of God is like living water – it will fall upon the stone and gradually soften it. Stand before the Crucifix and think of the Lord looking upon you from His cross and seeing through you, seeing all your thoughts and deeds. What will you say to Him when you come up to be judged? How will you justify yourself?
In order to feel penitent it is very helpful to think of death more often. Expect to be summoned any minute, just like for an examination. "Remember your end and you shall never sin."
The fruit of repentance is rectitude, a change of life. Man abandons the path of perdition and steps onto the path of salvation: erstwhile he served the devil by following the latter's evil will, and now he lives with the Lord and is learning to obey the Lord's holy will. Man promises God to sin no more, pitilessly uproots all vices and passion from his soul, turns away from evil and all manner of deceit, and continuously feels remorse over his sins and weeps like the thief Barbarus. This latter was a terrible sinner who killed 300 people, including two priests. But there came a moment when he became aware of his horrible life, came to confession, repented of all his sins, and asked the priest to assign him some kind of penance. The priest thought it over and said: "From this day you shall work for me, and you will live in the barn with the animals, eating and drinking with them." After the service the priest went home, with the penitent Barbarus following him. For two years he lived in the barn and looked upon himself as the lowliest creature. Later he went off into a deserted place, and lived there for another 12 years, feeding upon grass like cattle. Once a group of hunters rode by, saw an animal in the distant grass, and shot it with their bow and arrow. However, when they ran up to it, it turned out to be a hairy man – this was Barbarus. He was buried, and later his body was found to be incorruptible and myrrh-streaming. Many people were miraculously cured at his grave. He has been canonized as a saint.
St. Theophanus the Recluse says that repentance alone is not enough for salvation, but one must have a firm resolve to change oneself, to abandon former sins. And if you make such a promise to yourself, the Lord will always help you. Thus Mary of Egypt, as soon as she promised to forego her depraved life, was immediately able to cross over the threshold of the church which her sins had not been letting her enter. She was a great sinner who had spent 17 years in fornication, but when she repented she went into the desert and spent another 17 years (the same number of years that she had sinned) in battling the demon of fornication, and only after that did she begin to progress in spiritual life. For 47 years she lived in the desert and attained a state of great holiness, so that she was lifted off the ground during prayer and crossed the waters of the river as on dry land…
No matter what sins we have committed, we should under no circumstance fall into despair or fear that God will not forgive us. "Man's despair is great joy for the devil," – remarks St. Barsonuphius the Great. We should never despair, but should remember that our Heavenly Father loves us more tenderly than any mother in the history of mankind. How many people have lived in the world, and how many more are still to come, and all have sinned and will sin, and each person bears punishment for his sins, but if all human suffering, all tribulation, all torment were to be poured into a single chalice, they would make up the chalice which Jesus Christ drank for us sinners. All mankind was damned and in the devil's power, and no one save Christ the Saviour could redeem us, could take all our sins upon Himself. The redemption took place, and by His great mercy the Lord left us faith and repentance. As a loving Father He enfolds every prodigal son, every repentant sinner into His embrace with great love and joy, and He will never remind us of our sins as long as we do not abuse the Lord's love. For the salvation of our soul we must sacrifice our health, our well-being, even our life if necessary. The best example for us is Christ Himself. He showed us the way to paradise – through the Cross, through suffering, – and there is no other way into the Heavenly Kingdom.
(To be continued)
ANNUNCIATION OF THE HOLY THEOTOKOS
The time came for the appearance of Christ the Saviour in the world. There were no more princes of Judah left, and the throne of David was occupied by Herod, an Idumean. The decades foretold by Daniel, which indicated the exact time when Christ was to be born, had come to pass. The promise of a Saviour was guarded not only among the chosen people, but the pagans also eagerly awaited the arrival of a great messenger from heaven. This was like the early dawn, when the sun had not yet risen, but its glimmering was already dispersing the darkness.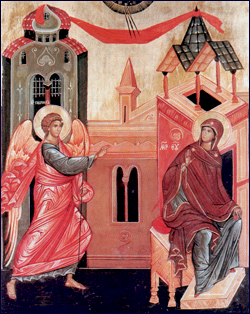 The glorious event of the Annunciation, as described by the holy Evangelist Luke, mentions only its high points. It is very unlikely that the holy Archangel Gabriel appeared and said only the few words reported to us by St. Luke. The Evangelist mentions the most important points, as the entire Gospel generally speaks only of the most important things, because it is said there that if one were to write down all that the Lord Jesus Christ said and did, the whole world could not contain such a vast number of books.
However, the tradition of the Holy Church, together with the writings of the Holy Fathers, has provided us with some additional details of this great event.
In the Holy Land, in the city of Nazareth, there is a certain well to which the Holy Virgin used to go when She was still a young maiden, to draw water as was customary in those times. It is here, at this well, that She once heard a voice saying: "Thou shalt give birth to My Son." She alone heard this voice. Who said those words? Obviously they were spoken by the One Whose Son was to be born from Her, i.e. by God the Father Himself. And although the words were for Her alone, whenever creation hears the voice of its Creator and Master, it trembles. And thus Her virginal and pure soul began to tremble. In trembling and fear She returned home, and in order to somehow calm Her soul She engaged in Her favorite pastime – the reading of the Holy Scriptures. However, when She opened the book and began to read, She came upon the passage in Prophet Isaiah which speaks of the Saviour being born of a Virgin. But so profound was Her divine and fragrant modesty, that despite the words She had heard at the well She never thought of applying this prophecy to Herself, but after having read of the Saviour's birth from a Virgin She thought very simply: "How happy I would be to be even the lowest servant of this Most-blessed Virgin!" And at this point the Archangel Gabriel appeared before Her, and She heard his words: "Hail, Thou that art highly favored, the Lord is with Thee: blessed art Thou among women!" We know from Her life that the appearance of an angel was nothing new for Her. Angels had appeared to Her many times before while She was living at the temple, but the words which She heard this time disconcerted Her. She started pondering what such a greeting could mean. And She heard the Archangel continue speaking to Her: "Fear not, Mary, for Thou has found favor with God. Thou shalt bring forth a Son, and shalt call His name Jesus. He shall be great, and shall be called the Son of the Highest, and of His kingdom there shall be no end."
The church service for this feast has retained the touching tradition that the Archangel's words were more detailed, and that seeing Her agitation the holy Archangel Gabriel said to the Virgin: "Why dost Thou fear me, Why dost Thou tremble before me, O Mistress, before Whom I myself tremble… I myself stand before Thee in pious awe!"
The Most-holy Virgin believed in the Archangel's words and therefore did not demand any signs from him, as had the high priest Zacharias when he was told of the forthcoming birth of his son (St. John the Baptist). But Her invariable love of chastity encouraged Her to ask the Archangel: "How shall this be, seeing that I know not a man?"
In order to understand this question correctly, one must know that Mary had previously given the promise to remain virginal all Her life, for if She were not bound by such a promise, and was engaged to a man, what reason would She have to question the possibility of bearing a son? But when the Archangel said to Her:
"The Holy Spirit shall come upon Thee, and the power of the Highest shall overshadow Thee," She understood that this would be a supernatural birth, and quieting down, She said those wondrous words which St. Philaret of Moscow called "glad tidings from earth to heaven"!
The feast of the Annunciation combines two concepts which are incompatible in earthly terms: glad tidings from heaven to earth and reciprocal glad tidings from earth to heaven through the Holy Virgin's humility. She replied: "Behold the handmaiden of the Lord; be it unto Me according to thy word," i.e. I am the Lord's handmaiden, and a handmaiden does not question the Master's actions, but only submits to His will and follows it.
Humility, total obedience, and complete loyalty to God's will – such was required in order to achieve total salvation of fallen mankind.
Let this be a lesson to all of us for all time: the humility of the Most-holy Virgin, which at first impeded Her acceptance of the tidings that She would become the Mother of God, and Her obedience to God, which led Her to aver that She was the Lord's handmaiden and would accept all that would happen to Her in accordance with the tidings of the heavenly messenger. Amen.
CHRISTIAN TEACHING
"And the Word became flesh." Homily for the feast of Annunciation.
A wondrous mystery, unimaginable to human mind, is commemorated and celebrated today by the Holy Church: the incarnation of the Creator of ages and worlds – the Son of God. The non-encompassable God is encompassed within the virginal womb of the Holy Maiden, the bodiless One takes on a body, the infinite One is made finite, the inaccessible One becomes accessible, the Word becomes flesh, the infinitely great One becomes reduced, and the unlimited One becomes limited; God merges with men, and He is not ashamed to call them brethren (Heb. 2:11). Thus, the mystery concealed for ages, hidden from the very beginning, and unknown to the angels is now revealed, and the Son of God becomes the Son of man, so that having taken on the worse, i.e. our nature, He can give us the infinitely better, i.e. sanctification, renewal, deification. Now is the time to cry out rapturously: may creation rejoice, may all nature joyously celebrate, i.e. all of mankind, dignified by such honor from God, as well as all creatures, the heavens and the earth, seeing how God in His infinite mercy has come down to His creation and has taken on the nature of this creation for the sake of its salvation.
O incomprehensible mystery, a most joyous mystery, filling every spiritually sentient soul with delight, but at the same time a most awesome mystery! For the reason for such compassion, for such self-depletion are our sins. Only the All-benevolent, All-wise, and Omnipotent God could come up with such an extreme means of salvation of fallen mankind, and so deplete Himself in order to cure us of pride and all our sins by His example, and teach us humility, obedience, and all manner of virtue. As I said – a joyous and soul-inspiring mystery!
How all of us have been honored, dear brethren, by the Son of God's incarnation from the Holy Virgin, how dignified, comforted, filled with joy! God is with us: He has become our Intercessor, Redeemer, Saviour; the Mother of God has become our mother in grace, our Intercessor, Defender, Protector. Just imagine what would have become of mankind, had the Son of God not come down so wonderfully, so magnanimously to us sinners, depressed and a thousand times ill-fated because of our sins and confrontation with God! How poor would mankind be, how pitiful, how joyless, how comfortless in the midst of its innumerable woes!
And now – how much daily comfort there is for the faithful and the penitent in the Son of God Who has become incarnate for us! He is the hope, the purification, the sanctification of all repentant sinners, the protector of all who are aggrieved, the succor of all who sorrow, the consolation of all who despair, the relief of all who are burdened and weary, the reward of all who labor spiritually, the light of all who are in darkness, the strength of all who are failing, the helper in all good deeds, the comrade-in-arms in all spiritual warfare, the solace of all the righteous, the eternal life of all who believe in Him. He that believeth in Me, though he were dead, yet shall he live, – says the Lord (John 11:25).
But the incarnation of the Son of God is simultaneously an awesome mystery and an instructive one, if we ponder upon what led the Son of God to such self-depletion, and to what we, mankind, are summoned and bound by the incarnation of the Son of God. On God's part the reason for the incarnation was His boundless love for us, His creation, – the love of the Prototype for His living, speaking image that had fallen and is perishing, while on our part – it was our sins, our terrible fall, our inevitable eternal damnation.
Thus, what does the incarnation of the Son of God demand from us? Immediate, sincere, non-hypocritical, and firm repentance of all our sins, correction of our hearts, and a holy and righteous life. Be ye holy as I, your God, am holy. Wherefore come out from among them, and be ye separate, saith the Lord, and touch not the unclean thing; and I will receive you, and will be a Father unto you, and ye shall be my sons and daughters, saith the Lord Almighty (2 Cor. 6:17-18). We are daily assured that this, i.e. holiness and truth, is what the Lord Jesus Christ demands from us by the Lord's Prayer, in which He teaches us to pray first and foremost that we may live righteously by the will of God and not by our own will: Hallowed be Thy name, Thy Kingdom come, Thy will be done, on earth as it is in heaven.
Such is the supreme responsibility which the incarnation of the Son of God places upon us, dear brethren: to live in righteousness and holiness, piously and honestly, and to shun all sin, all untruth and iniquity, else we shall be unworthy of the Son of God and of His Kingdom, and will subject ourselves to a most heavy condemnation, both here and in eternity. Amen.
IT IS FINISHED!
(Some thoughts on Great Friday)
How much can be said in just a few words! It is finished! It is done, it is accomplished…
There is no doubt that these words were also spoken by the enemies of the Lord, our Saviour, when they, returning from the terrible Golgotha, frequently repeated these words with Satanic joy: It is finished! We have finally reached the goal we desired so ardently: Jesus of Nazareth, our implacable accuser, is no longer alive; no longer will we hear His powerful, fiery words, so unbearable to our conscience, always placing us in a shameful situation before these ignorant people who are ready to deify Him, to follow Him into the mountains and the deserts, to hunger with Him, only to listen and listen to Him endlessly! Yes! He is no more: now we have nothing to fear, now we are complete masters, leaders of the people, and the people will follow us like mute and obedient animals, while gradually forgetting Him, this man of Galilee, and His new teaching will disperse like a cloud, like smoke in the wind, and we will quietly live as we wish… It is finished: it is over, He will no longer follow us like a stern shadow, like an implacable Judge!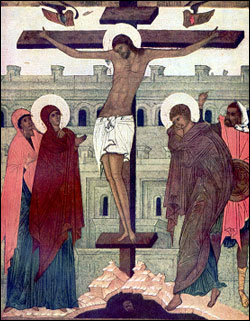 Thus rejoiced the scribes and the Pharisees, the iniquitous Jewish high priests and the Sadducees, celebrating their victory over the Prophet from Galilee. But let us turn away from these proud members of the Jewish intelligentsia, depraved to the core, these opponents of God and murderers of Christ. Let our thoughts and hearts turn to the sacred Golgotha. Here is being accomplished the great mystery of our salvation. Here is being offered the precious Sacrifice of atonement for the whole of mankind. Here the Lamb of God, Who has taken upon Himself the sins of the entire world, is dying on the cross. There He is, crying out in indescribable anguish of torment on the cross: "I thirst!" There He is, being offered vinegar to drink. And now we hear from His divine lips those majestic, those eternally significant words: "It is finished!" It is finished! – He cried out in the knowledge of having fulfilled the great mission entrusted to Him by the Heavenly Father: "I have finished, Father, the work which Thou hast given Me to accomplish!" It is finished! – He proclaimed triumphantly, celebrating victory over hell and death. It is finished! Only this very morning, on this great day which is unique in the history of mankind, hell and death reigned powerfully over mankind, and now, in this sacred and mysterious hour when the Lord lowered His head, obedient to the will of the Heavenly Father, and gave up His spirit, hell is already moaning, death is already lying prostrated; the long-awaited hope of mankind has been fulfilled – the promised Reconciler of heaven and of sinful earth, of man begotten in iniquity and of the All-holy God has appeared and accomplished His mission; human frailty has been encompassed by divine love, and this love has canceled out all the debts of penitents, i.e. of sinners who thirst for salvation… Who, what mind – I am speaking not only of human mind, but of angelic also – what created mind is able to encompass and fathom the entire grandeur of our salvation, accomplished by the love of the Son of God?
O come and worship this holy sepulcher which conceals within itself the Source of our life, our eternal salvation, our boundless rapture! O come and worship this Source of life, the Life-giving Lord, and let us weep before Him, let us weep with tears of profound repentance of our sins, repentance without self-justification, in the simplicity of a loving heart weeping in the presence of a loving Father, Who loves us more tenderly than any mother on earth, Who nourishes us with His body and His blood, – let us weep with tears of firm and immutable repentance! Behold, all of this – these wounds from the nails, this pierced side, these wounds from the crown of thorns, this sepulcher – all of this is for the sake of man and his salvation! All of this is exclusively the work of God's love, which involved God's wisdom, and God's omnipotence, and all of God's perfection in this great work. And now this boundless Love speaks in our conscience: My people, My beloved vineyard! What more must I do for you? What have I not yet done? I waited for you to bring Me the fruits of good deeds, but you bring only the thorns of sin. How long will this last? How long will I suffer you? The span of your life is moving along, moving towards its end, yet you continue to stagnate in your habitual and beloved sins, you stagnate in them and your heart becomes conjoined with them more and more, your souls becomes coarser and coarser, your conscience sleeps, becomes earthen, your spirit turns into flesh.. There is a limit to everything: there is a limit even to God's forbearance….
It is here, at our Saviour's sepulcher, when our conscience is most easily awakened, when God's forbearance and love for us, sinners, is revealed in its vast entirety – that now is the time to cry over our sins…
Brethren! Who among you has not yet repented? Who has not yet united with the Lord in the most holy sacrament of Communion? Hasten to do this immediately, open your sinful wounds before this sacred sepulcher, and tomorrow you can approach the Lord's Chalice… The forthcoming bright feast of the Lord's Resurrection brings shining joy to a believing heart. Now is the favorable time, now is the day of salvation!
O most-merciful Lord, crucified and laid in the sepulcher for us! Thou hast disposed the heart of the wise thief who was crucified with Thee towards repentance, Thou hast touched the hearts of those who returned from the terrible Golgotha beating their breasts! Soften also our hearts and open our eyes to see the whole sinful abyss into which we have fallen, extend to us Thy saving hand from Thy sepulcher, and before we come to our end, grant us that we may here and now shed bitter tears of heartfelt remorse, never to return to the path of sin and eternal damnation! Amen.
(Trinity Lessons, No. 165, 1913)
LIVES OF THE SAINTS
On April 12th (March 30th by the old calendar) the Church commemorates St. John of the Ladder.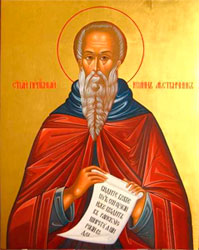 St. John of the Ladder is called thus in honor of his major spiritual writing, "The Ladder of Paradise," and is venerated by the Church as a great ascetic. There is very little information on St. John's origins. According to tradition he was born circa A.D. 525, and leaving the world at the age of 16, he entered the Sinai monastery, where the elder Martirius became his spiritual father. Four years later St. John became a monk. The elder Strategius, who was present at the tonsure, prophesied that John would be a great luminary of the Church.
For 19 years John toiled at his obedience. After the death of the elder Martirius the saint went away into the desert near Mount Sinai, where he spent 40 years in the spiritual labors of silence, fasting, and prayer. Word of St. John's holiness spread far and wide, and many who were seeking salvation came to join him. Later he was summoned by the Sinaite monastics, who chose him as their abbot at the age of 75. For four years St. John served as abbot of the Sinai monastery, and then once again returned to a life of solitude until his very end.
It was during his rule over the monastery that St. John wrote his famous "Ladder of Paradise." This book provided instruction on monastic life, which St. John envisaged as a path of continuous ascent to heaven along a ladder of spiritual improvement, which required a person to engage in difficult self-renunciation and intense spiritual labor. The "Ladder" presupposes, firstly, the cleansing of spiritual impurities and the uprooting of vices and passions, and secondly, the reconstruction of God's image in man.
The content of the "Ladder" is accordingly divided into two sections: the first speaks of vices that are contrary to Christian life, and the second reveals the concept of moral and religious virtues. Many pillars of spiritual life consider the "Ladder" to be the best book of spiritual guidance. The "Ladder" was especially venerated in Russia.
* * *
Excerpts from St. John's "Ladder"
A Christian is one who imitates Christ as much as possible in word, deed, and thought, and who believes in the Holy Trinity correctly and purely.
Adam, as long as he retained his childlike innocence, did not see his nakedness; blessed is natural innocence, but more glorious is the reward for innocence that is acquired through much sweat and labor, for it is the source of the greatest humility and meekness.
Illness is sometimes sent to us for the cleansing of sins and sometimes to temper our vanity.
The Lord sojourns in the hearts of the meek, while a rebellious soul is the seat of the devil.
Earnest prayer eliminates even despair.
May the entire fabric of your prayer consist of few words, for both the publican and the prodigal son attracted God's mercy by their brief words.
If you lean continuously on the staff of prayer, you will not stumble, but even if this should happen – you will not fall completely.
Ill thoughts that are not confessed to one's spiritual father turn into deeds.
When embarking upon spiritual life, we must remember that among demons there are those who even "interpret" the Holy Scriptures for us; they do this usually in the hearts of the vain, especially among learned (educated) people, and by gradually seducing them, they finally bring them to a state of heresy and blasphemy.
Knowing that your neighbor reproached you in your absence or presence, show your love by praising him.
He shows humility who does not lessen his love for others when reproached by them, and not he who engages in self-reproach.
We have not been invited into this world to attend a wedding feast, but to weep over ourselves...
Chastity is the comprehensive name for all virtues.
Purity and chastity are the desirable abode of Christ and heaven on earth for the soul.
An unbridled tongue can in a short while waste the fruit of many labors.
By earnestly offering Christ the labors of your youth, in old age you will rejoice in the wealth of dispassion, for that which is amassed in youth nourishes and comforts in the fatigue of old age.
THE FIRST PEOPLE ON EARTH
Beginning of the article, click here 
(in the light of most recent excavations)
LIFE AFTER THE DELUGE
The Destruction of Sodom and Gomorrah
The site of the five cities of the Sodom alliance has still not been determined with sufficient accuracy, but the majority of geographers believe that these cities were located to the north of the Dead Sea, in that part of the Jordan valley which is now submerged by water. This presupposes that the Dead Sea existed even before the catastrophe, since it served as a basin into which drained the rivers of Jordan, but it was undoubtedly smaller in size and distinguished by other features, and was perhaps as clear and buyoant as the Sea of Galilee or the Sea of Gennesaret. The destruction of these cities is one of the most terrifying events in the Bible, and it is referenced most frequently as evidence of God's awesome wrath for the flouting of all laws of morality.
This event is described as follows: "Then the Lord rained upon Sodom and upon Gomorrah brimstone and fire from the Lord out of heaven. And He overthrew these cities, and all the plain, and all the inhabitants of the cities, and that which grew upon the ground." When early the next morning Abraham looked towards the destroyed cities, he saw that "lo, the smoke of the country went up as the smoke of a furnace." Here we also see one of the many proofs of how the Lord uses natural destructive forces to punish people for iniquity. The cities did not perish from internal strife or from the hands of enemies, but from a cataclysm that could not have been foreseen or avoided.
It is not surprising that this event claimed the attention of writers of subsequent times, and we meet references to it among later writers, both Judaic and New Testament ones. Joseph Flavius says the following concerning it: "The region of Sodom was erstwhile a blessed country in its fertility and was adorned by many cities, but now it is completely burned out. It is said that it was destroyed by lightning because of the iniquity of its inhabitants. Even to the present time one can see remnants of the celestial fire and traces of five cities; ashes appear in the fruits themselves; in outward appearance and color they seem like real fruit, but as soon as one presses them with one's hand, they turn into dust and ashes."
In his General Epistle the apostle Jude says: "Sodom and Gomorrah, and the cities about them in like manner, giving themselves over to fornication, and going after strange flesh, are set forth for an example, suffering the vengeance of eternal fire" (Jude 1:7). Apostle Peter testifies that "turning the cities of Sodom and Gomorrah into ashes, God condemned them with an overthrow, making them an example unto those that after should live ungodly" (2 Peter 2:6). But even pagan writers confirm this event. The Roman historian Tacitus, having described the Dead Sea and its features in detail, goes on to say: "Its neighboring plain, erstwhile having been fruitful and populated with large cities, was destroyed by lightning, the traces of which may be seen in the burned out land which is now totally barren." The ancient geographer Strabo, speaking of the Dead Sea, explains its unusual features by the action of underground volcanic forces, although he also adds the evidence of the tradition preserved by local inhabitants, of its having been formed as a result of a catastrophe which destroyed Sodom and its other twelve co-subordinate cities, the majority of which were submerged by the waters of the sea.
All this evidence serves as sufficient confirmation of the historical authenticity of the terrible event, and at the same time partially assists in clarifying the very means of the cities' destruction. The entire terrain displays an amazing and extraordinary abundance of sulfur. "Streams of sulfur, – says one of the more recent researchers (Canon Tristram), – bubble everywhere here along the shores: the sulfur is also dispersed either in whole layers or in pieces over the entire desolate plain; at the same time tar floats up from the bottom of the sea in great masses, seeps through cracks in the cliffs, is mixed with sand on the stretch of the shore, or even appears with a mixture of that very same sulfur as well, as though in consequence of some extraordinary cataclysm… The ignition of such a mass of combustible substances – from lightning or from some other cause – together with an earthquake throwing out tar or sulfur from the sea, is capable of creating on its own such desolation in the adjoining plain."
This feature itself makes the means of the cities' destruction rather clear. There is no need to even suppose the action of subterraneous volcanic forces. Everything points to the ignition of the combustible substances present there is such abundance, and this ignition may have occurred from lightning or another cause, which turned the entire plain with its cities into the "smoking oven" described in the Biblical narrative.
Pliny says that in his time there were the so-called Ephesian Mountains in Lycia, which consisted of such combustible material that it could be ignited even with a charred log; from the fire the sand on the shore of the river became incandescent, while the water itself, due to its sulfuric properties, not only did not extinguish the fire, but actually fanned it This catastrophe naturally produced a profound change in the surrounding terrain, which turned from a luxurious oasis into a desolate desert.
All these causes were secondary of course, serving only to clarify the means of the destruction of the iniquitous cities; but behind them stands the major and primary cause – the will of the Righteous Judge, Who uses natural causes themselves as a tool and means to attain His holy purposes.
Recently conducted underwater research has shown that there are ruins of cities on the bottom of the Dead Sea.
SPIRITUAL POETRY
THE GREAT LENT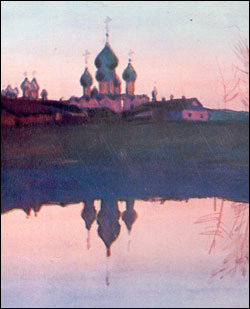 Slowly and softly the bells are ringing,
Slowly the faithful are coming to pray.
Inside the church we hear mournful singing –
Tis the Great Canon of Andrew of Crete.
The prodigal son's lamentful entreaties,
The publican's heartfelt and pitiful sigh –
All can be heard in the evening's chanting,
In the dark twilight of the altar on high.
The elderly priest standing humbly among us,
Holding the ancient book in his hands,
Ardently prays with sadness and sorrow,
Intercedes before God for all our sins.
Somewhere outside, just beneath the windows,
Droplets of thawing snow fall from the roof,
The true high voice of a young soprano
Rings in the choir like a beautiful flute.
Who is it there, who in weary prayer,
Weeps over sinfully wasted days?
Whose sighs are those and fervent entreaties
That are slowly extinguished in the sun's setting rays?
Have mercy upon us, O Lord, have mercy! –
The sorrowful harmonies rise to the sky…
The faithful are ceaselessly praying and praying…
The flames of the candles are burning high…
– V. Utrenev
Translated by Natalia Sheniloff