THE TRANSFIGURATION OF OUR LORD

The Transfiguration is the visual manifestation of God's Kingdom on earth. Shortly before His suffering on the cross, Jesus Christ, taking along with Him three of His disciples – John, James, and Peter, – left Capernaum and went north towards Mount Tabor, which rose like a citadel above the hills of Galilee. The disciples were silent, having a presentiment that a mystery would be revealed to them. Mystic events take place in silence. The human word bears the same relation to mysticism as a wave to the depth of the ocean.
On Mount Tabor the apostles saw the divine Transfiguration of Christ, the manifestation of His majesty and glory. The Saviour's face became like lightning, His raiment – white as snow. He stood encircled by shining brilliance, as though amid the rays of the sun. Two prophets – Moses and Elias – appeared before the Saviour and conversed with Him. Interpreters of Holy Scripture say that they talked of the sacrifice on Golgotha, of Christ's forthcoming suffering, of the fact that mankind's sins would be redeemed by the blood of the Son of God, our Saviour.
The three apostles experienced the manifestation of the Divine Light as a great and incomparable joy. It seemed that time itself stood still in contemplating the Divine Light. The awed apostles fell to the ground. The vision ended. Together with Jesus Christ they came down from the mountain and by morning were back in Capernaum.
The Lord not only preached His Gospel to the people, but also educated and enlightened His disciples. And gradually He revealed Himself to them as the Messiah not only of Israel, but of all mankind, as the King of the eternal spiritual kingdom. The Messiah's words that He would be tortured in Jerusalem evoked awe and fear in the disciples. A vision of the crucified Messiah might have evoked the feeling of despair in Christ's disciples, the thought that everything was irrevocably lost. The mystery of redemption could have appeared to them as a defeat, as the Messiah's powerlessness. At a time of despondency and doubt, the three apostles' witness to the Transfiguration was to strengthen the faith of the other disciples.
What constitutes the mystery of Christianity? It does not attract people by delicate and sophisticated intellectualism, or by brilliant oratory of preachers, or by the beauty of its rites. Christianity revealed to the human soul a new world, an eternal world, a world of divine light – that which not a single religion or philosophical system could give.
"And after six days Jesus taketh with Him Peter, and James, and John, and leadeth them up into an high mountain apart from themselves: and He was transfigured before them. And His raiment became shining, exceedingly white as snow; so as no fuller on earth can whiten them. And there appeared unto them Elias with Moses, and they were talking with Jesus" (Mark 9:2-4).
Together with Christ three apostles – Peter, James, and John – ascended Mount Tabor, where the Lord's Transfiguration took place. It was accompanied by the appearance of the Old Testament prophets Moses and Elias. They spoke with Christ about His imminent departure from earth to rejoin God the Father. The Gospel then speaks of how all of them were overshadowed by a bright cloud, out of which a voice issued, saying: "This is My beloved Son; hear Him."
The Lord did not ascend the mountain alone, but took three disciples with Him. On Mount Tabor their eyes were opened to a different, spiritual world, and they were able to see the Light which transfigured Christ. After that the Saviour spoke for the first time about His martyric end and resurrection. At that time the apostles did not understand Him, because in accordance with Jewish tradition they saw Christ as a future earthly king and liberator from foreign domination. Christ, however, was preparing for His suffering on the cross and the humiliation of Golgotha, and He showed His Transfiguration to the three disciples, so that they would be able to bear witness to His divine nature and voluntary agreement to torment on the cross.
The essence of the Transfiguration is revealed in its symbols. The mountain is a silent, solitary place which makes it easier to engage in prayer and helps us unite our restless mind with God. The name "Tabor" translates as purity or light. Whoever comes to an awareness of his actions and repents of what he has committed is freed of spiritual uncleanliness and is able to see the divine uncreated Light. Christian teaching sees the spiritual meaning of life precisely in the attempt to acquire this Light and deify human nature.
Why are fruits blessed in church on the feast of Transfiguration?
From ap allowed impurity to fill his entire being, and through him this impurity descended upon all living things. God's curse hung over all of man's efforts, according to the Lord's words to Adam: "Cursed is the ground for thy sake" (Gen. 3:17). Subordinate creation, as the Apostle testifies, "was made subject to vanity, not willingly, but by reason of him who hath subjected it" (Rom. 8:12), i.e. all living things were defiled because of man. Subordinate nature, which in accordance with the Creator's design should have provided its master – man – with physical means of bliss, – this same nature became the source of his illness and death. All the elements declared war on man for having subjected them to vanity, all earthly plants now contained admixtures or even poisons that were harmful to man's body. Such were the inevitable consequences of God's curse, which hung over all of man's deeds from the day of Adam's transgression. Such is the terrible necessary connection between our sin and everything with which it comes into contact.
And what would have happened to us and our surrounding environment, had not our most-merciful Lord Jesus Christ removed the terrible seal of our rejection and given us the means to return blessing and sanctification to everything we use? Therefore, only those who truly believe in Christ the Saviour can overcome the forces of nature that war against us. The Holy Church blesses and sanctifies the first crop of earthly fruits and, removing from them the ancient seal of damnation, turns these fruits not into a weapon of our sinful lusts, nor into food of corruption and death, but into a true pleasure for man reborn in grace.
The Church prays to God to sanctify both the souls and the bodies of those who eat of these fruits, to keep their lives in peace and joy, and to multiply these fruits abundantly. Christ's Church blesses and sanctifies the fruits by the holy name of God glorified in Trinity and by sprinkling holy water upon them.
According to ancient tradition, the first fruits are blessed on the feast of Transfiguration.
HOMILY FOR THE TRANSFIGURATION OF OUR LORD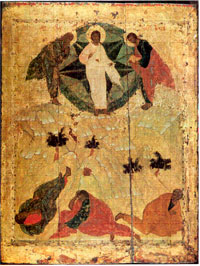 Which bright holiday, dear brethren, are we celebrating today? You will say: we are celebrating Christ's Transfiguration. How and for what purpose was Christ transfigured? Listen to what the holy Evangelist Matthew tells us about it: "On one of the days of His divine stay on earth, the Lord taketh separately three chosen disciples: Peter, James, and John, and bringeth them up into a high mountain apart, and was transfigured before them; and His face did shine as the sun, and His raiment was white as the light. And, behold, there appeared unto them Moses and Elias talking with Him. Then Peter said unto Jesus: Lord, it is good for us to be here; if Thou wilt, let us make here three tabernacles: one for Thee, and one for Moses, and one for Elias. While he yet spake, behold, a bright cloud overshadowed them, and behold a voice out of the cloud, which said: this is My beloved Son, in Whom I am well pleased; hear ye Him. And when the disciples heard it, they fell on their face, and were sore afraid. And Jesus came and touched them, and said: arise, and be not afraid. And when they had lifted up their eyes, they saw no man, save Jesus only. And as they came down from the mountain, Jesus charged them, saying: tell of the vision to no man, until the Son of man be risen again from the dead" (Matt. 17:1-9).
Why did the Lord become transfigured so awesomely, majestically, and divinely? First of all, to show the lightning of His eternal divinity, concealed under his human flesh, to show His unassailable light; secondly, to demonstrate the brightness of His second coming in all of His Father's glory; thirdly, to show the brightness of future glory in heaven for all who truly believe in the Lord and are loyal to Him with their entire heart; fourthly, to support His disciples' faith in His eternal divinity, so that they would not doubt Him when they saw Him degraded, humiliated, and suffering on the cross for the sins of mankind; and fifthly, the Lord was transfigured in glory and commanded the prophets Moses and Elias to attend Him in His glorious transfiguration also in order to proclaim the universal resurrection from the dead of all people for the purpose of future judgment. For this reason Moses appeared on the part of the dead and the prophet Elias, who had never died but was taken up alive into heaven in a fiery chariot, on the part of the living. It is for this reason that Christ was transfigured before His three chosen disciples. They were to bear witness to the whole world after Christ arose from the dead.
And what instructive lesson does the feast of the Lord's Transfiguration offer us? Should we, too, not become transfigured? Should we not change from worse to better: from sin – to truth and holiness; from our negligence and coldness toward God – to ardent repentance and tears; from indifference to holy faith – to the ardor of faith and love for God; from distraction and inattentiveness to ourselves – to a strict examination of our spiritual state? Should we not quickly reject our gloomy and sinful passions, which rivet our hearts to the world and distance us from God, and our excessive concern for our flesh – its pleasures, adornment, habits and inclinations; and should we not acquire the custom and habit of all manner of virtue, for which we have so little concern, although that is precisely the only thing needful?
Let us, too, be transfigured internally for the glory of God, and let us exercise ourselves constantly in repentance, rejection of our sins, and in the adornment of our souls with all kinds of good deeds. For the Lord this will be the most pleasing celebration of His glorious Transfiguration. Amen.
OUR INTERCESSORS IN HEAVEN
The Orthodox veneration of saints
During baptism a person receives a name in honor of a saint, who from that time becomes his heavenly protector. Every Orthodox Christian should be acquainted with the life of his heavenly protector and should appeal to him in prayer for help and guidance. Our righteous ancestors always tried to mark the day of commemoration of their saint – their "Namesday" – by partaking of the Holy Mysteries, and celebrated this day with greater ceremony than their birthday.
What is the reason for the Orthodox worship of God's saints? Do the saints in heaven know of our needs and difficulties, and do they show any interest in us? Do they hear our prayers and do they try to help us? Should we appeal to the saints for help at all, or does it suffice to pray only to God? Members of sects, who have lost the apostolic tradition, do not understand the essence and the purpose of Christ's Church and, therefore, reject the need to pray to the saints in heaven. We will briefly expound the Orthodox teaching on the subject.
The Orthodox veneration of God's saints stems from the belief that all of us, both those who are working on their salvation and those who have already achieved salvation, both the living and the reposed, make up a single divine family. The Church is a great society which encompasses both the visible and invisible worlds. It is a huge, universal organization, built on the principal of love, in which each individual must not only take care of himself, but also be concerned with the benefit and salvation of other people. The saints are those people who, more than others, showed love for their neighbors during their life on earth.
We, Orthodox Christians, believe that when a righteous person dies, he does not break off his tie with the Church, but enters its higher, celestial domain – enters the triumphant Church. Having attained the spiritual world, the soul of a righteous person does not cease to think, desire, feel. On the contrary, these qualities of the soul unfold here more fully and perfectly.
Contemporary non-Orthodox Christians, having lost their living tie with the heavenly-earthly Church, have the vaguest and conflicting notions of the other world. Some of them believe that a man's soul goes to sleep after death and becomes disconnected from everything; others believe that even if a man's soul continues its activity after death, it no longer has any interest in the world which it has left. Still others believe that one should not pray to the saints in principle, since Christians are in direct communion with God.
What is the teaching of the Holy Scriptures in regard to the righteous ones who have departed from this world and the power of their prayers? In apostolic times the Church was regarded as a single heavenly-earthly spiritual family. Apostle Paul wrote to newly-converted Christians: "But ye are come unto mount Sinai, and unto the city of the living God, the heavenly Jerusalem, and to an innumerable company of angels, to the general assembly and church of the first-born, which are written in heaven, and to God the Judge of all, and to the spirits of just men made perfect" (Hebrews 12:22-23). In other words, you, having become Christian, have merged with a great family and have come into close contact with the heavenly family and the righteous ones therein. Apostle Peter's words of farewell to the Christians of Asia Minor – "Moreover I will endeavour that ye may be able after my decease to have these things always in remembrance" (2 Peter 1:15) – clearly confirm that he promises to continue to take care of them when he departs for the other, spiritual world.
The ancient practice of appealing to the holy martyrs and saints for help is based on the realization of live contact between the heavenly and the earthly Church and on belief in the power of their prayers.
We know that the most earnest and righteous people were still in their lifetime called by God His friends and were glorified by Him with gifts of the Holy Spirit and with miracles. Thus, Christ said to His apostles at the Mystic Supper: "Ye are My friends!… For whosoever shall do the will of My Father Who is in heaven, the same is My brother, and sister, and mother" (John 15:14; Matt. 12:50). The Holy Scriptures provide many examples of the saints' spiritual nearness to God and power of intercession before Him. Thus, for example, Abraham asked God to have mercy upon the denizens of Sodom and Gomorrah, and God was ready to fulfill his request if at least ten righteous people could be found in those cities. Another time God refrained from punishing Abimelech, king of Gerar, because of Abraham's prayers for the latter. The Bible tells us that God spoke with the Prophet Moses face to face, "as a man converses with his friend." When Miriam, Moses' sister, sinned and was punished with leprosy, Moses was able to obtain forgiveness for her from the Lord. There are many other examples of the special power of the saints' prayers.
The saints do not replace God and do not decrease the need to appeal to the Heavenly Father. After all, adult members in a family do not lessen the authority of the parents when they take care of their children together with them. Moreover, nothing gives greater joy to parents than to see older brothers taking care of younger ones. In the same manner our Heavenly Father rejoices when the saints pray for us and try to help us. God's saints have a stronger faith than we do and are closer to God because of their righteousness. Therefore, let us appeal to them as to our older brothers who intercede for us before the throne of the Almighty.
It is noteworthy that the righteous ones, while still living on earth, saw and knew much of what is inaccessible to general comprehension. Even more so are these gifts inherent to them in the celestial realm, where they have gone after shedding their mortal flesh. During their life on earth, the saints were able to penetrate into the celestial realm by means of their spirit, and some saw hosts of angels, others were worthy enough to contemplate the image of God, still others were raised up to the third heaven and heard mysterious indescribable words there, as, for example, Apostle Paul. Now, residing in heaven, they are even more capable of knowing what takes place on earth and of hearing those who appeal to them, because the saints in heaven are "equal to angels." From the Lord's parable of the rich man and Lazarus we learn that Abraham, while being in heaven, could hear the cry of the rich man suffering in hell, despite the "great abyss" which divided them. Abraham's words: thy brothers have Moses and the prophets, let them heed them, – clearly show that Abraham knew of the life of the Jewish people after his repose, knew of Moses and his law, of the prophets and their writings. The spiritual vision of the righteous ones' souls in heaven is, undoubtedly, greater than it was on earth. Apostle Paul writes: "For now we see through a glass, darkly, but then face to face; now I know in part, but then shall I know even as also I am known" (1 Cor. 13:12).
The saints' nearness to the throne of God and the power of their prayers for the faithful living on earth is evident in the book of Revelation, in which Apostle John writes: "And I beheld, and I heard the voice of many angels round about the throne, and the beasts and the elders: and the number of them was ten thousand times ten thousand, and thousands of thousands." Further on he describes a vision of the righteous ones, praying in heaven for people suffering on earth: "And another angel came and stood at the altar, having a golden censer; and there was given unto him much incense, that he should offer it with the prayers of all saints upon the golden altar which was before the throne. And the smoke of the incense, which came with the prayers of the saints, ascended up before God out of the angel's hand" (Rev. 5:11; 8:3-4).
Great is the power of prayer! "Pray for each other, so that ye may be healed: the earnest prayer of the righteous can do much," – instructs us Apostle James. Prayer for others is an expression of love for them; thus, by praying for us, the saints in heaven show their brotherly love and care for us.
In the Gospel and in other New Testament books we find numerous instances which testify to the power of prayer for others. Thus, for example, the Lord healed the son of a courtier in response to the latter's plea; the entreaty of the woman of Canaan resulted in her daughter being freed from possession by demons; at the request of a father the Lord healed his possessed son, while at the request of friends He forgave and healed a man sick of the palsy, whom the friends had lowered down from the roof on ropes; the faith of the Roman centurion led to the healing of his servant. Moreover, the Lord performed the majority of His miracles from afar, without actually seeing the sick person.
Thus, if the prayers of plain people had such power, then even more powerful are the prayers of saints who stand before the throne of God. "And this is the confidence that we have in Him, that, if we ask any thing according to His will, He heareth us," – assures us Christ's beloved disciple (1 John 5:14).
For this reason from ancient times the Church expounded a teaching on the benefit of prayerful appeals to saints. We see this, for example, in ancient liturgies and other written testimonials. In the liturgy of the Apostle James we read: "We especially commemorate the Holy and Glorious Virgin, the blessed Theotokos. Remember Her, Lord God, and by Her pure and holy prayers have mercy upon us and save us." In commenting on the liturgy of the church of Jerusalem, St. Cyril of Jerusalem remarks: "We also commemorate (at the liturgy) the previously reposed – primarily the patriarchs, prophets, apostles, and martyrs, – in order that by their prayers and intercession God would accept our own appeal."
The testimonies of the Church Fathers and teachers on the Church's veneration of the saints are numerous, especially starting with the 4th century. But even from the beginning of the 2nd century there is direct written testimony of early Christians on their faith in the prayers of saints in heaven for their brothers on earth. Witnesses of the martyric end of St. Ignatius the God-bearer (early 2nd century) say: "Returning home in tears, we served an all-night vigil… Afterwards, having slept a bit, some of us saw the blessed Ignatius arising and embracing us, while others also saw him praying for us." Similar records referring to the martyrs' prayers and intercession for us can also be found in other narratives dating from this epoch of the persecution of Christians.
Belief in the holiness of a departed person can be confirmed by special testimonials, such as: martyrdom for Christ, a fearless confession of one's faith, selfless service to the Church, the gift of healing, etc. This is especially true when the Lord affirms the holiness of a departed person through miracles occurring after the latter's death and upon prayer to him.
Besides the assistance of prayer, the saints help us achieve salvation by the example of their lives. An acquaintance with the lives of the saints enriches a Christian through the spiritual experience of those who had embodied the Gospel in their lives more earnestly than others. We see here so many vivid examples of living faith, courage, patience. Being people just like us, and having overcome most difficult temptations, they encourage us to travel along the path of our life with patience and humility.
Apostle James urged Christians to imitate the patience of the ancient prophets and of Job the Long-suffering, and to acquire the strong faith of people like the prophet Elias. Apostle Peter instructed Christian wives to take an example of modesty and obedience from the righteous Sarah, wife of Abraham. The holy Apostle Paul exhorts Christians to imitate the spiritual labors of ancient saints, beginning with Abel and ending with the Maccabees. At the end of a detailed instruction on this subject he writes: "Wherefore seeing we also are compassed about with so great a cloud of witnesses, let us lay aside every weight, and the sin which doth so easily beset us, and let us run with patience the race that is set before us" (Heb. 12:1).
The Lord says: "Neither do men light a candle, and put it under a bushel, but on a candlestick; and it giveth light unto all that are in the house. Let your light so shine before men, that they may see your good works, and glorify your Father which is in heaven" (Matt. 5:15-16). The saints are the bright stars which show us the way to the Heavenly Realm.
Let us treasure the saints' nearness to God and let us appeal to them for help, bearing in mind that they love us and are concerned for our salvation. An acquaintance with the lives of the saints is especially important in our times, when the concept of the Christian ideal has become so shallow and distorted among the wide mass of "Christians" of the most different varieties.
CHRISTIAN TEACHING
Comforting truths inherent in the feast of Dormition
Blessed is God for having granted us this great day, in which from ancient times and with triumphant hymns the universal Church accompanies heavenward into supreme Zion the incorruptible body of the Mother of God together with Her soul, and allows us to take pleasure in the spiritual fragrance of Her indescribable holiness and in all the virtues with which She was endowed by the Holy Spirit and by the Son of God, Who had issued from Her by taking on human nature! With what tenderness, joy, and piety did the apostles and all the other elect enjoy the wondrous vision of the reposing Theotokos' visage, all shining with heavenly light, and the indescribable heavenly fragrance of Her God-bearing body, and the contemplation of the brightest visage of Her Son and God, the Lord Jesus Christ, Who had come to take His holy Mother's soul into His hands! O, this was a celestial vision on earth, never seen before! Even the heavenly angels were visibly present here together with their King and Master. Only three days did the Most-pure body of the Theotokos, buried by the apostles in Gethsemane, remain in the tomb, only three days did it stay there, and afterwards it was resurrected by the Lord and united with Her soul, and She was taken up together with Her body into heaven. For only three days was She fated to repose in the sleep of death, just as the Lord Himself remained in His tomb for three days and afterwards arose to confirm the universal resurrection of mankind. Death, having been vanquished by the resurrected Christ, became for the faithful a dormition, a passage, a step towards immortality and eternal life, provided we die in faith, repentance, and virtue.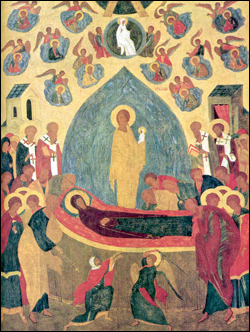 Let us venerate the Most-glorious Mother of God, higher than the heavens and purer than sunlight, Who delivered mankind from its curse, i.e. from God's damnation. But what exactly is God's curse? It is the consequence of God's righteous wrath upon criminal, sinful mankind, so ungrateful to its Creator and Benefactor, for which it had been deprived of God's mercy, eternally rejected from the face of God, condemned to the eternal torment of hell or to eternal death with the fallen angels, the evil spirits. Eve, our foremother, was responsible for this damnation together with Adam through the sin of disobedience – and even to this day its consequences continue to overshadow sinners who do not know God, their Saviour. But the Theotokos, through Her humility, obedience, meekness, God-like purity, acceptance of the Archangel's tidings, and above all through Her wondrous bearing of the Son of God in Her womb, attracted God's blessing upon the world by giving birth to the Saviour of the world and obtaining the benevolence of the Heavenly Father towards all the faithful. Another consequence of God's damnation of mankind was death, but Christ, the Son of God, Who was born of the Theotokos in flesh, Who suffered and died for the sins of mankind, took upon Himself our damnation, vanquished our death by His death, and removed the curse from us by crucifying our sins on the cross and granting us incorruptibility, resurrection, and immortality.
Such are the comforting truths which the feast of the Dormition of the Theotokos brings us: it assures us that Christ the Saviour, born from the Most-pure Virgin Mary, removed from us the curse of our sins and granted to all of us resurrection from the dead on the last day of the world. Is this not comforting for every Christian believer?
And having such an expectation of a general resurrection from the dead, let us try throughout our entire life to become worthy of the glorious resurrection into eternal life by means of constant repentance, battle with our passions and the temptations of the flesh and the world, and strive for success in all virtues, in order to eternally enjoy the infinite, incorruptible, surpassing all understanding, all feeling and all expectation – the blessings of the Heavenly Kingdom, together with God, the Mother of God, the holy angels, and all the saints. Amen.
(Continuation)
Proper confession
By the grace of God many churches have now gone back to private confession, in which the sacrament of repentance occurs.
If our spiritual eyes were open, we could see how this repentance takes place. Just as righteous Paul the Simple saw it. For his humility the Lord granted him spiritual vision, and he saw the spiritual world just as we see the earthly one. The Guardian Angel and a demon approach each person who wishes to confess. The Guardian Angel waits for the person to fully reveal all his sins, while the demon whispers in his ear: "There is no need for you to tell everything – what will the confessor think of you? The Lord is merciful, He will forgive you all your sins anyway." The person begins to repent, names his sins, and snakes of different size issue from his mouth, and if he mentions all his sins, all the snakes come out of him. The confessor covers his head with the epitrahelion and reads the prayer of absolution, while at the same time the Lord Himself says: "I forgive and absolve you of all your sins." The demon disappears, while the angel approaches the person, rejoicing for his soul. The Guardian Angel then places a crown on the head of the penitent, while the latter leaves confession in an enlightened and blessed state… Paul the Simple saw the other side of the coin as well. A sinner came to confession and began to name his sins, and from his mouth also issued snakes of various size. He decided to mention a certain sin, and at first a huge snake began sliding out of his mouth, but then he became ashamed and concealed the sin, and the snake went back inside him. The confessor asked: "Do you have any sins left?" – "No, – said the man, – nothing is left." The confessor covered his head with an epitrahelion and began to read the prayer: "I forgive and absolve you," while the Lord said: "I do not forgive you and do not absolve you." And so the person went away with a concealed sin, and the Guardian Angel began to cry, while the demon approached the person and said: "This is what you should always do, for the Lord is merciful, He knows all of man's weaknesses, He will forgive you anyway." And so these two persons approached the Chalice to take communion, to take within themselves the Living Christ. The one who confessed properly took communion worthily, while the unrepentant sinner left the Chalice with a darkened soul, with an even greater sin, and the angel took the communion away from him and instead of Christ's Body gave him an ember of coal…
If a person comes to confession, this means that he has felt the desire to rid himself of sin, to cleanse himself. Why? Because even the smallest sin burns us like fire, and we try to rid ourselves of it as quickly as possible. Sin is also like a snake coiled at our breast, ready to strike at any moment. And when it bites us, the body becomes dead, the soul also becomes dead, it no longer feels the pangs of conscience, ceases to hear the Lord's voice. Many people become used to this, and their entire life becomes a mass of sin. Therefore, if such a person comes to confession, he does not know what to say. Such people usually declare: I've not killed anyone, I haven't stolen anything, and I have no particular sins… Or just the opposite: "Father, I have sinned in everything." I ask: "Well, what are your sins?" – "Well, everything." – "What did you do – set fire to villages?" – "Of course not, Father!" – "Or perhaps you made the men drunk with vodka?" – "No, no, of course not!" – "Then why do you say that you have sinned in everything?"
Confession usually takes place in the following manner: at first a person sees only his or her heaviest sins: did not come to church, engaged in fornication, had abortions… but after 2-3 days more sins come to mind, they issue forth like snakes. The person feels ashamed, tries not to let out these snakes, to forget about them, but they keep coming out and coming out. What should one do in such a case? One should give them freedom, let all of them come out into the world. One should note down every single sin and repent of it before the confessor, otherwise one will never get rid of these sins. Such repentance may last for several years before all vices and passions are exposed.
One can repent in different ways. There is formal confession, in which a person simply enumerates his sins without any feeling of penitence; such a confession is not accepted by God. "Verbal penitence without intention to correct oneself and without any feeling of remorse is called hypocrisy," – says St. John of Kronstadt. The confessor always watches the way in which a person repents.
For example, a woman comes up and says that she had abortions, but has not yet truly repented of them, and now she feels the need for penitence. She sheds copious tears, her heart is breaking, she promises never again to commit such a sin, and asks for penance. Although the confessor gives her some penance, yet seeing such deep remorse allows her to take communion. However, when another woman also speaks of having abortions, but says it without any feeling of guilt, indifferently, the confessor excommunicates her until she comes to a realization of her sin. In such cases one cannot grumble against the confessor, complain, demand: "Let me take communion!" God's grace cannot be obtained by force or screaming.
Elder Barsonuphius of Optina says: "Experience shows that a person is at peace only when he totally acknowledges his own guilt and repents of his sin, without trying to lessen it in the eyes of others."
God looks not upon words but into one's heart.
Two monks in a certain monastery quarreled with each other. Finally one of them decided to go and ask his brother for forgiveness, knocked on the door of his cell, but the latter did not even open the door. He came another time, but the same thing happened. Then he went to his elder for advice. The elder said: "You went there thinking to justify yourself, but in the depth of your heart you still have not repented; go now and ask forgiveness from the bottom of your heart." The monk understood, repented, went again to his brother, and the latter opened his door, welcomed him lovingly, and forgave him.
It is also important to know that during confession one must talk only about one's own sins, not the sins of others: "Father, my husband is a drunkard, uses offensive language, my daughter is disobedient, my neighbor harasses me…" Such a "penitent" will talk about everyone else and not say a word about oneself.
Sins
What are our heaviest sins? To begin with, that we do not have a real and living faith in God. We do not go to church every Saturday, Sunday, and on all the holidays. The Church is the Body of Christ, and the head of this Body is Christ Himself. One of the apostolic rules states: whoever did not come to church three Sundays in a row is thrown out of church by the Holy Spirit and remains in darkness, in the power of the devil. Only through repentance does the Lord forgive us and unite us with the holy, universal, apostolic Church.
We do not keep the fasts, we eat non-lenten food on Wednesdays and Fridays – that is also a heavy sin: on Wednesday the Lord was betrayed, while on Friday He was crucified; these are days of mourning. Again we are thrown out of church by the Holy Spirit.
We do not pray to God when we go to sleep, we get up in the morning without prayer, and neither do we pray before meals, after meals, throughout the day, before each activity. We do not pray to God and do not thank Him for everything.
We get married in a civil ceremony, but not in church – that is fornication, and from the Gospel we know that fornicators do not inherit the Heavenly Kingdom. Apostle Paul says: "Be not deceived: neither fornicators, nor idolaters, nor adulterers, nor effeminate, nor homosexuals, nor thieves, nor covetous, nor drunkards, nor revilers, nor extortionists, shall inherit the Kingdom of God" (1 Cor. 6:9-10).
Heavy mortal sins must be lamented until death. Here is one of them, very widespread in our times – abortion. Many people say in confession: we have not killed. "Did you have abortions?" – "Yes, I had." But that is the same as committing murder: to kill a child or to kill an adult is one and the same in the eyes of God.
When a person is conceived in the mother's womb, he immediately receives a soul from his parents; therefore, by killing an infant in the womb, the mother kills a child, a person, even though he has not yet appeared in the world. A civil court metes out harsh punishment for murder, isolates the murderer from society, locks him up in prison, or gives him a death sentence. But if human law punishes so severely for murder, what will God's judgment be for unrepented infanticide! On the day of the Last Judgment all the children who had been killed in their mothers' wombs will appear before their parents as adults, and the parents will have to answer for their deed.
A certain woman, a gynecologist, was very proud of her profession and always walked around with her head held high. And then one night she had a dream: she saw herself standing on a high mountain, surrounded by a multitude of children who were all raising their hands and pointing at her, screaming: "You are our murderer! You are our murderer!" She was overcome with fear, and the terrible screams woke her up. But the voices continued to follow her, and she realized that she had served as an executioner and was carrying an extremely sinful burden on her shoulders – a great many murdered people.
It is a sin not only to kill an infant oneself, but to advise another to do so, and to assist in such a deed in general. Thus, in order to avoid the eternal torment of hell, a mother who had abortions must lament the terrible sin of infanticide until her very death, must repent before God until her very death. Upon rising in the morning she should immediately prostrate herself before the icons, crying: "Lord, forgive me, a killer!" She should do the same before going to bed at night, before meals, after meals. She should pray constantly, keep the fast, do good deeds, especially to her enemies, and suffer all kinds of insults, humiliation, illness, feeling remorse over her terrible sin: "Lord, it is better that You punish me here on earth, but have mercy upon me in the afterlife!" And whoever has not been visited by sorrow or illness should ask God to send them, and when they are sent – should not grumble, but should rejoice and thank God.
What other sins are there? Betrayal of spouses. This is called adultery. If we come to confession and are carrying this sin in our hearts, we must declare it. This is because as soon as our soul leaves the body for the next world it must pass through 20 "tollhouses" – i.e, 20 trials, and at these tollhouses the demons will exhibit every single sin that the person committed in his life. The most terrible tollhouses are: the 16th – fornication, the 17th – adultery, the 18th – sins of sodomy. Fornication is when a person cohabits with someone outside of marriage, or lives together unmarried, while if he does get married and betrays his spouse, then he has committed the sin of adultery. The sins of sodomy take their name from the two ancient cities of Sodom and Gomorrah. These cities were notorious throughout the entire world for their horrible sins: man lived with man and woman with woman, spouses engaged in all kinds of depravity, people cohabited with animals – these are all sins of sodomy. And at this tollhouse a great multitude of disgusting and lewd demons, together with their chief, Asmodeus, brag that very few individuals can pass through these tollhouses, because many people sin and do not repent – during confession the evil spirits brainwash people into feeling shame and fear.
In ancient times, when a person committed a crime, he was beheaded. During confession, however, when a person has repented of his sins, has bowed his head before the cross and the Gospel, and the priest reads the prayer of absolution, it is sin that is cut off. There, at the guillotine, a person received death for his crime; here, in front of God, he receives life, resurrects his soul.
What sins come next? We used profanity, drank to the point of inebriation, danced wildly, sang lewd songs, played cards, smoked, brawled, engaged in stealing, entertained thoughts of suicide, cursed others…. And how full we are of wrath, malice, irritation! We do not give in to those around us, we badmouth them, we become offended at them, we do not speak to them for a long time, we tell dirty jokes, we laugh a lot, and yet the Holy Fathers say: "Whoever laughs immoderately, it is a sure sign that this person does not have the fear of God within him." We eat immoderately and leave no place for prayer, we oversleep. And we are prey to dirty thoughts and vile dreams because we had spent the day uncleanly: either we overate, or overslept, or offended others, etc., and since our soul was made unclean, so does our body become unclean during sleep.
A man's soul is never empty, but is filled either with the Holy Spirit or an evil spirit. How to determine which spirit lives in our soul? If we do not feel the need to pray, to love God and our neighbors; if we do not live according to the laws of goodness and love, but rather according to the laws of evil; if we constantly wish to offend someone, to rant and rave, to be puffed up with pride, – this means that an evil spirit lives in our soul. And such a person can be seen immediately, wherever he may be: at home, at work, on a bus, standing in line, – everywhere he is the same, constantly pouring out verbal filth and behaving unpleasantly. And if we should see in ourselves the signs of an evil spirit, we must immediately begin working on ourselves, repenting and correcting ourselves. We should bear in mind that our entire life on earth is only a preparation for eternity, and that all our deeds – both good and bad – will go with us into the next world. We should remember that death is never far away!
The Lord in His great mercy calls us to Him, extends His hand to us, waits for us to cleanse our souls through repentance. Remember the time when the Saviour was coming out of Jericho with His disciples, and a blind man was sitting along the way, and hearing that Jesus was coming he began to cry out:
"Jesus, Son of David, have mercy upon me!" He was told: "Do not shout, no one hears you." They tried to hush him up, but he cried out more and more loudly, and the Lord stopped and ordered the blind man to be brought to Him. "What do you want from Me?" – "To be able to see." And immediately he could see, and he followed Christ along the road. Thus we, too, should cry out in our spiritual blind-ness: "Lord, Jesus Christ, Son of God, have mercy upon me! Have mercy upon me, O God, have mercy!" The demons will try to hinder us, to stop us: "Do not shout, no one can hear you anyway." But you should continue to cry out, to cry to the Lord, and He will hear, He will accept your repentance and will save you.
(To be continued)
ON MARRIAGE AND FAMILY LIFE
Excerpts from notes made by the Royal Martyr
Empress Alexandra Fedorovna
Foreword
There are many religious treatises to be found on monasticism, but there are too few books dedicated to acquainting the contemporary reader with the Christian concept of matrimony. And yet the majority of Christians choose the path of the wedded state, called by the Holy Fathers "the harbor of chastity."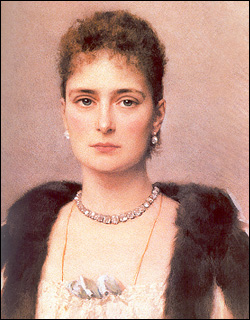 However, our life is usually spent in worry over obtaining one's daily bread, and the mutual limitations and sinfulness of the spouses often leave a noticeable trace on the relations between husband and wife. Gradually the feelings which had made the young lovers the happiest people on earth begin to fade, grow scanty; the light of sacrifice and chivalry begins to dim; daily routine makes communion between the spouses lackluster. The experience of the crowned royals Nicholas and Alexandra was obviously quite different. Innate nobility, purity of feelings and intentions were united with a well thought out effort to maintain and guard the union which truly became a model for their loyal subjects.
While reading books, Empress Alexandra wrote out excerpts which accorded most fully with her own experience of marriage. The inner power of these notes lies in the virtuous way of life of the pious Empress, who was totally dedicated to the ideal of the family. It is for this reason that these excerpts reflect calmness, total sincerity, and celestial beauty. In our times, when the very basic human concepts of duty, honor, conscience, responsibility, and faithfulness are questioned and even mocked, the reading of these notes becomes a real spiritual event. Counsels, warnings to the spouses, thoughts on true and false love, reflections on the relations between close relatives, testimony concerning the definitive significance of the home atmosphere in determining a child's nature – such is the circle of ethical problems with which the Empress is concerned.
The Empress helps us take a fresh look at the divine establishment of marriage and to value this gift in the light of Christian love.
Matrimony is a blessing from God
The divine design is to have marriage bring happiness, to have it make the husband's and wife's life fuller, so that neither of them would lose, but both would gain. However, if the marriage does not bring happiness and does not make life richer and fuller, the fault lies not in the matrimonial ties, but in the people who are bound by them.
Marriage is a divine rite. It was part of God's design when He created man. It is the closest and the most holy union on earth.
The anniversary of marriage must always be remembered and must be distinguished among other important dates in one's life. It is the day whose light will shine upon all other days until the end of life. The joy arising from entering into matrimony is not turbulent, but calm and profound. Over the wedded pair standing before the altar, when hands are joined and sacred promises are made, angels invisibly stand and quietly sing their songs, and afterwards they cover the happy pair with their wings, as the newlyweds' mutual life begins.
Without God's blessing, without His sanctification of the marriage, all the congratulations and best wishes of relatives will remain an empty sound. Without His daily blessing of married life even the most tender and true love will not be able to fulfill the spouses' hearts. Without the blessing of heaven all the beauty, joy, value of married life may be destroyed at any moment.
Requisite qualities of the spouses
The first lesson that must be learned and put into practice is patience. The beginning of wedded life reveals both the qualities of character and nature, as well as the shortcomings and peculiarities of habits, tastes, temperament, of which the other half was completely unaware. Sometimes it seems that it will be impossible to adjust to each other, that there will be eternal and hopeless conflicts, but patience and love overcome everything, and two lives unite into one – a nobler, stronger, fuller, richer one, and this life will continue in peace and tranquility.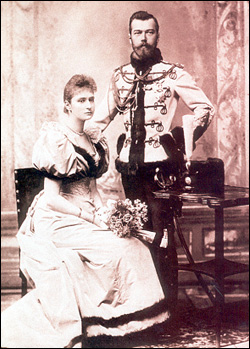 Another secret of bliss in married life is attention to each other. The husband and wife should constantly show signs of the most tender attention and love for each other. Happiness in life is made up of individual moments, of small pleasures – a kiss, a smile, a kind glance, a heartfelt compliment, and countless small but kind thoughts and sincere feelings. Love also needs its daily bread.
Still another important element in married life is unity of interests. Not a single concern of the wife should appear too trivial, even to the gigantic intellect of the greatest of men. On the other hand, each wise and faithful wife will willingly interest herself in her husband's affairs. She will want to know of his every new project, plan, difficulty, doubt. She will want to know which of his enterprises has been successful and which has not, and she will wish to be informed of all his daily affairs. Let both hearts share joy and suffering. Let them share the burden of cares equally. Let everything in life be common to both of them. They should go to church together, pray together, together lay at God's feet the burden of their concerns for their children and all that is precious to them. Why should they not discuss with each other their temptations, doubts, secret desires, and not help each other with compassion and words of encouragement? Thus they will live a single life, not two separate ones. Each one should make sure to think of the other when making plans or entertaining hopes. They should have no secrets from each other. They should have only mutual friends. In this manner two lives will unite into a single life, and in such a marriage each other's thoughts, desires, feelings, joy, sorrow, pleasure, and pain will be shared.
Love requires a special delicacy. One can be both sincere and loyal, and yet one's words and actions may lack that certain tenderness which enchants the heart. Here is a piece of advice: do not show your bad mood or that you are offended, do not speak in anger, do not act badly. Not a single woman in the world will be so upset over any sharp or thoughtless words you may utter as your own wife. And more than anything in the world you should fear to offend her. Love does not give one the right to act harshly towards the person one loves. The closer one is involved, the more the heart is pained by any glance, tone of voice, gestures or words that speak of irritation or are simply thoughtless.
It is not only the husband's happiness in life that depends on the wife, but also the development and growth of his character. A good wife is a blessing from heaven, the best gift for a husband, his angel and his source of countless benefits: her voice is the sweetest music to him, her smile lights up his day, her kiss is the guardian of his faithfulness, her hands are like balm for his health and his entire life, her industriousness is the pledge of his well-being, her thrift is his most reliable manager, her lips are his best counselor, while her prayers are his intercessor before the Lord.
There is something sacred and almost awe-inspiring in the fact that upon entering into marriage the wife concentrates all her interests upon the one whom she is taking for her husband. She leaves her childhood home, leaves her mother and father, breaks off all the ties which bound her to her former life. She leaves off all the entertainments to which she had earlier become accustomed. She gazes into the face of the one who has asked her to become his wife, and with a trembling heart but calmly and resolutely entrusts her life to him. And the husband joyously feels this trust, which engenders a whole life of happiness in the human heart that is capable both of inexpressible joy and boundless suffering.
In the fullest sense of the word the wife gives up everything for her husband. This is an important moment for any man – to take on responsibility for a young, fragile, and tender life that has entrusted itself to him, and to care for it and protect it until death tears his treasure away from him or, conversely, strikes him.
Every loyal wife becomes engrossed in her husband's interests. When he is having a hard time, she tries to encourage him with her sympathy and show of love. She enthusiastically supports all his plans. She is never a burden upon his shoulders, but rather a strength in his heart, which helps him to constantly improve. However, not all wives are a blessing for their husbands. Some women can be compared to a creeping ivy that encircles a mighty oak – her husband.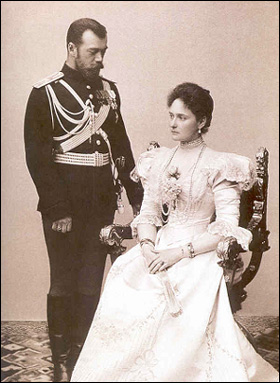 A loyal wife ennobles her husband's life, makes it more significant by turning it toward lofty aspirations through the strength of her love. When she embraces him trustingly and lovingly, she awakens in him his noblest and richest character traits. She encourages courage and responsibility in him. She makes his life wonderful and softens any rough edges or habits he may have.
But there are also wives who are like parasitic plants. They encircle the husband, but do not share anything with him. They do not offer any help to him. They loll around on sofas, stroll along the street, moon over sentimental novels, and gossip in salons. They are absolutely useless, and as such they become a burden for even the most tender love. Instead of making their husbands' lives stronger, richer, and happier, they only hamper his success. The results are lamentable for themselves as well. A loyal wife embraces her husband, but she also helps and inspires him. In all aspects of his life her husband feels how much her love helps him. A good wife is the guardian of the family hearth.
Some women think only of romantic ideals and shun their daily responsibilities, thus weakening their family happiness. In this case even the most tender love is often destroyed, and the reason for it is disorderly, negligent, and poor housekeeping.
A woman is endowed with the gift of sympathy, with delicacy, with the ability to inspire. This makes her similar to a messenger from Christ, whose mission is to ease human suffering and sorrow.
If knowledge constitutes the power of men, then softness constitutes the power of women. Heaven always blesses the home of the one who lives for good. A loyal wife places the fullest trust in her husband. She does not conceal anything from him. She does not listen to words of flattery from others, which she would be embarrassed to tell him about. She shares with him her every feeling, hope, desire, her every joy or sorrow. Whenever she feels herself disappointed or insulted, she may be tempted to seek sympathy by telling close friends about her emotions. Nothing can be more destructive, both for her own interests and for restoring peace and harmony in her home. The bitterness of which one complains to outsiders remains a festering wound. A wise wife will never share her secret unhappiness with anyone but her husband, because only he can resolve all quarrels and disagreements by means of patience and love.
Purity of thought and purity of soul – this is what truly ennobles a woman. It is impossible to think of true femininity without purity. It is possible to guard this sacred purity even surrounded by a world sunk in sin and depravity. "I saw a lily floating in the black water of a swamp. Everything around it was rotting, but the lily remained pure like an angel's raiment. Ripples appeared on the dark pond, they swayed the lily, but not a single spot appeared on it." Thus even in our immoral world a young woman can keep her soul untarnished by radiating sacred and unselfish love.
(To be continued)
LIVES OF THE SAINTS
On July 24th (the 11th by the old calendar) the Church commemorates the holy equal-to-the-apostles Princess Olga of Russia.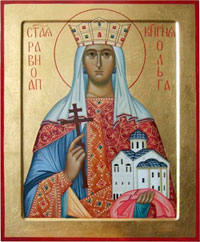 Church history shows us how wonderful and significant was the participation of some holy women, the elect of God, in the spreading of Christianity among pagans. It suffices to mention St. Mary Magdalene, equal-to-the-apostles, and the holy myrrh-bearing women, who were chosen by God to be the first messengers of Christ's glorious Resurrection; the holy equal-to-the-apostles Queen Elena in the former Greek kingdom; Saint Nina in Georgia; Saint Ludmila among the western Slavs. The Russian land also has its equal-to-the apostles saint – blessed Olga, grandmother of the enlightener of Russia – holy Prince Vladimir. Saint Olga was born in the region which later became known as the city of Pskov. Without yet knowing the true God, Olga was distinguished by bright and profound intelligence and by strict chastity (a virtue totally unknown among the pagans). The Prince of Russia Igor, who greatly loved hunting, met her by chance in the Pskovian forests and was so amazed by her wise discourse, as well as by her beauty, that he took her for his wife. After Igor's death Olga governed the Russian land by herself. She strictly punished the Drevlyanians, a tribe which had perfidiously killed her husband, was fearsome to the enemies of her homeland, while her people loved and respected her as a mother for her wisdom and justice. She never offended anyone, judged fairly, tempered punishment with mercy, loved the poor, the aged and the handicapped; she carefully heard out everyone who came to her with a plea and willingly fulfilled all fair requests. When her son Svyatoslav, who was a 4-year-old child when his father died, grew up, she handed the reins of government over to him, in order to have more time for charitable works.
Such a virtuous life attracted God's grace to her: with each day it became clearer and clearer to her that only senseless people can look upon soulless idols as gods. During Olga's rule there were already some Christians in Kiev, but only a small number of them. She apparently knew them; talks with them completely revealed to her the holiness of Christ's teaching, and in her heart she became a Christian, but she felt that it was unsafe for her to become baptized in Kiev which was filled with pagans. Thus, hearing that the faith of Christ had come to Russia from the Greeks, the wise Olga wished to visit that country herself. Taking with her a small company of noblemen and relatives, she arrived in Constantinople and presented herself to Patriarch Polyeuctus. The Patriarch took a genuine fatherly interest in the Russian princess. Olga remained in Constantinople for three months, studying the Christian faith under the guidance of the Patriarch himself. She attended church daily; the beauty of the churches, the harmonious singing, the ceremony of the services – all of this made a great impression on her soul and her heart. Finally the Lord fulfilled her ardent wish: Olga was enlightened with holy baptism and given the name of Elena in honor of the equal-to-the-apostles queen. Her godfather was the Greek Emperor Constantine himself. During the divine Liturgy the Patriarch turned to her with the following words: "Blessed art thou among Russian women for having embraced the true light and having rejected darkness! Thou hast thus avoided eternal death and hast found eternal life. From this time onward thou shalt be magnified by all the sons of the Russian land!" These words were prophetic. Many of those who came together with Olga were also baptized, and there was great joy not only in the Russian family, but in all of Constantinople. As Olga prepared to return to her homeland, the Patriarch blessed her with a holy cross containing particles of the Live-giving Cross of the Lord. The Patriarch also instructed several clergymen to travel to Russia together with Olga, in order to perform church services there.
After arriving in Kiev, Princess Olga earnestly began propagating the faith of Christ in her native land. She converted many Kievans to Christianity and built for them a church in honor of St. Nicholas on the burial place of Askold, one of the founders of Kiev. The church of St. Sophia, initially a wooden one, was also built by her. Afterwards St. Olga visited Great Novgorod and other regions of her country. With sermons, and instructions, and the grace of God she converted many compatriots to Christianity, and trampling upon the idols, in their place she set up holy crosses, which produced many great miracles and signs, shaming unbelievers.
One thing did not cease to be a cause of great sorrow for blessed Olga – her son Svyatoslav did not even wish to hear anything about Christianity. "I have come to know the true God, my son, – the holy mother told him, – I have come to know Him and to rejoice. If you come to know Him, you too will rejoice. The Christian faith brings light and joy to the soul; it so affects a man's soul, that he himself feels its divine worth; accept this faith – and not only will you not be sorry, but you will believe yourself to be the happiest of men, just as I feel myself to be the happiest among all people." But the proud son responded thus to his mother's wise advice: "How can I accept a foreign law? My comrades-in-arms will laugh at me." And not only did he not heed his mother, but he often offended her. He loved military glory and feats, and constantly left his land, traveling with his company beyond the Danube River or to other places. Seeing the prince's disregard for the Christian faith, his soldiers and noblemen often humiliated the Christians and even put them to death unjustly. How difficult it was for blessed Olga to look upon this! But she endured everything, constantly praying and hoping for God's mercy in the future. Saint Olga's grandsons, the children of Svyatoslav – Yaropolk, Oleg and Vladimir, were almost constantly in her care due to their father's absence, and she earnestly taught them the Christian faith, but refrained from baptizing them without their father's approval. Therefore, she placed all her hope in the Lord, and awaited His benevolence towards her family and her people. And the Lord fulfilled the ardent prayers of the humble Russian princess: one of her grandsons, Vladimir, enlightened Russian with holy baptism.
Having lived until a ripe old age, Olga was stuck by a mortal illness. Svyatoslav was away as usual, but hurriedly came back to see his mother, whom he found on her deathbed. The dying mother tried one last time to talk her son into abandoning destructive idol-worshipping and converting to Christ, but even now the unfortunate son did not listen to her and was punished by a sudden and shameful death – just as his mother had foretold him.
Blessed Olga's death was quiet and peaceful. After receiving holy communion, she peacefully reposed on July 11, 969. All the Kievans cried over her – both Christians and pagans. Her body was buried with honor in the city of Kiev. The venerable chronicler Nestor, completing his narrative about Olga, writes: "She preceded Christianity in our land as dawn comes before the sun, as the moon shines in the night – thus she shone among unbelievers. The sons of Russia glorify her as a chieftain leading them into the Heavenly Realm. Even after her death she prays to God for Russia!"
August 5th (July 23rd by the old calendar) marks the feast of the
Pochayev icon of the Mother of God.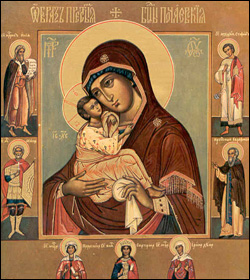 The history of this miraculous icon is inseparably tied with the Pochayev Monastery in honor of the Dormition of the Theotokos, which is located in the southwest of Russia. The monastery was founded back in the 13th century and flourished in the late 16th / early 17th centuries.
The miraculous image of the Holy Theotokos called the Pochayev icon was received as a gift from the Greek Metropolitan Neophyte, who stopped at the home of a certain Goyskaya, mistress of a large estate, on his way to Moscow in 1559. For 30 years the icon stood in the landowner's chapel before it was noticed that an extraordinary light was issuing from the image. After Goyskaya's brother, Philip Kozinskiy, who was born blind, was miraculously healed by the icon, the pious landowner gave the sacred relic to the monks of the Pochayev monastery. The icon was then carried over to Pochayev in a ceremonious procession.
The small icon depicts the Mother of God with the Pre-eternal Infant on Her right arm. In Her left hand She holds a towel with which the Infant Jesus was covered. The Lord has His left hand placed on His Mother's shoulder, while His right hand is raised in blessing; the Mother of God's face is inclined towards Her Son's head. There are seven miniature images of saints depicted on the sides of the icon: the prophet Elias, martyr Menas, protomartyr Stephen, venerable Abrahamus, great-martyr Catherine, martyr Paraskeva, and martyr Irene. The "Book of Records of Pochayev Miracles" reports a multitude of healings after prayer to the Most-holy Theotokos, sent through Her Pochayev icon.
For four centuries the Heavenly Queen also granted Her all-powerful aid to the Pochayev monastery. Thus, in the summer of 1675 the Turkish troops of Khan Nurredin besieged the Pochayev Lavra on three sides. The weak monastery walls did not represent a serious barrier. The monks and the laymen who had sought sanctuary in the monastery fearfully awaited the beginning of the attack. The abbot of the monastery summoned all the Orthodox faithful to appeal for help to their heavenly intercessors – the Holy Virgin and St. Job of Pochayev. Throughout the entire night the besieged people earnestly prayed before the miraculous icon and the tomb with the relics of the saint. In the morning of July 23rd, when the sun came up, they started to sing an akathist to the Mother of God. At the words "Champion Leader" a wondrous miracle occurred. The Holy Theotokos Herself appeared over the monastery church, together with a multitude of angels holding unsheathed swords. St. Job stood next to the Mother of God and entreated Her to defend his monastery. Seeing the celestial troops, the Turks took them for a phantom and began shooting arrows at the Queen of Heaven and the angels. But the arrows came back to them and struck the infidels. Then the Turkish army became greatly agitated, the soldiers started killing each other, and afterwards began fleeing in panic. The defenders of the monastery were able to capture many of them. Some of the Turks were subsequently baptized and remained in the Pochayev Lavra for good. Later an annual celebration in honor of the Pochayev icon of the Theotokos was established to commemorate the miraculous deliverance on July 23rd by our Intercessor and Helper in all sorrows.
SIGNS FROM HEAVEN
An Orthodox Christian understanding of unidentified flying objects (UFOs)
(Continued)
UFO Sightings and the Scientific Investigation of Them
The best known government investigation of UFOs was that undertaken by the United States Air Force shortly after the first American sightings in 1947; this investigation, known from 1951 on as "Project Blue Book," lasted until 1969, when it was abandoned on the recommendation of the "Condon Report" of 1968 – the work of a scientific committee led by a noted physicist of the University of Colorado. Close observers both of "Blue Book" and the Condon Committee, however, have noted that neither of them took UFO phenomena seriously and that their main occupation was more the "public relations" task of explaining away mystifying aerial phenomena in order to calm public fears about them. Some "Flying Saucer" groups claimed that the Unites States government was using these investigations as a cover-up of its own knowledge of the real nature of UFOs; but all evidence points to the fact that the investigations themselves were simply careless because the phenomena were not taken seriously – especially after some of the stranger UFO stories had begun to make the subject distasteful to scientists. The first director of "Blue Book," Captain Edward Ruppelt, admitted that "had the Air Force tried to throw up a screen of confusion, they couldn't have done a better job… The problem was tackled with organized confusion… Everything was being evaluated on the premise that UFOs couldn't exist." The Condon Report contains some "classic" explanations of UFOs; one, for example, states that "this unusual sighting should therefore be assigned to the category of some almost certainly natural phenomenon which is so rare that it apparently has never been reported before or since." The chief scientific consultant of "Blue Book" for most of its 22 years, Northwestern University astronomer J. Allen Hynek, openly calls the whole thing "a pseudo-scientific project."
In its 22 years of investigations, such as they were, "Project Blue Book" collected over 12,000 cases of puzzling aerial phenomena, 25% of which remained unidentified even after its often strained explanations. Many thousands of other cases have been and are being collected and investigated by private organizations in the United States and in other countries, although almost all government organizations refrain from comment on them. In the Soviet Union the subject was first given public mention (which means government approval) in 1967, when Dr. Felix Ziegel of the Moscow Institute of Aviation, in an article in the Soviet magazine Smena, stated that "Soviet radar has picked up unidentified flying objects for twenty years." At the same time there was a Soviet scientific conference "On Space Civilizations," led by the Armenian astronomer Viktor Ambartsumyan, which urged a preliminary study of the scientific and technical problems of communicating with such "civilizations," whose existence is taken for granted. The next year, however, the subject of UFOs became once more forbidden in the Soviet Union, and since then Soviet scientists have told of their researches and hypotheses only unofficially to Western scientists.
In the United States, the subject of UFOs remains somewhat off-limits for military and scientific men, but in recent years an increasing number, especially among younger scientists, have begun to take the subject seriously and come together to discuss it and suggest means of researching it. Drs. Hynek and Vallee speak of an "invisible college" of scientists who are now actively interested in UFO phenomena, although most of them do not wish their names publicly associated with the subject.
There are, of course, those who continue to deny the phenomenon altogether, explaining it as misperceptions of natural objects, balloons, airplanes, etc., not to mention hoaxes and psychological "projections." One of these, Philip Klass, takes delight in debunking UFOs, investigating some of the sightings and finding them to be either natural phenomena or frauds. His study has convinced him that "the idea of wondrous spaceships from a distant civilization really is a fairy story that is tailored to the adult mentality." Such hard-headed investigators, however, usually restrict themselves to cases where actual physical proof of a UFO has been left (the so-called "Close Encounters of the Second Kind," as we shall see below); and even staunch defenders of their reality are forced to admit that there is very little of this even in the most convincing UFO sightings. The one thing that has persuaded a number of scientists in recent years to take the phenomena seriously is not the physical proof of them, but the fact that many serious and reliable people have seen something which cannot be explained and which often has a powerful effect upon them. Dr. Hynek writes of his investigation: "Invariably I have had the feeling that I was talking to someone who was describing a very real event. To him or her it represented an outstanding experience, vivid and not at all dreamlike, an event for which the observer was usually totally unprepared – something soon recognized as being beyond comprehension."
This combination of the often intense reality of the experience of encountering a UFO (especially in the "Close Encounters"), and the almost total lack of physical evidence of it – makes the investigation of UFOs by nature not chiefly an examination of physical phenomena, but more an investigation of the human reports of it, their credibility, consistency, etc. Already this places the investigation somewhat in the realm of psychology, and is enough to tell us that the approach solely in search of physical proof is an inadequate one. However, Mr. Klass' opinion that the "wondrous spaceships" are a fairy story for adults is perhaps also not far from the truth. One thing is the observation made of UFOs, and quite another is the interpretation which people give their (or others') observations – the former could be real, and the latter a "fairy story" or a myth of our times.
Dr. Hynek has done much to remove some of the common misconceptions about UFO sightings. Thus, he makes it clear that most UFO sightings are not reported by cultists, unstable or uneducated people. The few reports made by such people are usually easily identified as unreliable and not further investigated. But the most coherent and articulate reports come from normal, responsible people (often with scientific training), who are genuinely surprised or shocked by their experience and simply do not know how to explain it; the stronger the experience and the closer the UFO is seen, the less willing the witnesses are to report it at all. UFO records are a collection of "incredible tales told by credible persons," as one Air Force general has remarked. There can be no reasonable doubt that there is something behind the many thousands of serious UFO reports.
The Six Kinds of UFO Encounters
Dr. Hynek, who has studied the question more thoroughly than any other distinguished scientist, has conveniently divided UFO phenomena into six general categories. The first, "Nocturnal Lights," is the one most commonly reported and the least strange of all. Most such reports are easily explained as heavenly bodies, meteors, etc. and are not considered UFOs. Truly puzzling Nocturnal Lights (those that remain unidentified), which seem to display intelligent action but are not explainable as ordinary aircraft, are often seen by multiple witnesses, including police officers, airplane pilots, and airport tower operators.
The second category of UFOs is "Daylight Discs," whose behavior is close to that of Nocturnal Lights. These are the original "flying saucers," and in fact almost all of the unidentified sightings in this category are of discs which vary in shape from circular to cigar-shaped. They are often metallic in appearance, and are reported as capable of extremely rapid starts and stops and high speed, as well as maneuvers (such as sudden reversals of direction and motionless hovering) that are beyond the capacity of any present aircraft. There are many purported photographs of such discs, but none of them is very convincing owing to the distance involved and the possibility of trick photography. Like Nocturnal Lights, UFOs in this category are almost always reported as being totally noiseless, and sometimes two or more of them are seen.
The third category is that of "Radar-Visual" reports – that is, radar sightings that are confirmed by independent visual observation (radar by itself being subject to various kinds of misperceptions). Most of these cases occur at night, and the best cases involve simultaneous sightings by airplanes (sometimes purposely dispatched to follow the UFO) at fairly close range; in these cases the UFO always outmaneuvers the airplane, sometimes following it, and finally disappears in a burst of speed (up to 4,000 miles and more per hour). Sometimes, as in categories 1 and 2 also, the object seems to divide and become two or more distinct objects; and sometimes clear visual sightings of such objects by pilots in the air are not picked up by radar at all. Sightings in this category, just as in the first two, last from between a few minutes to several hours.
A number of cases in the first three categories are well documented, with numerous reliable, experienced, and independent witnesses. Still, any one case, as Dr. Hynek notes, might be caused by some extremely unusual set of circumstances and not by some new and totally unknown phenomenon. But when many well-documented cases, all similar to each other, accumulate, the chance that they are all unusual misperceptions of familiar objects becomes very small. This is why serious UFO investigators are now concentrating on the collection of a number of well-documented cases, and the comparison of numbers of reliable testimonies already begins to show definite patterns of UFO activity.
The emotional response of those who have witnessed UFOs of the first three categories is one of simple perplexity and puzzlement; they have seen something whose behavior seems totally inexplicable, and they are left with a tantalizing desire to see it "just a little closer." Only in a few cases – generally involving pilots who have tried to pursue the unidentified objects – has something like real fear been experienced at the encounters with something that seemed intelligently directed and possessing a technology in advance of anything known today. In cases involving "Close Encounters," on the other hand, the human response becomes much deeper and the psychic side of the phenomena more pronounced.
"Close Encounters of the First Kind" (CE-1) are sightings of a luminous object at close range (about 500 feet or less), the light being sometimes very bright and casting luminescence on the ground below. When the shape of the object is described, it is generally stated to be oval, sometimes with a dome on top, and the lights are often described as rotating, usually in a counterclockwise direction. The objects often hover close to the ground, without sound or (occasionally) with a humming sound, sometimes moving close to the ground over considerable distances, and eventually taking off extremely rapidly, soundlessly, and usually straight up. There are numerous multiple-witness accounts of such "Close Encounters"; these accounts are invariably quite similar to each other, as though it is indeed one and the same object (or similar objects) that is being observed in all well-documented cases. Typically, these cases occur at night in sparsely settled areas, and there are a small number of witnesses for each sighting (an average of three to four in the cases examined by Dr. Hynek).
"Close Encounters of the First Kind" are always awesome and often frightening, but leave no visible marks; witnesses are usually so overwhelmed by the experience that they neglect to take photographs of the object even when a camera is nearby. Typical of the effect on witnesses is this comment in a 1955 UFO report: "I can assure you, once anyone has seen an object such as this so closely and for a period of even one minute, it would be etched in their memory for all time." The experience is so unusual that witnesses are often not believed when they report it – a fact that causes many to report it only confidentially, after many years, or not at all. The experience is intensely real to those who experience it – but largely unbelievable to others.
A typical "Close Encounter of the First Kind" involved two Portage County, Ohio, deputy sheriffs in 1966. About 5 a.m. on the morning of April 16, after stopping to investigate a parked car on a country road, they saw an object "as big as a house" ascending to tree-top level (about 100 feet). As it approached the deputies it became increasingly bright, illuminating the area all around, then stopped and hovered over them with a humming sound. When it moved away they pursued it for some 70 miles into Pennsylvania, at speeds of up to 105 miles per hour. Two other police officers saw the object clearly at a higher elevation before it went straight up and disappeared about dawn. Congressional pressure forced "Project Blue Book" to investigate this case; it was "explained" as an "observation of Venus," and the officers who saw it were subjected to considerable ridicule in the press, leading to the breakup of one officer's family and the ruin of his health and career. Personal tragedies of this kind among people who have "Close Encounters" with UFOs are so common that they should definitely be included in the typical characteristics of this phenomenon.
(To be continued)
(From the book Orthodoxy and the Religion of the Future)
SPIRITUAL POETRY
O TRINITY, OUR LORD!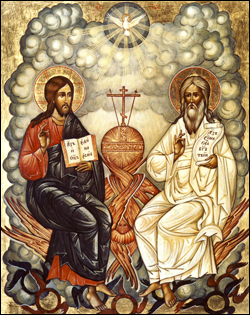 Most-pure, Invisible, Incomprehensible,
Untraceable, and quite Invincible,
And sole Immortal One,
Who dwells in light impenetrable,
Creation's Saviour, eons' Creator,
Most-honored, Ever-glorious
Unto all ages of the ages!
A Father from eternity,
Engendering a Son co-reigner,
The Holy Spirit in the Father
And in the Son is ever glorified,
A single Power, Single Being,
A sole and unified Divinity,
To Whom we all together pray:
O Lord and Father, with the Son
The all-Creator through the Holy Spirit!
O Mighty Saviour through Whom we knew God,
O Holy and Immortal Comforter Spirit,
Who issues from the Father's bosom
And rests forever in the Son,
O Trinity, our Lord, glory to Thee!

– V. Utrenev
Translated by Natalia Sheniloff