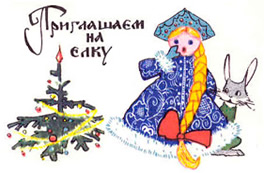 CHRISTMAS PAGEANT
On Sunday, January 11th,after the Divine Liturgy we will have a festive lunch and a traditional Christmas pageant in our newly renovated and spacious church hall. Our children will give a performance, receive presents, and we will also have special guests at our pageant — Santa Claus and the Snow Maiden. We invite all our parishioners and their friends to this wonderful Christmas event.
FEAST OF THE KAZAN ICON OF THE MOTHER OF GOD
Many different misfortunes, sorrows, and woes befall mankind, but one should always remember that "God will not suffer us to be tempted above what we are able, but will with the temptation also make a way to escape, that we may be able to bear it" (1 Cor. 10:13).
If a misfortune occurs at home, say a child becomes sick, – no one can take care of him, calm him down, and comfort him like his own mother. But we all have a universal Mother in heaven Who is an earnest Intercessor for Christians. Countless times She, the All-benevolent One, has helped everyone who appealed to Her with faith and love, both individuals and entire cities, even entire nations. There is an especially great number of such examples in the history of Holy Russia. Among them is the event that led to the establishment of today's holiday.
In the early 17th century, tsars from the Rurik dynasty ceased to occupy the Russian throne, and the country was left without a ruler. A so-called Time of Troubles ensued, or, as the people called it, "the hard times." Internally the country became subject to unrest among the populace, theft, murder; the treasury was empty; there was no law or order anywhere. Bordering regions were separating themselves from Russia one after another, and to top it all there was the issue of placing a foreign king on the throne of Russia – that traditional bastion of Orthodoxy!
Making use of all this desolation, our enemies – the Poles – invaded Russia with their troops and easily conquered the heart of Russia – Moscow, took over the holy Kremlin.
Ah, brethren, how truly it is said that history repeats itself! Now we see the same thing happening within our homeland, which is suffering terribly under the yoke of the godless…
At that time it seemed that the very existence and sovereignty of our nation was threatened, but God judged otherwise. The moans and tears of the agonized and stricken native sons, the heartfelt entreaty of the faithful, together with the prayers of the saints and the Queen of Heaven and earth – the Mother of God Herself – reached the Lord. This was revealed to the people in a miraculous manner. In the dead of the night the cell of Moscow's hierarch Arseny, who was languishing in the besieged capital, being bedridden due to a severe illness, suddenly lit up with a wondrous light, and there appeared the venerable St. Sergius of Radonezh, who said to the hierarch: "Rejoice, father! Our and your prayers have been heard: through the intercession of the Theotokos God's judgment upon our homeland has been changed to mercy; on the morrow Moscow will be in the hands of the besiegers, and Russia will be saved." And as though in confirmation of the truth of these words the ailing elder was immediately healed of his illness.
The executors of God's will in regard to the salvation of Russia were two prominent citizens: Kuzma Minin, a church warden from Nizhniy Novgorod, and Prince Dmitriy Pozharskiy. The first, after his famous speech in which he exclaimed: "Let us stand up for Holy Russia, for the house of the Most-holy Theotokos (the Moscow Cathedral of Assumption), let us rather sell our wives and children, but liberate our homeland!" – amassed a magnificent treasury and assembled a militia, while the second stood at the head of this militia.
This holy army approached Moscow under extremely unfavorable circumstances, but it did not rely so much on its own strength as on aid from above, bearing within its ranks the miraculous Kazan icon of the Mother of God. And as soon as the Christ-loving army learned of God's miraculously announced decision, influenced by the prayers of the Champion Leader, it bravely rushed forward and soon liberated Moscow from the Poles. Russia was saved. The hierarch Arseny came out of the city with a procession of the cross, in order to welcome the holy army. Great was the joy of the people and fervent was their prayer of thanksgiving to God and His holy saints, and above all to our universal Mother, the Queen of Heaven. In order to preserve for all time the memory of this glorious event, the Church established this yearly commemoration on 22 October in honor of the Kazan icon of the Mother of God. The icon itself remained in Moscow for a long time, and was later transferred to St. Petersburg, where it stayed in the specially-built Kazan Cathedral.
Thus it is obvious that in that terrible period of the hard times our homeland was saved by the protection and entreaty of the Christians' earnest Intercessor. However, it should be remembered that the Mother of God, as well as the saints, never act against our will, never force our will. Only those who "tearfully pray before Her most-holy icon with tender souls and remorseful hearts," only "Her good-natured and God-fearing servants," though "burdened by many sins," but pouring out their hearts in repentance can hope to receive from Her "help and deliverance from great misfortunes and woes" (quotes from the troparion and kontakion to the Mother of God). Otherwise even the saints are unable to help us. Though Moses and Samuel stood before Me, – says the Lord through the holy prophet Jeremiah, – yet My mind could not be toward this people – the Hebrews (Jerem. 15:1), for they worshipped alien gods. The same can now be said of Holy Russia, which is doing its utmost to be sinful…
Be that as it may, every person who has preserved within himself even a spark of faith (and undoubtedly there are quite a number of those), remembering the history of today's holiday, should not lose hope in the salvation of his homeland, nor should he become depressed if woes, suffering, disappointments, and all manner of deprivation befall him personally. Sometimes God's Providence in its wisdom delays in delivering us from these temptations, allowing them in order to give us a chance to demonstrate more clearly our faith, hope, and love for God. In truth, how many times the Russian people appeared to be standing on the verge of destruction, but as soon as they acknowledged their sinfulness and returned to God, the Lord resurrected them as though from the dead and resurrected them with great glory. And how many times in the life of each one of us, if we were able to see it, there was such a confluence of circumstances that we thought everything was ended, that there was no way out, and suddenly the tempest quieted down, the clouds dispersed, and the sun once again shone brightly upon us, warming us to the very core… We are naturally unworthy of such mercies, and our faith is weak, yet we are not alone, we can always receive the aid of our saints and above all the All-merciful Queen of Heaven, Who, attending to our tearful prayers, will Herself intercede for us before the throne of Her Son and our God, for the prayer of a Mother availeth much to the good will of the Lord (from the 6th hour).
Thus it was before, thus undoubtedly it will be always. We have no other aid, we have no other hope safe Thou, O Mistress. Do help us Thou, for in Thee we hope and Thee we glorify: we are Thy servants, may we not be shamed (Kontakion). O Most-holy Theotokos, save us! Amen.
Prayer before the icon of the Kazan Mother of God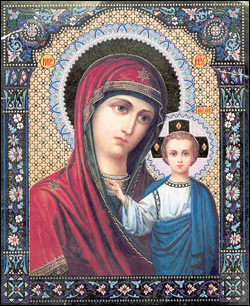 O Most-holy Mistress and Lady Theotokos! Venerating Thy honorable icon with awe, faith, and love, we pray to Thee: turn not Thy face away from those who come to Thee and entreat, O merciful Mother, Thy Son and our God, the Lord Jesus Christ, to preserve peace in our land, to maintain it firmly in righteousness, to keep His holy Church invincible, and to deliver it from disbelief, heresy, and schism. We have no other aid, we have no other hope safe Thou, O Most-pure Virgin: Thou art the Christians' all-powerful helper and intercessor. Deliver all who faithfully pray to Thee from all temptation, sorrow, illness, misfortune, and sudden death. Grant us a spirit of remorse, humility of heart, purity of thought, rectification of our sinful life, and absolution from sin, that all may thankfully exalt Thy majesty and the kindness which Thou showest us here on earth, and that we may merit the Heavenly Kingdom and together with all the saints therein glorify the most-honorable and magnificent name of the Father and the Son and the Holy Spirit. Amen.
ПОУЧЕНИЕ В ДЕНЬ ИКОНЫ БОЖИЕЙ МАТЕРИ КАЗАНСКОЙ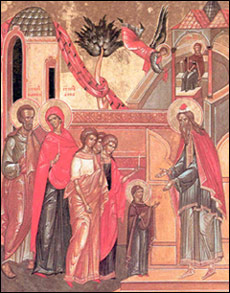 The feast of the entry of the Most-holy Theotokos – a three-year-old Child and the future Mother of God – into the temple of Jerusalem symbolizes for us the Holy Virgin's ascension up the steps of the temple straight to God and the ascension of all of believing mankind in Her footsteps. But what did this mysterious ascension of the God-pleasing Maiden, Who was led by the high priest into the Holy of Holies, signify?
Before entering the Holy of Holies She entered the Holy – the tabernacle into which only priests and Levites were allowed to enter. As we know from the Scriptures, the tabernacle contained a golden lamp with seven branches that was the only source of light there, as a sign that the God-chosen people of Israel must bring light to other peoples after being themselves enlightened by the Light of the world – the coming Christ. Here there were also the 12 loaves of offering, according to the number of the tribes of Israel, as the sign of the constant presence of God, Who nourishes the faithful, and as a symbol of the Bread of life – the coming Christ.
We see here the fullness of God's gifts. However, the main mystery from which everything else arises was that only once a year, on the day of purification, and only the high priest alone could enter the Holy of Holies. And "not without blood," as the Holy Scriptures say. When the high priest sprinkled the ark of the covenant with sacrificial blood which represented the forthcoming Blood of Christ, then God, as the Scriptures tell us, looked not upon the sins of the people, who stood accused by the ten commandments, but upon the future sacrifice of Christ, which He was to offer for the sins of the whole world.
No one, not a single Old Testament believer except for the high priest, and that only once a year, could dare enter the Holy of Holies through the thick curtain which divided God from the people. Only through Christ's death, when His most-holy Body was being torn up on the Cross, and when the temple curtain was torn in two from top to bottom, did the way into the dwelling of God the Father become open to all. Such are the depths of contact with God into which the Most-holy Virgin Mary enters today and brings with Her all of mankind. This is why today the Church sings for the first time: "Christ is born – glorify Him!", and reveals to us the mystery of God Who will become man, and the mystery of man.
In falling away from God, man can never become man, because his fall and his madness lie precisely in his attempt to follow the serpent's advice to "live like gods," and in his dislike of being simply a man. Thus God became man, in order to save man through forgiveness of his sin – the sin of non-acceptance of our human dignity, the sin of rejection of that humanity of ours which resides in each person and was manifested by Christ Himself. We stand before this mystery, knowing that never before has there been such desecration of man, such dehumanization of man as in today's world, and especially of children, who are encompassed in today's joyous celebration.
But let us also remember that God's precious temple, whose mysterious depths reveal to us in today's feast our contact with God through the mystery of our ascension to Him, should likewise be inseparably bound with everything that takes place in our lives, particularly with our opposition to satanic evil. We must be ready to ascend for the sake of Christ, for the sake of our children (and not only during the Nativity fast, not only when we are standing in God's church, but throughout our entire lives), in order to reach the mystery which today's feast reveals to us: the mystery of God's depletion for our sake, the mystery of His divine incarnation, the mystery of the Cross and of our own depletion in life and in death. We must not be deceived by any riches, in acquiring which man thinks that he no longer needs anything else and can safely delete God from his life, – and so he loses everything and ceases being man.
May God grant that our life be like this feast of ascension into God's temple, ascension towards the mystery of communion which unites us with Christ and, through our own ascension, may we help others enter this eternal temple of life. Amen.
ON THANKSGIVING
Homily for the Nativity Fast
The Gospel narrative about the healing of the ten lepers reveals to us the mystery of life and the power of thanksgiving. Leprosy is a terrible illness that was well-known even in antiquity. A leper's body decomposes while he is still living, and he lives in the throes of a slow death. The Holy Church says that all of us are slowly dying, encompassed by the leprosy of sin, and the reason for our life – and particularly for fasting – is to be able to see our sinfulness, to see that sin is a leprosy that leads to death. And Christ was born into the world and came to us expressly in order to deliver us from the horror of such an existence.
The Lord sends the ten lepers to show themselves to the priests, and while they were on their way they already became healed. All the lepers, among whom there was one Samaritan and nine Israelis, became equal in the face of this common terrible misfortune. There was no difference between them, and they appealed to the Lord from the depths of their suffering. And the Lord performed a miracle. However, we see that the majority of sick and suffering people were looking only to be healed, and that for them Christ became only the means to a desired end.
What else can be said? Christ exclaims: "Have not all been healed, so where are they?" We see that the Lord misses these people. In our imagination we hear the voice of God, walking through Eden and asking: "Adam, where art thou?" Through this healing the lepers have not come closer to God; on the contrary, the distance between them and Christ has remained or has even increased. After being healed they joyfully went the other way. But one person, the Samaritan, overcomes this distance. He returns to God, and we see that if for all the others Christ was only the means to recovering health, for this man his return becomes a nearness to God Himself.
At this point the Holy Church reveals to us a mystery of life which we all should learn well. It speaks of the fact that all the blessings, all the gifts that we receive from God should become a foundation for us by means of which we can return to the source of our life, to the beginning that unites us with God. All that we are, all that we have, all that we received from Him, – we must offer to God.
In this lies the meaning of the Eucharist – the Holy Mysteries of Christ – of which we partake. Under the guise of bread and wine we offer to God all that He gives us. In other words, we offer to Him all that we have received from God. And He returns our offering to us, but transubstantiated, transfigured by Divinity. We partake of a new life in Christ, i.e. in God Who has become man.
Actually, our Saviour's own life is comprised within this mystery. The mystery of His incarnation, the mystery of His death on the Cross and His resurrection – all speak of the fact that He is being given to us. He is "the Son, and given to us," as we shall sing on the eve of the Nativity of Christ. And He, given to us and having come to us from the Heavenly Father, gives Himself back to the Father, offers Himself to the Father, and through Himself offers Him our entire life, in order for His new life – the life of the resurrected Christ – to become our new life, so that we would become conscious of this blessing, this gift which God gives to us. St. Gregory the Theologian says: "When we offer thanks to God, we become dear to Him." Such is the mystery of thanksgiving which we must ponder and study throughout our entire life.
Those lepers in the Gospel had sufficient faith to be healed of leprosy. But only one of them had sufficient faith to be healed of death, because until we are healed of the leprosy of sin, which is called death, our healing has no meaning and can even turn into misfortune for us.
How are we healed of the mortal illness which ails all of us? It happens only when we learn to give thanks to God. Nine people were healed, but only one was saved. And he was saved only because he recognized the nature of God, – he recognized that God is love. He learned that this love constitutes perfect and incorruptible life, which vanquishes not only the leprosy of all sins, but vanquishes death itself.
It is revealed to us that God is love, that God is generosity, and that these two qualities are overwhelming in Him. And until we recognize the love which God, Who becomes man, brings down to earth, we cannot properly thank God for all the sorrows which He sends us.
May God grant us the wisdom during this lent and throughout our entire life to learn to thank God in our prayers for everything that happens to us, to accept everything as coming from His hands, no matter how bitter or unendurable it may seem to us. And may God grant us the wisdom to understand that the significance of Christ's Nativity lies in the great mystery of God becoming man. He – the invisible God – becomes visible in others: initially in His own human incarnation and afterwards, having achieved the salvation of all men, having arisen from the dead and gloriously ascended into heaven, He continues to be present in all people. He says to us: "All that you do unto others, you do unto Me." Thus, when we learn to thank other people, we simultaneously learn to thank God. At that point we draw near to God, from Whom we have been separated by the terrible leprosy of our sins.
May God grant us to participate in the new and incorruptible life, and to recognize the love of Christ in the commandment which instructs us to love God with all our heart, all our thoughts, all our strength, to draw near to the Lord and to learn to love others as we do ourselves. However, we will be able to draw near to the Lord and our neighbors only when we study and master the mystery of thanksgiving. Amen.
SUNDAY OF THE HOLY FOREFATHERS
At this time of the year we see our neighbors celebrating the western Christmas, and many of us may have had this thought: why cannot we celebrate the Holy Nativity of Christ on the same day? This Sunday gives us the answer…
The Holy Orthodox Church, as if anticipating the above question, begins preparing us for the great day of the Nativity of Christ by means of the Nativity fast. As we approach this day, the Church commemorates the last two Sundays before Nativity in a special manner and points out their significance by naming them differently from ordinary Sundays. On the Sunday two weeks before Nativity we commemorate the Sunday of the Holy Forefathers. The Sunday directly preceding Nativity is called the Sunday of the Holy Fathers.
What is so special about the Holy Forefathers and who were they? The word "forefathers" means just that: very distant ancestors of ours. Our most distant ancestors were Adam and Eve, followed by the biblical patriarchs Noah, Abraham, Isaac, Jacob, and others who are mentioned in the Holy Bible. What was so special about them? Adam and Eve were the first human beings who committed a sin, but they were also the first people to repent. They repented of their transgressions all their life.
The common denominator for all the Forefathers was their faith in the true God, the Creator of this world and of all things visible and invisible, just like we sing in our Creed at every Divine Liturgy.
The Holy Forefathers very strictly and faithfully followed all the commandments which God sent them: they never compromised their faith because of surrounding circumstances. They firmly believed that what was right was right, and what was wrong was wrong, regardless of what the majority of people were doing and thinking. In other words, the holy Forefathers did not subscribe to the man-made theory of "political correctness"! It was not always easy for them, but they never compromised their faith.
Christianity is a struggle: it always was and always will be. Moral and spiritual values never change. Right is always right, and wrong is always wrong. People very frequently forget or ignore the fact that God is outside the concept of time. Time exists only for mortal beings and will someday come to an end, while God's laws are outside time and, therefore, have an eternal value.
In the holy Gospel the Lord Jesus Christ says: "I came not to bring peace, but a sword" (Matt. 10:34). The sword is a symbol of combat – primarily spiritual combat. We have to fight throughout our entire life, and the most difficult battle is within ourselves. But before engaging in combat we have to know whether we are on the right path. Therefore, we should not blindly follow the actions of the majority in our society. In ancient times the great Greek philosopher Socrates said: "The majority is never right." All revolutions have been based upon the principle of how to control and lead the majority.
And so the Holy Forefathers have shown us many bright examples of how to act and how to think: first of all, that God should be very real for us and not something abstract, and secondly, that we should examine our surrounding environment against this background. Thus we will be able to see how much Western Christianity has lost its focus on God and a godly life. Western Christians have, unfortunately, lost a true understanding of God. The image of God in Western Christianity has gone from bad to worse and is far removed from reality. Just think: what has eternal value in our environment nowadays? We are surrounded by spiritual emptiness or a horrible distortion of all things divine.
In the days of the Forefathers mankind's view of life was not much different from our times, but the Forefathers themselves held on to their faith very firmly and did not compromise the truth of their faith just because the majority thought otherwise. They held on to their faith, and for this God's grace made them strong.
Let us think about this, dear brethren, and let us try to follow the example of the Holy Forefathers, since we currently find ourselves in a similar situation. We can respect the beliefs of our neighbors, but we should not compromise our own faith. Our Orthodox faith has much better examples and deeper roots in our Forefathers, whose memory we gloriously celebrate today. Amen.
THE OPTINA HERMITAGE
(Continuation)
The Optina eldership
From the time of Peter the Great a process of denationalization was taking place among Russian intelligentsia: they admired all things coming from the West and disdained their own native ones; the finding of something positive in one's homeland was considered to be a divergence from the norm and was mocked. Similarly the field of religion was being infiltrated by the spirit of Western Protestantism, and genuine ancient Orthodoxy was being extinguished. National, patriotic, as well as religious feelings continued to be preserved only among the common people.
The war of 1812 somewhat revived the spirit of patriotism, but even such great writers as Pushkin, Lermontov, and others had to pay for any deep expression of patriotic feelings. It was at this point in time that the Optina Hermitage became a certain counterfoil to all that was happening around it; it became a guiding light for many writers and philosophers, not to mention common people who were seeking the meaning of life in true Orthodoxy. For them Optina represented a union of the supreme spiritual endeavor of constant prayer that was crowned by an abundance of grace coming from acquiring the gifts of the Holy Spirit, and service to the world in all its fullness, covering both its spiritual and earthly needs. Moreover, up until that time, due to the religious regulation of Peter the Great and the decrees of 1787 and 1808, the publication of books of spiritual content was left to the sole discretion of the Holy Synod, and such books could be printed only by its printing press. As a result, only one ascetic book – the Philokalia – was published in 1793, and readers were deprived of spiritual literature, while at the same time civil publications spewed out a multitude of translations of Western pseudo-mystical works, many of which, published with the permission of civil censors, were openly hostile to Orthodoxy. In these circumstances the publication of the works of the Holy Fathers was of great and historical significance. Due to the presence of highly-educated elders, the great and multi-faceted help of various writers, men of letters, and philosophers, as well as full understanding, support, and blessing on the part of Metropolitan Philaret of Moscow, the works and lives of prominent Church Fathers, both ancient and contemporaries such as Paisius Velichkovsky, were translated from Greek and Slavonic into Russian and were published. This publication began in mid-19th century, and by the end of that century the library founded by Father Moses contained 5,000 books.
The published books were sent out to academies, seminaries, libraries, ruling bishops, and inspectors, and this formerly inaccessible ascetic literature became accessible to monastics and all religiously-oriented Russian people. True Orthodoxy shone forth and became fortified against Western falsely-oriented books. Thus the appearance of these Orthodox books was an event impossible to evaluate in simple words.
Special merit in the undertaking of this great deed, on a par with elder Macarius, of whom we will speak separately, belonged to the prominent Russian philosopher Ivan Vasilyevich Kireyevsky and his wife (the first editions, besides the couple's work on them, were published at their personal expense).
Elder Leo
The first elder co-opted by Fathers Moses and Anatoly for eldership at Optina was Father Leo. He was born in 1768 in Korachevo, served in the world as a bailiff, and circulated among the merchant class. During his long journeys on business affairs he encountered members of all classes of society and became well-versed in the manners and way of life of each class. This experience stood him in good stead during the years of his eldership, when the most diverse people, both well-known and unknown, came to see him and to open their souls to him.
Father Leo began his monastic life in Optina Hermitage, but later transferred to the Beloberezhsky Hermitage, where he underwent training in monastic virtues – obedience, patience, and various external endeavors – under the tutelage of the prominent Athonite ascetic Father Vasiliy. Here Father Leo went through his spiritual labors under the name of Leonid. Later he spent some time in the Choln monastery, where he met Father Theodore, a disciple of Paisius Velichkovsky, and became his loyal follower. Elder Theodore began to train Father Leonid in the supreme monastic endeavor, that "science of sciences and art of arts," as the labor of constant prayer is called, and by means of which the heart is cleansed of all passions. Here Father Leonid also met Abbot Philaret, the future Metropolitan of Kiev. This meeting subsequently had great importance for him.
Afterwards Father Leonid was appointed abbot of the Beloberezhsky Hermitage, and Father Theodore, under whose guidance Father Leonid spent almost 20 years, moved together with him. Here they were joined by yet another prominent ascetic and disciple of St. Paisius, Father Cleopas. In 1808 Father Leonid resigned from abbotship of the monastery and went off to live in the deep forest, settling down in a communal cell with Fathers Theodore and Cleopas. Here, in ascetic solitude and silence, he became a schema-monk with the name of Leo.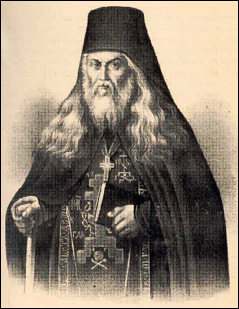 However, a while later the three monks were expelled from their dwelling by the new abbot of the monastery, because a great multitude of people flocked to see them. There followed many years of wandering from monastery to monastery, and after Father Theodore's death Father Leo spent some time in the Ploshchansk Hermitage, where he met Father Macarius – his future assistant in eldership at the Optina Hermitage and subsequent successor.
Finally, in 1829, this founder of the spiritual school from which issued the entire constellation of successive elders came to Optina Hermitage. However, Father Leo's merit does not only lie in the foundation of eldership: he was the stimulus which inspired succeeding generations of elders for an entire century until the very end of the existence and flourishing of the famous Optina Hermitage.
Father Leo arrived at Optina towards the end of his life. He was large in stature, majestic, possessing fabulous strength in his youth, and despite his corpulence retaining even in his old age a certain grace and fluidity of movement. At the same time his extraordinary intelligence, coupled with clairvoyance, allowed him to see through people. The elder's soul was filled with great love and pity for mankind. His actions, however, were sometimes severe and impulsive. Father Leo cannot be judged as an ordinary person, because he attained that spiritual height at which the ascetic acts in compliance with the voice of God. Instead of lengthy persuasions, he sometimes disconcerted people right away and allowed them to realize and feel the error of their ways, and in this manner he used his spiritual scalpel to open up the festering abscesses that had formed in people's coarsened hearts. As a result there flowed streams of penitent tears. As a spiritual psychologist the elder knew how to achieve his purpose. Here is an example: not far from Optina there lived a certain landowner, who boasted that as soon as he looked at Father Leo, he would see right through him. One time this man came to the elder when there were a lot of people present, and as soon as the man entered, Father Leo said: "What a dolt has arrived! He has come to see through the sinful Leo, while he himself, the scoundrel, has not been to confession or communion for 17 years." The landowner started shaking like a leaf and afterwards repented and cried that he was truly a sinner and had not been to confession or partaken of the Holy Mysteries for 17 years.
Then there is the case of an Athonite monk who visited Father Leo. The monk was dressed as a layman, but Father Leo recognized him as an Athonite monk. Afterwards there came three women in tears and brought with them another one who had lost her mind, and they asked the elder to pray for their sick friend. The elder put on his epitrahelion, placed the end of the epitrahelion and his hands on the sick woman's head, and after reading a prayer, thrice made the sign of the cross over her and ordered her to be taken to the pilgrims' inn. When the monk came to visit the elder on the following day, yesterday's sick woman also came there, absolutely restored to health. The monk became terrified that the elder performed such healing without any thought of possible harm to himself, but the elder replied: "I have not done this through any power of my own, but it came to pass because of their faith and by the action of the grace of the Holy Spirit that was given to me in ordination; as for myself, I am a sinful man."
Countless were the miracles performed by the elder. A crowd of destitute people thronged to him, surrounded him. A certain hieromonk describes how, when traveling from Kozelsk to the Smolensk province, in all the isolated villages along the way the villagers, learning that he was coming from Kozelsk, eagerly tried to learn something of Father Leo. In response to his question – how do you know him? – they said: "Mercy, kind sir, how can we not know Father Leo? He is like a dear father to us poor people, and without him we are veritable orphans."
Unfortunately, certain ecclesiastical officials had an entirely different attitude towards Father Leo, including the Kaluga diocesan bishop Nicholas, who created a great deal of unpleasantness for the Optina Hermitage. This bishop had the firm intent to banish Elder Leo to the Solovetsk monastery. Luckily, many hierarchs looked upon the elder differently. Both Metropolitans Philaret – of Kiev and of Moscow – forcefully interceded on his behalf, otherwise the elder would have been in a difficult situation.
Father Leo died in 1841, having been an Optina elder for 12 years, but all that time he was subjected to persecution, either due to the bishop's misunderstanding of him, or to the envy and denunciations of others; he even stood a court trial (but was cleared of all charges), was transferred from skete to monastery, and the bishop even forbad him to have visitors, but despite all these impediments, out of great charity for suffering people he never turned away those who came to him for help.
On the other hand, Abbot Moses and the abbot of the skete Father Anatoly treated him with the greatest respect and never did anything without his blessing.
In the early days of September 1841 Father Leo began to weaken. At the end of his life he prophesized that Russia would suffer great trials and tribulations. After suffering great pain he reposed in the Lord on October 11. 1841. The universal grief over his passing was indescribable, and multitudinous masses of people flocked to the bier of the great elder.

COUNSELS OF THE OPTINA ELDERS
Counsels of the venerable Elder Leo
Try to be more attentive to yourself instead of judging the actions, behavior and attitude of others towards you; if you do not see love in them, it is because you yourself have no love within you.
Wherever there is humility, there you will find simplicity, and this God-given manifestation does not test His providence.
God does not disdain prayers, but sometimes does not grant the desires expressed therein, specifically in order to have things come out better, in accordance with His Divine intent. What would happen if the All-knowing God completely fulfilled our wishes? I believe all human beings would eventually perish.
Those who live without being attentive to themselves will never be the recipients of grace.
If you do not have tranquility within yourself – know that you are lacking humility. This the Lord showed to us in the following words, which at the same time demonstrate where one should look for tranquility. He said: Learn from Me, for I am meek and humble in heart, and ye shall find rest for your souls (Matt. 11:29).
Counsels of the venerable Elder Moses
If you show mercy towards others – mercy will be shown to you.
If you co-suffer with the suffering (this does not seem to be difficult) – you will be listed among the martyrs.
If you forgive your offenders, not only will all your sins be forgiven, but you shall be the children of the Heavenly Father.
If you pray for salvation from the bottom of your heart, even a little bit, – you shall be saved.
If you berate yourself, accuse and judge yourself before God for your sins, of which you become aware through your conscience, – you shall be justified.
If you confess your sins before God, for that you shall earn forgiveness and recompense.
If you sorrow over your sins and feel remorse, or give way to tears, or even just sigh, your sighing will not be concealed from Him: "Not a single teardrop, nor any part of a teardrop," – says St. Simeon, – "is hidden from Him." And St. John Chrysostome says: "Even if you just lament over your sins, He will accept it as part of your salvation."
Examine yourself daily: what did you sow for the next life – wheat or chaff? Having tested yourself, set yourself towards improvement on the following day and spend your entire life in this manner. If the day was spent poorly, so that you did not offer even a decent prayer to God, nor felt any remorse of heart, nor humbled yourself in thought, nor showed mercy to anyone, nor gave any charity, nor forgave your offenders, nor bore any insult, but on the contrary, you did not restrain yourself from anger, did not restrain yourself in word, food, and drink, or immersed your mind in unclean thoughts, – having examined all this in good conscience, condemn yourself and prepare on the following day to be more attentive towards good and more cautious towards evil.
(To be continued)
CHRISTIAN TEACHING
On hearing the word of God
A wondrous sight is described to us by the holy Evangelist Luke in his Gospel. The Lord stands on the shores of the Sea of Galilee, and a great multitude of people surrounds Him. Everyone hurries to come near Him, everyone tries not to be too far away from Him, – for what reason? – in order to hear the word of God. Those people lived just as we do, in different walks of life, were engrossed in earthly dreams and activities, wanted more from life than was good for them. But suddenly an opportunity arose to hear the work of God, and their hearts flamed with a different desire. They surrounded the Lord and pressed upon Him so closely that He had to enter a ship, distance Himself slightly from the shore, and from there preach to those who thirsted for His teaching.
Why do we, dear brethren, listen so feebly to the word of God, – the word that is so necessary to our salvation?
Perhaps we are already too well-acquainted with the word of God, so that it is not worth listening to anymore? That is hardly likely. It is unlikely that any one of us can demonstrate more than a superficial knowledge of the Holy Scriptures. Many of us, perhaps, truly know a lot, are well-versed in all kinds of subjects, but at the same time we are in a very poor state if we do not know the only thing needful, i.e. the word of God. Apostle Paul says: think of the heavenly and not the earthly, because all earthly treasures, including the treasures of the mind, will not go with us into eternity.
Some say that they do not listen to the word of God because they find it boring. However, the word of God is a source of comfort for our souls, a source of joy for our hearts, a source of light for our minds. The word of God enlightens and sanctifies us – how can it be boring?
The reason for our indolence, dear brethren, lies in ourselves, in our passions, in our indifference to the salvation of our soul. The words that I have said to you are the spirit and the life, – thus spoke the Lord Himself of His own words: His words give us life, without which we cannot live; His words fill us with spirit, without which our soul is only earth and flesh.
Let us then follow the people listening to the Lord on the shores of the Sea of Galilee, so that our hearts, too, become aflame with sweetness and tenderness from the salvific word of God. Amen.

On prayer
(Brief excerpts from the journal of St. John of Kronstadt "My Life in Christ")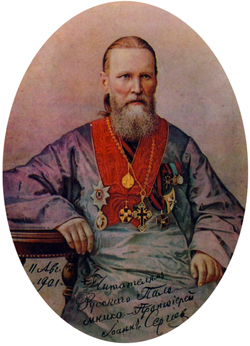 • With what attentiveness, what reverence, what love, peace, and gratitude we must always say the name of God, and the Lord's prayer, and all other prayers. The name of God is great, holy, terrible, and only to speak it fills every believer with bliss…
• The evil one tries to demolish our prayer like a sand castle; he wants to make our words be like dry sand without any moisture, i.e. without warmth of heart. Our prayer can either be like a house built on sand or like a house built on stone. Foundations of sand are used by those who pray without faith, absent-mindedly, coldly – such prayer disintegrates of its own accord and brings no benefit to the supplicant. Stone foundations are used by those who keep their minds and hearts directed toward God throughout the entire prayer, and who pray to Him as to a living Being Who converses with them face to face…
• Sometimes during a long prayer only a few minutes are pleasing to God, and these few minutes constitute true prayer and true service to God. The most important thing in prayer is the closeness of the heart to God, which is felt by the indescribable sweetness of God's presence in our soul…
•Each one of us would like our nearest and dearest not to forget us after we depart from this life and to pray for us. In order for this to come to pass, we, too, must love our departed ones. "Whatever you measure out to others, so will it be measured out to you," – says the word of God. Therefore, whoever commemorates the departed, will himself be commemorated by God and men after departing from this world…
¨ Elder Siluan on prayer: "If our prayers are not answered immediately, it means that God does not want that to happen to us which we want, but that which He wants. In this case He wishes and is preparing for us something infinitely better than what we are asking from Him in our prayer. Therefore, we must end each prayer by humbly saying:
Thy will be done."
PEACE IN OUR TIMES
Peace!.. peace!.. peace!.. – we hear from all sides: "universal disarmament!.. peaceful co-existence!.. let us fight for peace!.. everyone is for peace!.."
How wonderful it would be, what a joyous and bright future would await mankind, if all these appeals referred to the peace of which the angels sang in the night of Christ's Nativity: "Glory to God on high and peace on earth, good will toward men!"; if this were the peace which the Lord Saviour bequeathed to His disciples at the Mystic Supper, saying: "Peace I leave with you, My peace I give unto you"; if this were that "peace of God, which passeth all understanding," in which the holy apostles instructed the first Christians according to the Lord's commandment, which they advised them to seek, and which they urged them to have with God and with all people… But alas! it is not this kind of peace that is now spoken about. All these artificially pompous and often hysterical cries about peace in the world currently issue, for the most part, from individuals who are either alien to true Christianity or are directly hostile to the Church, – from individuals who themselves do not live in peace with God and with their own conscience, and are filled with malice toward their neighbors… Can we believe that peace is truly the objective of those who, blaspheming insolently and defiantly, have declared war on God Himself and on His holy Church, and who openly preach class hate as the basis of their ideology, having no compunction about spilling whole streams of blood and destroying millions of people on sole suspicion of disagreement with their ideology? Can we believe in the true peacefulness of those who with unctuous and saccharine words preach "Christian love" and "universal forgiveness," but in reality sow discord and strife and, spreading lies and slander, cause enmity and division, turn their neighbors one against the other? Where God's truth is absent, there cannot be any genuine peace.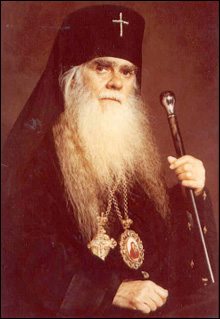 While engaging in a decisive battle with even the least manifestations of evil and sin in our own souls, let us not be afraid to identify and denounce evil wherever it reveals itself in modern-day life – not through pride or vanity, but solely out of love for truth. Our main goal in these times of deceitful shamelessness is to preserve total fidelity and loyalty to the genuine Evangelic truth and to the Leader of our salvation – the resurrected Christ, Giver of life and Conqueror of hell and death.
We should well know and understand that Tolstoy's harmful teaching on "non-resistance to evil" (which, by the way, destroyed the poor land of Russia and plunged it into the bloody terror of Bolshevism!) is absolutely alien to true Christianity; every true Christian is irreconcilable to evil, wherever and in whomever he may meet it.
Throughout the entire history of the Church all true Christians followed the example of the Lord Jesus Christ Himself and His holy apostles in universally condemning evil and combating it, even though it brought them all kinds of deprivations, including that of life itself.
ON MARRIAGE AND FAMILY LIFE
Excerpts from notes made by the Royal Martyr
Empress Alexandra Fedorovna
The importance of the home
Every member of the family should take part in establishing the home, and complete family happiness can be attained only when everyone fulfills his or her duties.
The main center of each person's life should be his home. This is the place where his children grow up – where they grow physically, strengthen their health, and absorb everything that will make them true and noble men and women. In a home where children are growing up, they are influenced by their whole environment and all that takes place around them, and even the smallest detail can have either a wonderful or a harmful effect on them. Even the surrounding nature contributes to the formation of their future character. All the beautiful things that are seen by children's eyes become engraved upon their sensitive hearts. No matter where a child was reared, his impressions of the place where he grew up affect his character. The rooms in which our children will sleep, play, and live must be made as beautiful as our means allow. Children love pictures, and if the pictures in the home are pure and good, they will have a wonderful effect on the children and will make them more refined. But even the home itself – clean, tastefully arranged, with simple decorations and a nice view around it – has an invaluable influence on the rearing of children.
It is a great art to live together, loving each other tenderly. This must begin with the parents. Each home is like its creators. Refined natures produce a refined home, while a coarse person creates a coarse home.
Be faithful. Accept your sacred burden with reverence. The most durable ties are those which bind a person to his real home. In a real home even a small child has a voice, while the appearance of an infant affects the entire family routine. No matter how small or modest a home may be, for each member of the family it must be the most precious place on earth. It should be filled with such love, such happiness, that wherever a person travels afterwards, however many years pass, his heart must still yearn for his home. In all trials and misfortunes the home is a haven for the soul.
Each wonderful thought that comes into a child's mind afterwards strengthens and ennobles his character. Our bodies age against our will, but why should our souls not remain forever young? It is simply criminal to suppress a child's joy and force children to be gloomy and full of self-importance. Very soon life's problems will lie upon their shoulders. Very soon life will bring them anxieties, cares, difficulties, and the burden of responsibility. So let them remain young and carefree as long as possible. Their childhood should be filled as much as possible with joy, light, and merry games.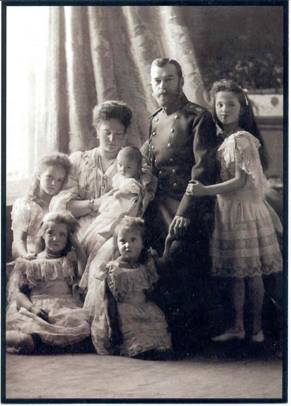 Parents should not be too embarrassed to play and horse around with their children. Perhaps in those moments they are closer to God than when they are engaged in what seems to them to be important work.
Sooner or later into the life of every home comes bitter experience – the experience of suffering. There may be years of cloudless happiness, but there will definitely be sorrows. The stream that ran for so long like a burbling brook running through flowering meadows in bright sunshine will deepen, darken, will dive into a dark gorge, or rush down like a waterfall.
In like manner flows the life of a true home – sometimes in bright sunlight, sometimes in gloominess. But be it either in light or in dark, – it always teaches us to appeal to the heavens, to the Great Home in which all our dreams and hopes are embodied, where ties that have been broken off on earth are once more reunited. For everything that we have and everything that we do – we need God's blessing. No one except God will support us in the time of great sorrow. Life is so fragile that any parting may turn out to be final. We can never be sure that we will have the chance to ask forgiveness for offensive or injurious words, or to be forgiven.
Children and their upbringing
There is no stronger emotion that the one which grips us when we hold our children in our arms. Their helplessness touches noble strings within our hearts. Their innocence represents a purifying force for us. When there is a newborn in the home, the marriage itself seems to be reborn. The child causes the married couple to become closer than ever before. Silent strings in the heart suddenly come alive. The young parents are faced with new goals, and new desires appear. Life immediately acquires a new and deeper meaning.
A sacred burden is placed in their hands, an immortal life which they must preserve, and this imbues the parents with a sense of responsibility, causes them to think deeply. "I" is no longer the center of the universe. They have a new purpose to attain, a purpose great enough to fill up their entire life.
Our children naturally bring along with them a multitude of cares and concerns, and for this reason there are people who look upon the appearance of children as a misfortune. But it is only cold egotists who can look upon children in such a manner.
It is a momentous thing to take upon oneself the responsibility for these tender young lives, which can enrich the world with beauty, joy, and power, but which can also easily perish; it is a momentous thing to nurture them, form their character, – this is what one should think about when establishing a home. It should be a home in which children will grow up to a sincere and noble life, grow up for God.
No treasures in the world can replace for man the loss of truly incomparable treasures – his own children. There are things which God gives often, and others that are given only once. The seasons of the year pass and return again, new flowers bloom, but youth never comes twice. Childhood and all its possibilities are given only once in a lifetime. Whatever you can do to adorn it, do it quickly.
Parents should be what they wish their children to be – not in words, but in deed. They should teach their children by the example of their own life. The greatest treasure that parents can leave their children is a happy childhood, with tender memories of father and mother. It will lighten the forthcoming days, it will preserve them from temptation, and it will help them face the harsh realities of life after they leave the parental roof.
May God help each mother understand the majesty and glory of her forthcoming endeavor, when she holds at her breast her infant, whom she must nurture and bring up. As far as children are concerned, the parents' duty is to prepare them for life, for any trials that God may send them. While the parents are alive, the child will always remain a child for them and should treat his parents with love and respect. The children's love for their parents is expressed in complete trust in them. A real mother finds importance in everything in which her child is interested. She listens just as willingly to his adventures, joys, disappointments, achievements, plans, and dreams as other people listen to a romantic narrative.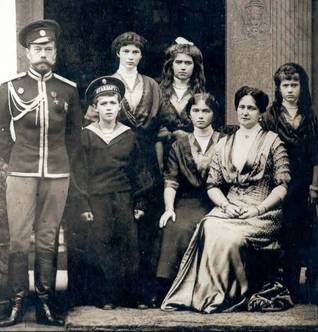 Children should learn self-denial. They cannot have everything they want. They should learn to reject their own desires for the sake of other people. They should also learn to be solicitous. Careless people always cause harm and pain, perhaps not intentionally, but simply through negligence. Not much is needed to show concern – a word of encouragement, a little bit of tenderness when the other person seems sad, timely assistance to the one who is tired. Children should learn to be of use to their parents and to each other. They can do this without demanding excessive attention, without fussing others. As soon as they grow up a bit, children should learn to be self-reliant, to make do without the help of others, in order to become strong and independent.
Parents are sometimes at fault for excessive anxiety or non-intelligent and constantly irritating counsels, but sons and daughters must agree that at the base of all this excessive fussing lies deep concern over them.
A noble life, a strong, honest, serious, and God-pleasing character – such is the parents' highest reward for all the exhausting years of selfless love. May children live in such a manner that parents in their old age can be proud of them. May children fill their declining years with tenderness and affection.
Over each one of us always soars our invisible Guardian Angel.
(To be continued)
LIVES OF THE SAINTS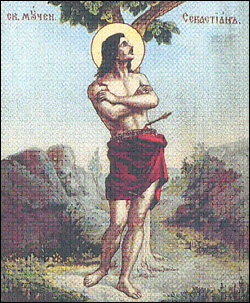 On December 31st (the 18th by the old calendar) the Church commemorates the holy martyr Sebastian.
St. Sebastian came from a wealthy and prominent Roman family. After receiving a superior education, he entered the military service. With his courage, intelligence, and kindness he drew universal attention to himself and soon became a favorite of Emperor Diocletian. While outwardly remaining a pagan, Sebastian was a Christian at heart and kept this secret not out of fear of martyrdom, but because in this way he could visit without any hindrance the prisons that were overflowing with Christian martyrs, and could to some degree relieve their heavy lot. But soon Sebastian himself experienced a burning desire to suffer for Christ. An opportunity soon presented itself. In one of the prisons there were two Christian brothers – Marcus and Marcelin, who after many torments were condemned to execution. The relatives of the condemned brothers tearfully began to plead with them to save their lives by renouncing Christ. Hearing of this, Sebastian came to them and in a fiery speech denounced the faintheartedness of the relatives, spoke at length of the vainness of paganism and of the pagans' terrible torments after death, and of the eternal rapture of Christians, especially martyrs for Christ. Sebastian's words were so convincing that not only the hesitating Christians, but even the pagans who were present came to believe in Christ, including the prison administrator and his wife. Hearing of this, Emperor Diocletian ordered St. Sebastian to be killed with arrows: the soldiers pierced the uncovered martyr with a multitude of arrows and then bludgeoned him to death.
SIGNS FROM HEAVEN
An Orthodox Christian understanding of unidentified flying objects (UFOs)
The Six Kinds of UFO Encounters
(Continuation)
Explanation of the UFO Phenomena
Dr. Jacques Vallee's newest book on UFOs, The Invisible College, reveals what reputable scientific researchers are now thinking about them. He believes that we are now "very close" to understanding what they are. He notes that the idea of extraterrestrial intelligent life has in a few years become astonishingly fashionable, among scientists as well as fortune tellers, as a result of "a great thirst for contact with superior minds that will provide guidance for our poor, harassed, hectic planet." He significantly sees that the idea of visitors from outer space has become the great myth or "wonderful untruth" of our times: "It has become very important for large numbers of people to expect visitors from outer space."
Yet he finds it too naïve to believe in this myth: "This explanation is too simple-minded to account for the diversity of the reported behavior of the occupants and their perceived interaction with human beings." Dr. Hynek has noted that in order to explain the various effects produced by UFOs, we must assume that they are "a phenomenon that undoubtedly has physical effects but also has the attributes of the psychic world." Dr. Vallee believes that "they are constructed both as physical craft (a fact which has long appeared to me undeniable) and as psychic devices, whose exact properties remain to be defined." Actually, the theory that UFOs are not physical craft at all, but some kind of paraphysical or psychic phenomenon, was suggested by a number of researchers in the early 1950's; but this opinion was largely submerged later, on the one hand by the cultists, with their insistence on the extraterrestrial origin of UFOs, and on the other hand by official government explanations, which corresponded to the widespread popular view that the whole phenomenon was imaginary. Only lately have serious investigators begun to agree that UFOs, while having certain physical characteristics, cannot at all be explained as somebody's space ships, but are clearly something of the paraphysical or occult realm.
Why, indeed, are so many UFO "landings" precisely in the middle of roads? Why do such fantastically advanced craft so often need "repairs"? Why do the occupants so often need to pick up rocks and sticks (over and over again for 25 years!), and to "test" so many people – if they are actually reconnaissance vehicles from another planet, as the humanoids usually claim? Dr. Vallee well asks whether the "visitors from outer space" idea might not "serve precisely a diversionary role in masking the real, infinitely more complex nature of the technology that gives rise to the sightings?" He believes "we are not dealing with successive waves of visitations from space. We are dealing with a control system." "What takes place through close encounters with UFOs is control of human beliefs." "With every new wave of UFOs, the social impact becomes greater. More young people become fascinated with space, with psychic phenomena, with new frontiers in consciousness. More books and articles appear, changing our culture." In another book he notes that "it is possible to make large sections of any population believe in the existence of supernatural races, in the possibility of flying machines, in the plurality of inhabited worlds, by exposing them to a few carefully engineered scenes, the details of which are adapted to the culture and superstitions of a particular time and place."
An important clue to the meaning of these "engineered scenes" may be seen in an observation often made by careful observers of UFO phenomena, especially CE-III and "contactee" cases: that they are profoundly absurd, or contain at least as much absurdity as rationality. Individual "Close Encounters" have absurd details, like the four pancakes given by a UFO occupant to a Wisconsin chicken-farmer in 1961; one of the pancakes was actually analyzed by the Food and Drug Laboratory of the U.S. Department of Health, Education, and Welfare, and was found to be of terrestrial origin. More significantly, the encounters themselves are strangely pointless, without clear purpose or meaning. A Pennsylvania psychiatrist has suggested that the absurdity present in almost all UFO close encounters is actually a hypnotic technique. "When the person is disturbed by the absurd or contradictory, and their mind is searching for meaning, they are extremely open to thought transference, to receiving psychic healing, etc." Dr. Vallee compares this technique to the irrational koans of Zen masters, and notices the similarity between UFO encounters and occult initiation rituals which "open the mind" to a "new set of symbols." All this points to what he calls "the next form of religion."
Thus, UFO encounters are but a contemporary form of an occult phenomenon which has existed throughout the centuries. Men have abandoned Christianity and look for "saviours" from outer space, and therefore the phenomenon supplies images of spacecraft and space beings. But what is this phenomenon? Who is doing the "engineering," and to what purpose?
Today's investigators have already supplied the answers to at least the first two questions, although, being without competence in the realm of religious phenomena, they do not fully understand the significance of what they have found. One investigator, Brad Steiger, an Iowa college professor who has written several books on the subject, after a recent detailed study of the Air Force "Blue Book" files, concluded: "We are dealing with a multi-dimensional paraphysical phenomenon, which is largely indigenous to planet Earth." Drs. Hynek and Vallee have advanced the hypothesis of "earth-bound aliens" to account for UFO phenomena, and speculate on "interlocking universes" right here on earth from which they might come, much as poltergeists produce physical effects while remaining themselves invisible. John Keel, who began his UFO investigation as a skeptic and is himself an agnostic in religion writes: "The real UFO story… is one of ghosts and phantoms, and strange mental aberrations; of an invisible world which surrounds us and occasionally engulfs us… It is a world of illusion… where reality itself is distorted by strange forces which can seemingly manipulate space, time, and physical matter – forces which are almost entirely beyond our powers of comprehension… The UFO manifestations seem to be, by and large, merely minor variations of the age-old demonological phenomenon."
In a recent bibliography of UFO phenomena prepared by the Library of Congress for the United States Air Force Office of Scientific Research, the introduction states that "Many of the UFO reports now being published in the popular press recount alleged incidents that are strikingly similar to demonic possession and psychic phenomena which have long been known to theologians and parapsychologists." Most UFO researchers are now turning to the occult realm and to demonology for insight into the phenomena they are studying.
Several recent studies of the UFOs by evangelical Protestants put all this evidence together and came to the conclusion that UFO phenomena are simply and precisely demonic in origin. The Orthodox Christian investigator can hardly come to a different conclusion. Some or many of the experiences, it may be, are the result of hoaxes or hallucinations; but it is simply impossible to dismiss all of the many thousands of UFO reports in this way. A great number of modern mediums and their spiritistic phenomena are also fraudulent; but mediumistic spiritism itself, when it is genuine, undeniably produces real "paranormal" phenomena under the action of the demons. UFO phenomena, having the same source, are no less real.
Case histories of people who have been drawn into contact with UFOs reveal the standard characteristics which go with involvement with demons in the occult realm. A police officer in southern California, for example, began to see UFOs in June 1966, and thereafter saw them frequently, almost always at night. After one "landing," he and his wife saw distinct traces of the UFO on the ground. "During these weeks of tantalizing sightings, I became totally obsessed with the UFOs, convinced that something great was about to happen. I abandoned my daily Bible reading and turned my back on God as I began reading every UFO book I could lay my hands on… Many nights I watched in vain, trying to mentally communicate with what I then thought were extraterrestrial beings, almost praying to them to appear and establish some sort of contact with me." Finally he had a "close encounter" with a "craft" some 80 feet in diameter, with rotating white, red, and green lights. It sped off and left him still expecting something great to happen – but nothing ever did happen, the UFOs ceased appearing, and in his frustration he turned to alcohol, depression, and thoughts of suicide, until his conversion to Christ ended this period of his life. People who have actually contacted the UFO beings have much worse experiences; the beings sometimes literally "possess" them and try to kill them when they resist. Such cases effectively remind us that, quite apart from the meaning of UFO phenomena as a whole, each UFO "close encounter" has the specific purpose of deceiving the individual who is contacted and leading him, if not to further contacts and spreading of the UFO "message," then at least to personal spiritual confusion and disorientation.
The most puzzling aspect of UFO phenomena to most researchers – namely, the strange mingling of physical and psychic characteristics in them – is no puzzle at all to readers of Orthodox spiritual books, especially the Lives of Saints. Demons also have "physical bodies," although the "matter" in them is of such subtlety that it cannot be perceived by men unless their spiritual "doors of perception" are opened, whether with God's will (as in the case of holy men) or against it (as in the case of sorcerers and mediums).
Orthodox literature has many examples of demonic manifestations which fit precisely the UFO pattern: apparitions of solid beings and objects (whether demons themselves or their illusionary creations) which suddenly materialize and dematerialize, always with the aim of awing and confusing people and ultimately leading them to perdition. The Lives of the 4th-century St. Anthony the Great and the 3rd-century St. Cyprian the Former Sorcerer are filled with such incidents.
The Life of St. Martin of Tours (+397) by his disciple, Sulpicius Severus, has an interesting example of demonic power in connection with a strange physical manifestation which closely parallels today's UFO "close encounters." A certain youth named Anatolius became a monk near St. Martin's monastery, but out of false humility he became the victim of demonic deception. He fancied that he conversed with "angels," and in order to persuade others of his sanctity, these "angels" agreed to give him a "shining robe from out of heaven" as a sign of the "Power of God" that dwelt in the youth. One night at about midnight there was a tremendous thudding of dancing feet and a murmuring as of many voices in the hermitage, and Anatolius' cell became ablaze with light. Then came silence, and the deceived one emerged from his cell with the "heavenly" garment. "A light was brought and all carefully inspected the garment. It was exceedingly soft, with a surpassing luster, and of a brilliant scarlet, but it was impossible to tell the nature of the material. At the same time, under the most exact scrutiny of eyes and fingers it seemed to be a garment and nothing else." The following morning, Anatolius' spiritual father took him by the hand in order to lead him to St. Martin to discover whether this was actually a trick of the devil. In fear, the deceived one refused to go, "and when he was being forced to go against his will, between the hands of those who were dragging him the garment disappeared." The author of the account (who either witnessed the incident himself or had it from eyewitnesses) concludes that "the devil was unable to keep up his illusions or conceal their nature when they were to be submitted to Martin's eyes." "It was so fully within his power to see the devil that he recognized him under any form, whether he kept to his own character or changed himself into any of the various shapes of spiritual wickedness" – including the forms of pagan gods and the appearance of Christ Himself, with royal robes and crown and enveloped in a bright red light.
It is clear that the manifestations of today's "flying saucers" are quite within the "technology" of demons; indeed, nothing else can explain them as well. The multifarious demonic deceptions of Orthodox literature have been adapted to the mythology of outer space, nothing more; the Anatolius mentioned above would be known today simply as a "contactee." And the purpose of the unidentified object in such accounts is clear: to awe the beholders with a sense of the mysterious, and to produce "proof" of higher intelligences ("angels," if the victim believes in them, or "space visitors" for modern men), and thereby to gain trust for the message they wish to communicate. We shall look at this message below.
A demonic kidnapping quite close to UFO abductions is described in the Life of St. Nilus of Sora, the 15th-century founder of skete life in Russia. Some time after the saint's death there lived in his monastery a certain priest with his son. Once, when the boy was sent on some errand, "suddenly there came to him a certain strange man who seized him and carried him, as if on the wind, into an impenetrable forest, bringing him into a large room in his dwelling and placing him in the middle of this cabin, in front of the window." When the priest and the monks prayed for St. Nilus' help in finding the lost boy, the saint "came to the boy's aid and stood before the room where the boy was standing, and when he struck the window frame with his staff the building was shaken, and all the unclean spirits fell to the earth." The saint told the demon to return the boy to the place from which he had taken him, and then became invisible. Then, after some howling among the demons, "the same strange one seized the boy and brought him to the skete like the wind… and placing him on a haystack, he became invisible." After being seen by the monks, "the boy told them everything that happened to him, what he had seen and heard. And from that time this boy became very humble, as if he had been stupefied. The priest out of terror left the skete with his son." In a similar demonic kidnapping in 19th-century Russia, a young man, after his mother cursed him, became the slave of a demon "grandfather" for 12 years and was capable of appearing invisibly among men in order to help the demon sow confusion in their midst.
(To be concluded)
(From the book Orthodoxy and the Religion of the Future)
SPIRITUAL POETRY
APOCALYPTICAL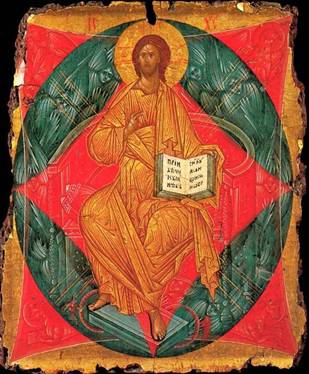 The times and eras are approaching,
Which from the earliest of ages
Were prophesied by all the prophets
And through them – by the worlds' Creator.
A holy awe descends upon me,
And I am fearful to relate
The sorrow which my heart envisions
And is so powerless to translate.
When the Lord's Son comes down to earth,
Will He find any faith among us?
My mind looks far into the future,
I see the world in a faithless haze.
Death will be sought by many people,
But death from people will escape.
And miracles will be entreated,
But in the dark no miracles will shine.
Yet Thou hast not abandoned the world,
The law of heavens is good and just.
Thou holy, great, and glorious art
For all the ages ever to come!
– V. Utrenev
Translated by Natalia Sheniloff